$2.95
- 3 Days
Monthly:
$29.95
$5.00
- 30 Days
Trial: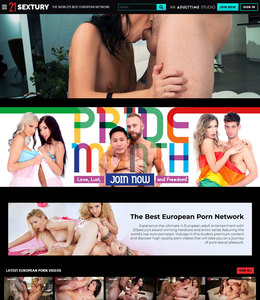 Today I'm going to review 21 Sextury. A fantastic network of hardcore sites we can offer to our readers at a great discounted price! It's full of sexy European babes taking part in loads of naughty action. From DP to swallow 21Sextury have tracked down some of the hottest, dirtiest girls in porn today, and filmed them in over 9,750 nasty scenes. Membership will get you access to their network of 21 fantastic sites, plus 20 bonus sites
Ratings
| | | | |
| --- | --- | --- | --- |
| Exclusivity | | Quantity | |
| Updates | | Features | |
| Quality | | Navigation | |
| Downloadable | | Design | |
| Speed | | Price | |
Details
Review Date:
by

Wesley Sinn

Category:
Hardcore | All Access | Mobile | High Definition
Trial Price:
$2.95 - 3 Days, Limited access trial
Monthly Price:

$29.95

our exclusive price: $5.00 - 30 Days
3 Month Price:
$68.95 - 3 Months
Yearly Price:
$95.40 - Yearly
Cross Sales:
1, prechecked
Billing Type:
Credit Card
Pictures:
9884 Picture Sets w/ 100 Pictures Per Set
Hi-Res Pictures Zip Files
Movies:
9884 Movies At Around 25 Minutes Each
Movie Downloads:
Full Movie & Movie Clips
Formats:
MP4 (Mpeg Video 1920x1080 7200 Kbps)
MP4 (Mpeg Video 640x360 1730 Kbps)
MP4 (Mpeg Video 1280x720 4000 Kbps)
MP4 (Mpeg Video 720x540 1500 Kbps)
MP4 (Mpeg Video 480x272 1000 Kbps)

Delivery:
Streaming Downloadable
Bonus Sites:
21 Sites Multi Access Network
Latest Review Update
December 6, 2017
21 Sextury is a mega network with 21 hardcore sites. Here you will find 9,884 hardcore movies that are spread out through these sites, and most of them are in HD. They have niches such as lesbians, Milfs, gaping buttholes, teens, deep throat sex, and a bit of kink thrown in for fun. There are hundreds of beautiful hot models in hardcore sex scenes, and the site itself looks seductive with its black background, and it's simple to navigate. You can download or stream in various different formats, and just about every scene comes with a high-resolution photo gallery. Just some of the erotic sites are, Only Swallows, Lez Cuties, Nude Fight Club, Gapeland and DP Fanatics.
Show more previous updates
Full Review
I had heard a lot of good things about this site so was pretty damn excited that I was the lucky one who got to review it.

21 Sextury is a mega site that promises smoking hot European babes taking part in filthy hardcore high definiton action.

Landing on the tour page lifts my hopes that this promise rings true, with a slideshow of large crisp images of beautiful girls. Clicking the play link on the bottom of these images opens a near full screen High Definition preview of what lies inside, and if this clip is an indication of the content on this site I'm in for the virtual porn filled ride of my life, wow what an introduction!

Logging in takes you to the home page which is neatly layed out with links on the left to all of the websites on this huge network. At the top of the screen you will find handy links to scenes, models, websites, categories and Fanclubs. Here you will also find links to the live webcams and interactive areas, but the cost of these are not included in your membership. The center of the screen contains the latest news on the site and links to the hottest content added to the network.

On the top you will find the networks statistics which include the total scenes across all the 21Sextury network, photos on offer, models and updates for the last week. This is a mega site of epic proportions, and it is still growing fast!

On to the content.. Being a fan of hot girls and DP I open a scene featuring the absolutely stunning Doris who is a petite blonde with small perky tits. Clicking the link gives you options to stream or download the whole movie, or just the scenes you want in several different formats and qualities. I choose to stream in high quality. The scene runs for 22 minutes and it doesn't take more than a minute for the action to start. Doris sucks fucks and takes both cocks at once, before taking both loads in her sweet mouth. The scene was so fucking hot, from the super crisp video to the hot hardcore action, just sensational.

The pictures are also top quality and available for both viewing and downloading as zips in both low and high resolution.

I thought maybe I had just been lucky and picked a great one, so I checked out a couple more and they were just as amazing featuring gorgeous babes in raunchy hardcore sex!

There are a huge number of models within the site and nearly none of them are ordinary. They have big names many porn fans will know including Aletta Ocean, Angel Dark and Anetta Keys to name a few, as well as loads of fresh faced beauties that are brand new to the industry.

I checked out a few of the other sites across the network, including DP Fanatics, Only Swallows and Aletta Ocean Empire and I have to say the quality of the product remains consistently high.

In summing it up, if you love great hardcore porn, beautiful European women and high quality production get your ass inside 21Sextury.com.
Quality
What can I say? The quality of both the content, filming and girls on this site is absolutely amazing and High Definition all the way. From the lighting to the hardcore action I loved it all.
Content
The amount of content offered is huge, and with daily updates it's growing all the time. The sheer number of videos and pictures on offer will keep you busy for years to come. This smoking hot content is exclusive and you won't find it elsewhere.
Pros
The quality of the content is fabulous as are the models. There is enough to keep you and your hand, or fingers for the girls, busy for a hell of a long time. Updates come thick and fast and the special price offer we have for you makes this the deal of the century.
Cons
There is nothing I didn't really like about this site. The only things I could pick up on was that not every site in the network updates all the time, some seem to be sitting while others update more regularly. Some of the older content is not true HD, its well above average though and they are bringing this older content up to HD specs which is just great.
Pricing & Bonus
We have worked out a fabulous deal for you guys at 21sextury.com. Instead of the usual $29.95 a month Reviewedporn readers can become a member of this great site for only $14.95 a month! You will love this site so much that I highly recommend you take the 12 month plan which works out at only $5.25 a month, sensational site, sensational prices!!
Conclusion
If your in the market for a website full of hot European women engaging in downright dirty sex look no further. The girls are smoking hot and filthy, which is just the way I like them. With the discount we can offer plus the sheer amount of high quality porn you get you would be mad not to join this class site.
More Review Updates
November 20, 2015
21 Sextury remains one of the top porn networks around. Content is still top notch with hot models and HD scenes being added on a daily basis. The variety is a big draw card and the discount price for membership is the icing on what is already a great membership deal.
January 28, 2015
For a great Hardcore porn site that offers high qualty porn with hot and heavy sex scenes you would be hard pressed to find better than 21 Sextury. Membership here gets you a whole network of exclusive porn sites full of hardcore action that covers nearly every porn niche you could ever want. These guys pull all the stops and for nasty sex this one is a must have. When it comes to Hardcore porn reviews you would be hard pressed to find better.
October 3, 2014
It continues to grow and get bigger and bigger, it maintains its quality and goes on winning awards! Were talking about the 21 Sextury network of course, and once again weve called in to check things out. The great interactive and user-friendly pages are still there, the models continue to be hot and the hardcore is a raunchy as ever. Now though, after only a few months away, we find that the content numbers have increased by nearly 1,500; thats new full length videos, and new galleries. This membership remains one of our top recommendations and its value for money only gets better.
April 22, 2014
Once again we are back to update this 21 Sextury review. Since we were last here the site has continued to grow with new content still being added each and every day, which is quite amazing. You may think that with so many movies being added that the quality may suffer, but that is certainly not the case at 21 Sextury. Each and every scene added is HD and features the hottest European porn stars around. This high quality has led to this site winning the XBIZ 2014 award for Adult Site Of The Year. This is well deserved and of course this site is still a huge yes for those looking for a great porn network.
July 17, 2013
We thought it was about time we did an update of our 21 Sextury review. Since our last visit they have been busy here with updates still coming at a great rate of knots. In fact when you include the bonus content here the site has grown to massive proportions with over 11,000 videos at the time of this update. I was the one who originally did this review and I am pleased to say that I am still just as impressed with this network as I was when I first visited it. The quality here remains extremely high, with HD videos and crisp, clear pictures still being the norm. Some of the sites within the network remain idol with no recent updates, but with the huge amount of content they are offering across the sites I do not see this as a major drawback. Its great to see that 21 Sextury is still going strong and it remains one of my favorite networks, and at the reduced price we can offer our readers for membership it is still great value for money.