N/A
Monthly: $29.95 - 30 Days
Trial: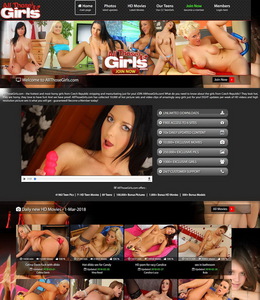 Hot Czech chicks in solo movies is the main thrust of All Those Girls, but you will find some hardcore and a lot of it in the photo collection. The videos feature amateur babes in finger-fucking, pussy-play action and each one comes with various stream options and an HD download. Updates are frequent, and although the content may not be 100% exclusive, there's a good amount of it, plus five bonus sites included in the membership.
Ratings
| | | | |
| --- | --- | --- | --- |
| Exclusivity | | Quantity | |
| Updates | | Features | |
| Quality | | Navigation | |
| Downloadable | | Design | |
| Speed | | Price | |
Details
Review Date:
by

Luke Preston

Category:
Solo Girls | Amateur
Trial Price:
N/A
Monthly Price:
$29.95 - 30 Days
3 Month Price:
$49.95 - 3 Months
6 Month Price:
$89.95 - 3 Months
Yearly Price:
$99.95 - Yearly
Cross Sales:
No Cross Sales
Billing Type:
Credit Card,Pay-Pal
Pictures:
1028 Picture Sets w/ 100 Pictures Per Set
Hi-Res Pictures Screen Captures Zip Files
Movies:
499 Movies At Around 20 Minutes Each
Movie Downloads:
Full Movie
Formats:
MP4 (Mpeg Video 1920 x 1080 6000 Kbps)

Delivery:
Streaming Downloadable
Bonus Sites:
5 Sites Multi Access Network
Full Review
Slinky, sexy amateur European babes are the stars at All Those Girls, and it's mainly solo videos that you are looking at. The site lands you straight on the home page where you can see the latest chicks and the latest movies. You've got two sections of videos, All Those Girls CX Teens Extreme, and the main movie section where there is a mix of younger girls and some guys which come from, I assume, the network of six sites that you are now in. The girls are youthful and well put together, there are blondes and brunettes, some hairy babes, many smooth or trimmed and all are fit and fuckable.

They tend to use their own toys and fingers in these videos, giving you plenty of time to concentrate on the girls rather than the guys, as they mainly appear in the photo section, but if you want hardcore, then head to the bonuses - more about them in a minute. Each video is shown with a good sample shot that leads to a simple viewing page, and there were 499 videos when I was at the site. Updates were shown as happening every day, either pics or vids, and there is some question as to whether this is exclusive content or not. I didn't recognise any of it from anywhere else, though some may be shared across the network.

Each video comes with four streams, 1080p, 720p, 480p and 270p and theres an auto detect function which selects the best speed for your connection. You can always override this and go for whatever resolution suits you best. There is, though, only one download and that's at 1,920 x 1,080 HD, in Mp4 - so you will have to be okay with that size and format. Movies run for around 20 minutes, maybe 15 in some cases, and the quality is a good, high amateur standard.

Movies also come with places where you can leave comments if you want, and there are some basic file stats, but that's about it for descriptions or info, or interaction. There are also links to the screencaps where you find images at 1,920 x 1,080 and where you can easily browse to see whats going to happen in the movie. But for digital shots, you have a separate gallery area with 1,028 image sets. Again, some of these may come from other networked sites, but I found plenty of amateur Czech babes in solo sets here with around 50 to 200 pics per set and at good sizes. They open up to a screen-fitting 386 x 1,024 px at first and then go larger, but you can't download them at large size; you will have to use the zip file. Like the videos, the quality is fine here.

Although the girls may be amateurs - though some look like porn babes to me - you will find the site has been professionally set up. Although the content may not be exclusive, it is still good quality, and there were no qualms on that score. To find your extras, head to the homepage where there are top lists and latest scenes, the calendar of updates (looks good for days to come) and the links to the five bonus sites.

You'll be able to access All Those Moms, All Those Boobs, Bang My Boobies, Fuck Those Chicks and Fuck Those Moms. There's a decent amount of content throughout the network, though some scenes appear on more than one site. Each one opens in the same window and works in the same way, so navigation is easy.
Quality
The quality levels were fine here, with 1080p HD at the top of the list and streaming files for mobiles also looking good. The babes are great looking amateur mainly from the Czech Republic, and the photo quality and video playback are both fine. The site is also neatly designed and carries some interactivity for members and no technical issues.
Content
There were 499 videos in the All Those Girls section, and 1,028 photo sets, though some of this content may also be shared on other networked sites. Movies were 15 to 25 minutes in length with one HD download (only) and four streams. Galleries held 50 to 200 pics of good quality, plus there are screencaps.
Pros
The inclusion of five bonus sites makes for good viewing and extra value, and the sites all open in the same area and work in the same way. Updates look to be good, and the site is growing. It's easy to use and has some mild interactive options. The girls are the main draw though, and they are gorgeous amateurs.
Cons
There's not a lot of info about the girls if any, or about the videos and I'm not sure if the content is all exclusive. Some more navigation tools would be good, like liked tag words and a detailed search box, and it's possible that the content is being recycled - reposted with a new upload date; it's hard to be sure.
Pricing & Bonus
There are a few good pricing options here with the six and 12-month options being non-recurring. Longer term deals could be the way to go because of the great update schedule and the longer you sign for, the more you save. There were no hidden charges on sign-up either, which is good. You have five bonus sites included.
Conclusion
With All those Girls on offer, it's hard to know where to start, but the videos are good quality, and there's a model index so you can select your favourite babe. The site is updating, well stocked and features very sexy Czech amateur and other Europeans, in mainly solo movies, but with some hardcore images, and then five mixed bonus sites to boost value.