$1.00 - 0 Days
Monthly: $19.99 - 30 Days
Trial: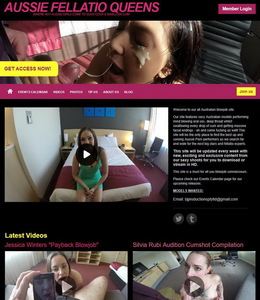 Let's go down under to go down. Well, we're not going down, some pretty, hot and sexy amateur models are going down on us in a collection of exclusive POV scenes where one guy, or sometimes two, get lengthy BJs. That's what the site is about, that and only that, although Aussie Fellatio Queens does sometimes give you a bit more, with some hardcore action. Mainly though, we're in a room with a girl between our legs and that's perfect.
Ratings
| | | | |
| --- | --- | --- | --- |
| Exclusivity | | Quantity | |
| Updates | | Features | |
| Quality | | Navigation | |
| Downloadable | | Design | |
| Speed | | Price | |
Details
Review Date:
by

Luke Preston

Category:
CumShots | Blowjobs
Trial Price:
$1.00 - 0 Days
Monthly Price:
$19.99 - 30 Days
3 Month Price:
$49.99 - 3 Months
Yearly Price:
$99.99 - Yearly
Cross Sales:
No Cross Sales
Billing Type:
Credit Card
Pictures:
139 Picture Sets w/ 20 Pictures Per Set
Hi-Res Pictures Zip Files
Movies:
160 Movies At Around 10 Minutes Each
Movie Downloads:
Full Movie
Formats:
MP4 (Mpeg Video 1920 x 1080 5000 Kbps)
MP4 (Mpeg Video 1280 x 720 3000 Kbps)
MP4 (Mpeg Video 852 x 480 1500 Kbps)

Delivery:
Streaming Downloadable
Full Review
It's all very simple at Aussie Fellatio Queens. There's a main man (sometimes a different main man, or a couple of them) and a main girl per scene. Some of the girls come back to go down again, and sometimes they get a bit more raunchy, but mainly we're looking at a 100% blowjob site with all exclusive content, and the videos come in HD. They are POV, although it looks like another guy is doing the filming at times, though close to the main boner-man, so we still get that 'it's me!' feel to the movies.

You'll see what to expect from the tour as it's very open and transparent. You may not even realise you've signed in, and that's a good thing in my book. You can see exactly what to expect before you sign-up. Which recently means 160 videos and 139 photos sets, a very brief about page and a blog. You can also apply to be a model if you happen to be down Australia way and a good looking 20-something babe with power-lips and a taste for cum. It's all very laid back too. The movies tend to start straight in, though some have a bit of chat, like the one where a gorgeous girl called Kimberlee Rose calls up two guys from Tinder and gets them over for a BJ session. They arrive ready shaved and hard, and with decent dicks in need of draining. Kimberlee works her magic.

Other scenes are audition scenes, which is another way of saying, 'Come over to the hotel, babe, and we'll see if you're good enough to be in a suck movie.' Invariably, the girls are.

Each scene runs for around 10 minutes, and I am very impressed that our main man can last so long before shooting, what with the way these girls service his dick. They are decently filmed, and good quality and you have sensible stream and download options. Streams are at 1080p, 720, 480p and 240p, and downloads are the same with file sizes ranging from 650 Mbs or so, downwards. They are also Mp4, so should be fine on your mobile devices.

Movies also come with a brief description and a place where you can leave comments, you can add them to a favourites area and also give them a thumbs up, or down. If you're after some photos too, then you've got those 139 image sets to explore. They hold around 20 pics each at good sizes, 2,000 x 3,000 for example, and you can take them one at a time or take zip files. Like the videos, the quality is fine, and you should have no complaints there. They are not linked to their videos, so you have to go and find them in their own separate area, but that's no big hassle.

There are no extras here apart from the blog which updates every now and then and looks exactly like the site. It's more of an advertising tool than a backstage interest blog, but it's there for you all the same. If you want all that kind of extra content, then sign-up for the six or twelve-month platinum membership as this give you behind the scenes footage and other member goodies.
Quality
This is hand-held, amateur style videoing that works well and looks good. The POV works, and there are also non-POV shots and moments. The videos are from an HD cam up to 1,920 x 180 and look fine, and there are lower resolutions files for mobiles. The girls are horny amateurs, nicely varied and all really cute. The site is easy to use.
Content
Updates look to be regular with 139 image sets now and 160 videos. The videos run for 10 minutes plus, and come with four streams and four downloads, and there are around 20 + shots per image set. The content is exclusive to the site, and a new video is uploaded each week.
Pros
You can see exactly what to expect from the members' area when you visit the tour. The quality is good, the site stays on its promised niche, the girls are new and cute and amateurs, who do really well, and there is some nice variety. The movies are also HD.
Cons
You really need to be a BJ fan as there is little else other than cock blowing to be found (which is actually a plus if you are after only BJ action). Aussie Fellatio Queens is a standalone site with no extras other than a blog, which is not always kept right up to date.
Pricing & Bonus
Prices are reasonable for an all exclusive site, starting at $19.99 per month the for the regular membership and dropping to $8.33 per month if you pay for a full year in on payment. You can opt for the platinum membership and get more, and that works out at $15.00 per month on the annual deal. There are no bonuses, only the blog unless you go platinum.
Conclusion
Aussie Fellatio Queens will work for you if you're totally into blowjob action with new and cute wannabe porn babes. The girls are hot, their techniques are juicy, and you get decent length movies with cum shots and facials. Updates are weekly, content is HD and exclusive, and the site keeps its promises. What more could you want, other than the real thing?