$1.00 - 1 Days
Monthly: $24.95 - 30 Days
Trial: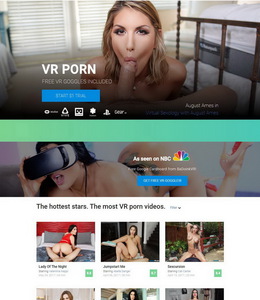 We've all wondered what it would be like to fuck a pornstar, and now we have the chance. At BaDoink VR, members can see exactly what it's like to have some of the top names in porn at their fingertips, or dick tips, more like. Everything here is streaming and downloadable Virtual Reality, and they even supply the goggles you will need. Updates are good, content is exclusive and HD, the site is easy to manage, and the stars are hot.
Ratings
| | | | |
| --- | --- | --- | --- |
| Exclusivity | | Quantity | |
| Updates | | Features | |
| Quality | | Navigation | |
| Downloadable | | Design | |
| Speed | | Price | |
Details
Review Date:
by

Luke Preston

Category:
PornStars | Virtual Reality
Trial Price:
$1.00 - 1 Days, Recurs at $29.95 per month
Monthly Price:
$24.95 - 30 Days
Yearly Price:
$71.40 - Yearly
Cross Sales:
No Cross Sales
Billing Type:
Credit Card
Movies:
140 Movies At Around 25 Minutes Each
Movie Downloads:
Full Movie
Formats:
MP4 (Mpeg Video 3840 x 1920 25000 Kbps)
MP4 (Mpeg Video 2440 x 1440 13000 Kbps)
MP4 (Mpeg Video 1920 x 960 13500 Kbps)
MP4 (Mpeg Video 1920 x 960 9000 Kbps)

Delivery:
Downloadable
Full Review
I saw BaDoink VR a while ago when it was starting out (2015), and since then they've been in and made some improvements. Not to the quality of the videos as that's always been good, but to the way the site works, and also to your choice for viewing. I'll come to that in a moment. First, the girls.

You are looking at porn stars here and the most recent babe to join the list when I just visited was Natalia Starr, one of the biggest names in porn today. A model index of 135 girls lets you see exactly who is here, Kara Faux, Jessa Rhodes, Britney Amber, Megan Rain… the list goes on and is packed with hot chicks, professional porn actresses and girls so hot you'll need your sunglasses. You will actually need you VR Goggles, and the site will send you a pair when you sign up. While you are waiting for them to arrive, there are other ways to view the videos, including SmartPhone downloads, so you get straight into the VR action as soon as you've joined.

There were 140 videos when I was at the site, and they are all about your point of view hardcore sex with the top stars. You get to watch everything from your POV as that's where the VR camera is, and so, with only a little imagination, you are right there in the scenes. These cover strips and pussy playing, babes giving you blowjobs and riding your dick and everything comes to a happy, sticky ending at the end of each 25 minute (roughly) length movie. These are well shot and good quality too, so yes, it is just about like being there.

You need to get a bit technical with your viewing in that you will need the right glasses for your set-up. The videos are all downloadable, and you are told what system they are for. When the site started out, there were only a couple of options, but now they have six per video. Gear VR HQ, Oculus, HTC vive, Playstation VR and Daydream View HQ, all at 60 fps, plus two mobile version at 30 fps and 60 fps and in Mp4. You will have to watch out for the size of some videos, some are over 3.6 Gbs in size, so that will take up some storage space, and take some time to come down if you've only got a slow connection.

The videos can be streamed to mobile and I found this an awesome feature that many other VR sites don't have. (Lot's of them make you download the video to view it)

They do give you a few photos, but not galleries as such. Beneath each set of download options are five pics at 1,500 x 1,000 px in size which give you a few moments from each scene to see, and they will go full screen. The quality is good, and they are nice to use as a guide, but not exactly collectable galleries. You're able to leave comments and also read the News in the blog area, updates are solid and good, and the site gives no technical issues.

Members are able to leave comments and feedback, which is great feature and proves that they are serious about delivering just what their members want. There is nothing better than honest feedback from the members to help steer a website in the right direction.
Quality
You have high-quality movies here with top quality porn babes, so there are no quality issues. The site has made some changed for the better since it first started, there are more viewing options, and the layout is good. It's interactive and easy to handle. The main quality point, however, is that fact that the models are top of the porn game.
Content
I counted 140 videos and 135 models in the list. Movies come with six VF download options , goggles are provided, videos run for around 25 minutes each and are hardcore POV in style. Updates are each week, and content is exclusive to BaDoink. Members also get access to the BaDoink non VR content. That means over 10,000 bonus porn videos.
Pros
Free VR goggles are included in your sign-up. Content is exclusive and well-made. You have six download options for each scene and updates are regular. There are no cross sales on sign-up. Content is HD and exclusive. Members can leave feedback and I love the fact that videos can be streamed to your mobile. Over 10,000 non VR bonus videos are included.
Cons
There are some adverts to ignore, particularly the one that greets you when you try and log in.
Pricing & Bonus
You can take a one-day trial, and it comes back at a reasonable level for all exclusive content, and there are then one-month and 12-month options with the annual one working out cheapest, though it is paid up front in one lump sum. Members also get over 10,000 non VR bonus videos from Badoink that adds loads of content and value to your membership.
Conclusion
BaDoink VR is great for its porn models and its excellent quality VR, HD movies, with a good choice of various viewing formats. Updates are good, and the quality is high. I love that you can steam content on your mobile and was blown away by the top porn babes blowing me for real. Well, virtually.