$3.95
- 2 Days
Monthly:
$29.99
$17.95
- 30 Days
Trial: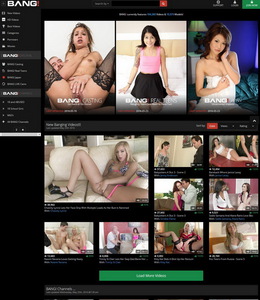 Here's something that's going to hit your screens with a massive great Bang. Oh, that's the name of the site too. What you have here is a massive collection of exclusive and non-exclusive hardcore movies, in many niches, all set out like one great wall of wank fodder, with good stream and download options, a wide range of sexy babes from professionals to amateur models, HD viewing, Asian gals, hardcore, students, forced sex and more.
Ratings
| | | | |
| --- | --- | --- | --- |
| Exclusivity | | Quantity | |
| Updates | | Features | |
| Quality | | Navigation | |
| Downloadable | | Design | |
| Speed | | Price | |
Details
Review Date:
by

Luke Preston

Category:
Young Adults | Hardcore | Video | All Access | Reality | High Definition
Trial Price:
$3.95 - 2 Days
Monthly Price:

$29.99

our exclusive price: $17.95 - 30 Days
6 Month Price:
$99.95 - 3 Months
Yearly Price:
$120.00 - Yearly
Cross Sales:
1
Billing Type:
Credit Card,Pay-Pal
Movies:
107864 Movies At Around 20 Minutes Each
Movie Downloads:
Full Movie
Formats:
MP4 (Mpeg Video 1920 x 1080 5000 Kbps)
MP4 (Mpeg Video 1280 x 720 4000 Kbps)
MP4 (Mpeg Video 960 x 540 3000 Kbps)
MP4 (Mpeg Video 852 x 480 2000 Kbps)

Delivery:
Streaming Downloadable
Bonus Sites:
3 Sites Multi Access Network
Full Review
My first thought when seeing Bang.com was, 'Where to start?' You are faced with, literally, thousands of videos to watch. Many of these are exclusive Bang productions and you can filter those out. Others are from DVDs and you can easily filter those as well. So, take a deep breath and decide what you want to watch today.

You will find access to three Bang original sites here: Bang Casting where they take 18+ teens and other young hopefuls and really put them through their paces; it's pretty rough and ready at times, a bit on the 'forced sex' side and there are some great try-outs and interviews with first time cam sex following. The girls there are amateurs but you wouldn't know it. Then you have Bang Real Teens for some cute and lithe younger ladies in hardcore and solo sessions. Then Bang Japan for uncensored imports from Japan. Japanese porn is often censored which basically ruins the fun, but not here.

You are also able to filter the 107,860 + scenes (and yes, I did get that number correct, and there are frequent updates so that number is growing by the day), and there are various ways of doing this. You can search out only the HD movies, and these are at 1,920 x 1,080 at the top of the HD scale, or by which scenes or DVDs have won awards, and then there are three other main categories, 18 And Abused, 18 School Girlz and Milfz. There's a lot of 18+ teen sex here with kinky girls getting up to all kinds of naughty with older guys, and with nerds, there is porn from the UK as well as other worldwide places, there are some great teen boy and girl scenes and then a category page with 61 headings to search around by. Whatever you want, you are going to find it here.

Not all movies are in HD, but they are all good quality; not that I had time to see all 100,000 + of them, but the ones I saw drew no complaints. I found up to five resolutions in Mp4 format for all scenes, from the 1080p HD at the top, through some neat mid-range ones where full screen was still fine, and then some mobile suitable ones around 320p. There are also streams though I found only the Autoplay selection available. Mind you, the streams ran smoothly and there was no buffer-wait, so it looks like the site knows what speed is best for you and selects that. This makes streaming a doddle and again, no complaints there.

Your porn stars list is another way to find content, you can search through over 15,000 female modes and over 4,000 male models. Each girl (or guy) gets a face pic, though there were a few missing, and you can see their members' rate - you are also able to rate models, and movies - and then you have a page showing her scenes, and sometimes a few stats. Viewing pages for movies hold links to similar or related scenes and I had no hassles moving around the site, once I'd taken in the vast amount of content available.

I reckon the bottom line here is that the Bang exclusive content (several thousand movies) is spot on and great quality, the non-exclusives are pretty hot too with many in HD, there's a mass of variation in content and the site is set up to run well.
Quality
The top resolutions here are at 1080p HD and look great but you've got other resolutions for download including mobile quality movies. So there are no quality issues. Exclusive movies are high quality, others are just fine and DVD release standard at least. The site has a handy interface with many filters and search options and works well.
Content
There are daily updates, it looks like; new content was added while I was actually in the site. There were well over 100,000 videos scenes from all over the place and in just about every niche you can think of. If there's an emphasis, it's on teen and hardcore. Movies are Mp4 files to suit all, there are no galleries but you won't have time for them anyway!
Pros
The sheer number of video scenes makes this one of the largest sites I've ever seen, and I've seen a lot. It's easy out navigate and filter content once you've got over the shock of the amount of choices. There are HD movies, it's all downloadable, there are a lot of exclusives, the quality is good and updates are frequent.
Cons
A bit more info about the scenes, DVDs, girls and guys would have been good to see, plus a place where you can comment. There are no galleries to collect, no screen caps either.
Pricing & Bonus
There is a trial offer available but checking to make sure you're not getting limited access or a higher recurring membership after it expires. We can offer a discount for monthly membership and the six-month and 12 month options give you amazing value for money when you think how many DVD's and scenes are available.
Conclusion
I reckon Bang is an excellent place to have in your bookmarks folder for when you want something hard and horny to view. You can slip in, select from over 104,000 scenes, find exclusives, HD movies, Asian, teens and Milfs, with all kinds of other genres too and download as much as you want in mobile and desktop friendly Mp4. It's a big, stunning collection.