N/A
Monthly:

$19.95

$19.95 - 30 Days
Trial: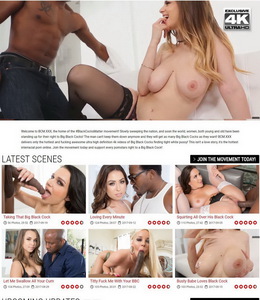 Interracial hardcore is the flavour of the day at BCM XXX, Black Cocks Matter, a new site from the new and growing Pimp XXX Network. This is all exclusive content with 4K HD movies, great image sets, hot porn chicks and some of the biggest black boners you're going to see. It's not a large site as yet, but it is updating every week, and your membership gets you access to five other exclusive sites.
Ratings
| | | | |
| --- | --- | --- | --- |
| Exclusivity | | Quantity | |
| Updates | | Features | |
| Quality | | Navigation | |
| Downloadable | | Design | |
| Speed | | Price | |
Details
Review Date:
by

Luke Preston

Category:
Ebony | Interracial Sex
Trial Price:
N/A
Monthly Price:

$19.95

our exclusive price: $19.95 - 30 Days
3 Month Price:
$39.95 - 3 Months
Yearly Price:
$89.95 - Yearly
Cross Sales:
1, prechecked
Billing Type:
Credit Card
Pictures:
9 Picture Sets w/ 100 Pictures Per Set
Hi-Res Pictures Screen Captures Zip Files
Movies:
9 Movies At Around 30 Minutes Each
Movie Downloads:
Full Movie
Formats:
MP4 (Mpeg Video 3840 x 2160 12000 Kbps)
MP4 (Mpeg Video 1920 x 1080 8000 Kbps)
MP4 (Mpeg Video 1280 x 720 5000 Kbps)
MP4 (Mpeg Video 360 x 480 2000 Kbps)

Delivery:
Streaming Downloadable
Bonus Sites:
5 Sites Multi Access Network
Full Review
It's all black and white at BCM XXX, except that the content is in full colour, so it's really in black, white and pink, what with the full-on hardcore and everything. Cute porn babes like Melissa Moore go down on some pretty impressive ebony boners in these movies and their galleries. The films take a familiar approach with the chicks posing and stripping down, then getting to work on the dicks with their gentle fingers and their hot lips. After this and some pussy-delving by the boys, they open up and spread wide - and they need to, to accommodate the dark offerings - and the full-on hardcore starts up.

These movies run for around 30 minutes each and look great. The quality is impressive, the sound is good and natural and the filming makes sure you don't miss a thing, with good close-ups and also longer shots. Everything is focused and in shot, and you get a top-quality movie each time. You do only get nine of them so far, but updates are coming in each week, and you also have your bonus sites to access; more about them in a minute.

The most recent movies are shown on the home page but the top menu lets you find them all in a videos area. Here they are neatly set out with good sample shots that, when clicked, lead you through to a good set of viewing options on a well-designed viewing page. There are descriptions to introduce the scenes, and then options for streaming and downloading. You can stream in a variety of speeds up to 1080p and down to 144p, with six choices in total. You have even more in the download options, with 4K HD, three varieties of 1,920 x 1,080 (three different speeds), plus 720p, 480p, 360p and 144p. As these are all Mp4 files, you should find something to suit your device, but there are no WMV options or others. Some of the 4K files are over 6 GB, so make sure you have enough storage space.

Movies also come with large sets of screen caps to click through, plus digital galleries with 100 + pics per set. You can also find these from the main menu in their own area, and the quality is, once again, good. Images are shown at a sensible size for your screen and in slideshows, but then members get to choose three sizes of images in three separate zip files. The galleries offer posed model shots as well as the action ones, and there are already plenty to collect.

BCM XXX and its network is also well set-up for interaction and easy navigation. You're able to rate scenes, add them to a favourites area, leave your comments and click through using linked tag words. The pages are neatly designed, and everything works well. There are ways to arrange the content, sort it and search it, though with only nine scenes these functions haven't come into their own yet; when the site is bigger, these will be handier. I had no technical issues and found no trouble getting around.

And as for your bonuses… You have access to all seven sites in the Pimp XXX Network, one of which is the full collection of content in the main hub. Try out Cucked XXX, Family XXX and Petite XXX, for example, and you will find more exclusive, themed hardcore with more top stars and some hot newbies. There's a drop-down list at the top of the page and the bonuses open in the same window, so even that is nice and easy to manage. As these new sites are updating, you will be getting more and more content each week, making a long-term sign-up well worth considering.
Quality
With movies shot in 4K HD, you expect good quality visuals and sound, and you get them. But there are other qualities of videos and the overall filming style and presentation makes for very good quality content. The site is all well-designed and easy to use, and there are no technical issues. Galleries hold high-resolution images.
Content
The site is new, so don't expect much content yet, but there are the bonuses. You have nine scenes, and they are all exclusive and all 100% interracial. A new scene is being added each week, and updates have been regular. Movies are around 30 minutes in length, galleries hold around 100 pics each, and there are nine models in the model index.
Pros
Membership comes with access to other sites in the network, which is new, exclusive and very high quality. You get the experienced porn babe and some amazingly big black cocks combining in horny interracial action, plus weekly updates. The site is easy to use and interactive.
Cons
Watch out for a cross sale on the join page. The site is obviously very small as it's new, and the network itself is not yet huge. There is no advanced search option, but the size of the site doesn't warrant it yet. Mp4 is your only file download type.
Pricing & Bonus
With the standard monthly price at $19.95, this is not a bad sign-up offer at all. However, take the three or twelve-month option, and you will be getting in for even less. All sign-ups include access to the Pimp XXX Network with seven sites and 53 exclusive videos and pics, and 46 models and your bonuses.
Conclusion
BCM XXX is going to go on to even bigger things, and I am not just talking about the ebony dicks (that couldn't be bigger) that slip and pump into cute white chicks. It's a good quality and exclusive interracial site from the Pimp Network, and you have access to all seven sites at a decent price. Into a bit of black dick with your hot pussy? Check it out.