N/A
Monthly: $29.99 - 30 Days
Trial: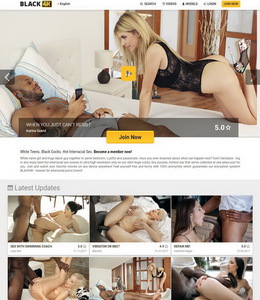 There's a five in one offer at Black 4K. This interracial hardcore site is gradually filling with exclusive and Ultra HD movies where horny and hung black guys get to ball with cute white chicks. It's well made, great quality, easy to use and comes with four bonus sites. It's not the largest interracial site around, but it gives you top pornstar names and some great hardcore videos to stream and download along with their galleries.
Ratings
| | | | |
| --- | --- | --- | --- |
| Exclusivity | | Quantity | |
| Updates | | Features | |
| Quality | | Navigation | |
| Downloadable | | Design | |
| Speed | | Price | |
Details
Review Date:
by

Luke Preston

Category:
Interracial Sex | High Definition
Trial Price:
N/A
Monthly Price:
$29.99 - 30 Days
Yearly Price:
$59.99 - Yearly
Cross Sales:
1, prechecked
Billing Type:
Credit Card
Pictures:
15 Picture Sets w/ 200 Pictures Per Set
Hi-Res Pictures Zip Files
Movies:
15 Movies At Around 25 Minutes Each
Movie Downloads:
Full Movie
Formats:
MP4 (Mpeg Video 3840 x 2160 18000 Kbps)
MP4 (Mpeg Video 1920 x 1080 10000 Kbps)
MP4 (Mpeg Video 1280 x 720 5000 Kbps)
MP4 (Mpeg Video 960 x 540 2600 Kbps)
MP4 (Mpeg Video 640 x 360 550 Kbps)

Delivery:
Streaming Downloadable
Bonus Sites:
3 Sites Multi Access Network
Full Review
Black 4K is a classic interracial scenario site, by which I mean, its movies play out stories, and the girls and guys play roles before they roll into bed and start rolling around. You're probably going to recognise some star names here and in the bonus sites; Valentine Nappi, Evalina Darling and Chrissy Fox for example. I found these gorgeous, slinky ladies doing battle with some big black dicks in some very well made movies. The movies have set-ups, many are domestic, at-home scenes, some involve the swimming coach or the repairman, that kind of thing.

When I called into the site, there were 15 movies, and they ran for 25 + minutes each. You get streaming options and Mp4 downloads that are the same resolutions, and this is where the site does really well. You have mobile versions to download and also 4K HD, with 1080p, 720p and 540p also included. SOME of the 4K files are huge, over 10 Gbs and so can take a while to download depending on your connection. I, however, found that the mobile versions, when downloaded to a desktop, played fine and looked good played at full-screen size. You can jump through the streams too if you want to, and movies come with a description.

The scenes also have galleries with them, and these can be downloaded in a zip file, with around 200 + pics in each one, at large sizes. Again this can lead to lengthy downloading and unzipping, as the pics are full size, at 5,760 x 3,840 px, for example. However, you can view them online and, like the videos, they are excellent quality. The production standards are great here, with good lighting and sound, the dialogue was in English (it's in other languages in some of the bonus sites and without subtitles), and you can even change the language of the site with a choice of seven international languages to choose from.

There are some ups and down with Black 4K and the bonuses. The four bonus sites are one of the 'ups' as they open within the same page and have the same high-quality standards and 4K HD movies. Old 4K, Loan 4K, Daddy 4K and Hunt 4K are all included though the tour doesn't advertise this, and they help make your $29.99 per month stretch a bit further. There were 76 movies throughout the whole network of sites, and each one has its own theme. Older guys and younger girls, a POV site where a guy hunts for cute babes to pick up and bang while the BF watches, and one with a hidden cam feel where the girls are banged by the loan repayment officer.

On the downside, updates are not very frequent. I was in at the start of 2018, and there had been no updates for the previous two weeks, and the next 'coming soon' movie was slated for one of the older/younger sites in a few days' time. Black 4k had no 'coming soon' news.

Meanwhile, members can rate and comment and read other people's comments, and I found no navigation or technical issues. The quality is high, the chicks are hot, the guys do well, and there's good variety in the cumshots with cum in mouth and internal shots. It's a small site, but it looks like it could do really well if it had some more frequent update scheduling.
Quality
The 4K produces large files but excellent results. Good filming, natural scenes and acting, hot babes and big boys, with classy images to go with it all. Navigation is neatly designed, and there are some basic search options and filters, and the pages load fast. The filming quality is among some of the best we've seen.
Content
With 15 videos so far, Black 4K is not the largest site around, and it is slow to update, but the content is exclusive and HD and comes with decent viewing options; four versions in Mp4 per scene. There are 15 photo sets you take down in zip files, and these are also excellent quality.
Pros
You have four bonus sites included that are not mentioned on the tour as yet, but I was able to slip from one to the other with no hassle, giving me extra value to the sign-up. The movies are high quality and exclusive, the girls are gorgeous, and the site works well.
Cons
Updates are irregular, not frequent, the 4K files mean over 10 Gbs in some cases, and photos have to be downloaded in zip files and unpacked, which can take time. There are two pre-checked cross sales at sign-up to watch out for, and the network only holds 76 videos so far.
Pricing & Bonus
There is a trial offer advertised by it doesn't tell you how much it's going to cost you or what it recurs at. The monthly $29.99 is a bit on the high side for only 15 movies, though the four bonus sites also offer more porn, though only 76 videos in total so far. The annual deal, paid in one instalment, is the best value if you can wait for updates.
Conclusion
Black 4K looks good and gives you very high-quality videos that are exclusive. It's slow to update and not a large site, but has four bonus sites included. Everything is exclusive and looks good, you've got hot babes and hung black guys in some steamy interracial porn, and I only wish it was a bit bigger and more regularly updated.