N/A
Monthly: $29.32 - 30 Days
Trial: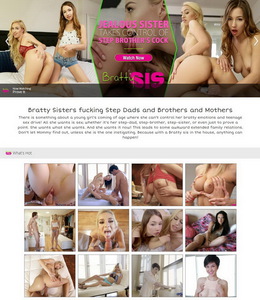 There is another new site that's just come along to give us more choice when looking for taboo porn. Bratty Sis takes the step-sex theme and runs with it in exclusive movies that feature some top porn babes, and some hung guys. The movies are exclusive, and HD, hardcore and well filmed, and the site contains a model index and images. It's new so not yet big, but it updates each week with another inter-family fuck scene.
Ratings
| | | | |
| --- | --- | --- | --- |
| Exclusivity | | Quantity | |
| Updates | | Features | |
| Quality | | Navigation | |
| Downloadable | | Design | |
| Speed | | Price | |
Details
Review Date:
by

Luke Preston

Category:
Young Adults | Reality
Trial Price:
N/A
Monthly Price:
$29.32 - 30 Days
Yearly Price:
$199.00 - Yearly
Cross Sales:
1, prechecked
Billing Type:
Credit Card,Pay-Pal
Pictures:
16 Picture Sets w/ 150 Pictures Per Set
Hi-Res Pictures Screen Captures Zip Files
Movies:
16 Movies At Around 30 Minutes Each
Movie Downloads:
Full Movie
Formats:
MP4 (Mpeg Video 1920 x 1080 8000 Kbps)
MP4 (Mpeg Video 960 x 540 4000 Kbps)
MP4 (Mpeg Video 640 x 360 1500 Kbps)
MP4 (Mpeg Video 480 x 270 800 Kbps)
WMV (Windows Media 1280 x 720 6000 Kbps)

Delivery:
Streaming Downloadable
Full Review
In my day, taboo used to be things like sticking your tongue in your vicar's ear, talking in class, and telling your grandmother she needed a shave. These days it's all about step-family sex, at least that's the latest craze in the adult entertainment market. There are loads of sites popping up now on the step-sex theme, though there are others that have been around for a long time. Bratty Sis is a new one, and so it's still small, but it's a good one, and it's set to go a long way.

The theme here is that there's a younger 18 + teen sis in the house, played by someone like Riley Reid or Adria Rae, and she's misbehaving and being petulant. So, her mom gives her a telling off and tells her new stepbrother to keep an eye on her. Left to their own devices, the pair start to get flirty and then dirty and before you can say 'we're not really related' they are getting in on. She's blowing him, he's fucking her, she's getting the rough end of the dick, and he's giving her a creampie or a facial. It's standard hardcore in that respect (and there's nothing wrong with that), but it comes with the added frisson of the story set-up. These are kind of fantasy reality scenes if that makes sense, and they look great.

Because the site is new, only a couple of months old when I saw it, there were only 16 scenes, but they ran for around 30 minutes and were perfect quality. You can stream them in a choice of speeds, and all of them looked good, with full screen available. You can also download them in Mp4 at 1,920 x 1,080 HD, with three or four other sizes, including a mobile-matey one at 480 x 270. There's also a WMV file at 1,280 x 720 if you like your porn served that way. The scenes also come with screencaps to check out, plus digital galleries.

You can link to the galleries from the video viewing page, which is handy, or you can check them all out in the link from the top menu. There are 16 galleries with around 120 to 150 pics each at good sizes. View them online and save the ones you want, or take one of the three choices of zip files with a top-sized collection at 5,760 x 3,840; the smaller ones are 1,200 x 800, but all of them look good and are clear and focused. They give you the babes posing as well as the babes and boys in action.

A model index of 21 girls will help you decide who you want to see in taboo action first, and the girls here have a few stats and details, plus their links. That's about it for extras, as there are no bonus sites. But there is a page of deals which might give you some food for thought and it holds sign-up options for members where you get discounts. Back at Bratty Sis, you are able to rate the content and leave comments, read good descriptions of scenes, and also use the Feed page. This is like a running news feed where recent comments are shown, and there are other neat functions there too. It adds a bit of the personal and interactive touch which I always like to see on a good adult site; and Bratty Sis is going to be a good adult site - when it's a bit bigger.
Quality
There are no quality issues here, the videos are well made and professionally shot, as are the galleries. You will get to see some top porn babes and in HD too with 1080p resolution movies, plus good quality ones for mobiles. The images are sharp and clear, the site is interactive and has no technical issues.
Content
Bratty Sis is a new site, and there were only 16 videos so far, but they are exclusive, and the updates are coming in with a new video/gallery each week. You can stream in a choice of speeds, and download in a choice of resolutions from 1080p down to mobile-suitable. These are Mp4 with one WMV at 720p.
Pros
This is a professional site where the film crew know what they are doing and where there are some experienced, and yet young, porn models. However, they play out their parts well, and you get a nice sense of story and reality about the sexy fantasies. The filming is good, and HD, the photos are good, and there is interactivity.
Cons
The site is small, but it is growing, and I'd have liked the price to be a bit lower for an introductory period. There's a cross sale on the join page to avoid, and there are no bonuses to speak of. Something extra would go down well as we're being asked for nearly $30.00 per month.
Pricing & Bonus
There are recurring and non-recurring deals for you for one month, four months and 12 months, and it's that last one that saves you the most; or at least, costs you the least in the long run. However, there are no bonuses at the site, but updates are weekly. Watch out for the cross sale on the join page; otherwise, sign-up is secure and straightforward.
Conclusion
It looks like the step-house is soon going to fill up with brilliant hardcore movies on the step-sex theme. I liked the way Bratty Sis gets her comeuppance with a face full of cum and a dick up her, I liked the scenarios and the sex, the HD and mobile files, the galleries and interactivity. It's a site that will leave you wanting more, so chill and wait.