$1.00
- 2 Days
Monthly:
$29.99
$17.95
- 30 Days
Trial: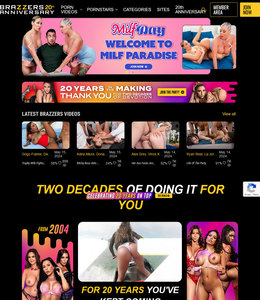 Brazzers Network is one of the best known porn network of sites on the internet. They offer the most extensive collection of high quality variety porn featuring some of the most amazing babes in the industry. Brazzers has a total of 30 sites that members get full access to. That's a lot of high quality porn to look at, with the network receiving daily updates you will never run of the top notch content, all for a discounted price!
Ratings
| | | | |
| --- | --- | --- | --- |
| Exclusivity | | Quantity | |
| Updates | | Features | |
| Quality | | Navigation | |
| Downloadable | | Design | |
| Speed | | Price | |
Details
Review Date:
by

Wesley Sinn

Category:
Hardcore | PornStars | All Access | Mobile
Trial Price:
$1.00 - 2 Days, Recurs at $39.95 / month until cancelled
Monthly Price:

$29.99

our exclusive price: $17.95 - 30 Days
3 Month Price:
$49.95 - 3 Months
Yearly Price:
$95.40 - Yearly
Cross Sales:
1, prechecked
Billing Type:
Credit Card
Pictures:
7921 Picture Sets w/ 200 Pictures Per Set
Hi-Res Pictures Screen Captures Zip Files
Movies:
7921 Movies At Around 30 Minutes Each
Movie Downloads:
Full Movie & Movie Clips & DRM
Formats:
FLV (Flash Video 967X544 0 Kbps)
MP4 (Mpeg Video 1920x1080 11840 Kbps)
MPEG (MPEG 1280x720 7600 Kbps)
WMV (Windows Media 854x480 4000 Kbps)
WMV (Windows Media 1280x720 12800 Kbps)

Delivery:
Streaming Downloadable
Bonus Sites:
33 Sites Multi Access Network
Latest Review Update
October 24, 2017
Brazzers Network is one of those networks that has more than enough to offer you for a small amount. It has, grown since its last review, from having just 7,230 movies, it now has 7,921 full on scenes, that cover 33 different premium sites. These include; Moms In Control, Pornstars Like It Big, Big Tits In School, and Real Wife Stories, just to mention a few. This site is growing every day, and it continues to put out some of the highest definition movies around, and they update on a regular basis. This is one of the biggest sites around, and as well as getting full membership to this network, you will also get added bonuses, some of the best chicks around, and a massive DVD vault that contains more than 5,000 titles.
Show more previous updates
Full Review
When I logged into Brazzers Network after getting my password, I was immediately suckered in to check out the abundance of scenes. There are 30 hot sites, and a total of 7921 exclusive scenes. Brazzers Network receives daily updates, so the number of scenes keeps getting better and better every day. The site has nothing but the highest quality content available in a wide variety of formats. Members also get plenty of value with access to nothing but high quality exclusive content through this fabulous network, one of the industry leaders hardcore sites!

The site features a very easy to navigation layout; once you sign in to the members area the latest network-wide updates appear right in the center as focal point. They have a very simple and easy to understanding navigational menu that gives you access to the Scenes, Pornstars, Sites, Bonus Feeds, Community and even a Forum.

The overall design in the members area features the top navigation menu on top, and a left menu full of other beneficial quick links. The SCENES can be viewed online using a live Flash video player, or downloaded as full video file or video clip in a variety of formats including WMV, MPEG1, MPEG4, and Ipod/PSP optimized video. They also offer a video trailer and screen caps to give members quick overview of the scene. If you want to look at the photos, you may easily navigate to the online photo gallery by clicking the HQ PICS link. The HQ pics open up to 600px 900px high resolution formats, can be viewed as a slideshow or individually. If your after bigger pictures, members can also download the entire gallery as a zip file, and you will be so pleased with the size and quality of the sets. Of course, both video and movie scenes can be added to your favorites, for later quick access.

The PORNSTARS section is devoted to all the ladies and guys that appear through out the site. If you fall in love with one girl, as I have with Audrey Bitoni you can get all of her scenes by going to her individual scene page. They made it very easy to get the content that you want, in just a few simple clicks! SITES lists all of the 33 sites you as a member get access to. At this page, just select the site that you like, click on the big thumbnail to go to it's scene index and off you go to explore the hot and exclusive content! BONUS CONTENT is stacked with many bonus feeds, and access to the massive DVD vault that contains more than 5000 DVD titles you may watch online! COMMUNITY is a section you don't see on many porn sites, it's just like a social networking sites where you may create a profile, post your own photos and meet other members and establish friends. It is really entertaining and highly interactive! FORUM is an online bulletin board where you can engage in virtual discussions about a variety of topics. If you have a porn star you'd love to see in a new scene at Brazzers Network, you can submit a personal request to have them appear in a movie!

That's about it for Brazzerz Network, the site is one of the best for a reason. The members are is Superb, clearly work of professionals who know what members want. I enjoyed this site so much, I bought myself a yearly pass! Hope you do too, and I guarantee that you won't regret it!
Quality
The quality of the Brazzers network is highly impressive; and industry leader in the adult world brazers uses only the hottest locations, sexiest models and latest technologies to deliver high, consistent quality through all of its sites members get access to. Multiple file formats, plenty of options await members looking to download one of many scenes.
Content
The content offered by the Brazzers Network spans an incredible 30 high definition hardcore and exclusive sites. Members get access to a large variety of sites representing some of the most popular niches/categories in porn. The content is delivered in the form of high quality photos, and multiple formats of HD video.
Pros
There are so many good things to say about Brazzers, I don't know where to start! They give you 33 sites for the price of 1 pass first and foremost. There are 7921 scenes, everything is very original and totally exclusive. The models are smokin' hot and the scenes are available in superb high quality in the most popular video formats.
Cons
Some of the sites are not updating as much as they should. The network gets updated more than regularly, but they should spread these updates across all the sites.
Pricing & Bonus
With the bonus sites you get when you sign up you get access to 33 exclusive sites with 7921 hardcore videos, featuring over 1660 hot pornstars, not unknowns, big names in the industry. If you sign up for a year it's only $7.95 a month for more porn than any one punter can handle. Monthly membership to Brazzers through us is also discounted.
Conclusion
Brazzers Network is one of the best network sites I've reviewed in my porn site exploring career. It is very well designed, features a superb navigational system. The content is the best it can be, the server is uber fast, the have regular updates.. and did I say it's VERY affordable with the great discounted price we can offer readers!
More Review Updates
October 13, 2015
Brazzers remains one of best network of porn sites online. Checking back in for a quick review update I found that the number of scenes here has grown to 6900 across the 33 exclusive sites you get access to as a member. Two new scenes each and every day have continued to add fresh porn to this already massive site and I have no hesitation in recommending this site to anyone that loves great porn at a reasonable price.
June 30, 2014
Taking another quick look at the Brazzers members area fans of this site will be pleased to know that they continue to add great high definition content here on a daily basis. As the content numbers continue to grow here so do the list of hot pornstars shooting content for this massive network. With over 2000 women on their books your sure to find just what your looking for here and this site remains high on the list of must have sites for fans who love both quality and quantity in their porn sites.
August 7, 2013
Today we have great news for our review readers. Brazzers have reduced their already discounted price to $17.95 a month which is just awesome. Thanks Brazzers!
July 30, 2013
We thought it was about time we do a Brazzers review update, so here I am in the members area again. How things have changed since our initial review way back in 2012. The first thing I noticed was the latest updates here, which are still happening at a rate of more than one every day. In fact over the week to the 07/30/2013 I counted 15 new scenes which is just amazing! As is the norm for a network of sites this size, not every site is still adding content, and from what I can tell 19 sites have added new content in 2013, which is more than acceptable. Overall video and picture sets numbers have grown to close to 5,200 and the quality of the new scenes here is full high definition with 1920x1080 videos with bit rates of over 10,000kbps. For those of you who are not technically minded just take my word for it that they are super high quality crisp and clear videos that show every detail, even on full screen. As Brazzers has grown, so have the number of girls appearing on this network and at the time of this review update there are 1,350 girls for you to check out. If your not satisfied with the exclusive content here they are still giving their members a massive amount of bonus content in the form of bonus feeds. This area currently has a huge amount of content with 114,115 bonus scenes. Most of these are lower quality, but it is free and adds value to your membership here. The Brazzers Network remains strong in terms of quality and value, and still deserves it high rating.