$1.00
- 2 Days
Monthly:
$29.95
$19.95
- 30 Days
Trial: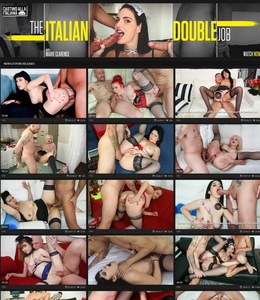 A succession of gorgeous Italian babes in their 20s and 30s are the newbie stars of Casting Alla Italiana. This site comes from Porndoe and access to the network is included even though the sign-up price is currently reduced, so you get excellent value from a membership. You also get great porn with new girls coming for an interview (in Italian) and then a try-out with one of two professional porn studs. It's hot, horny and Italian.
Ratings
| | | | |
| --- | --- | --- | --- |
| Exclusivity | | Quantity | |
| Updates | | Features | |
| Quality | | Navigation | |
| Downloadable | | Design | |
| Speed | | Price | |
Details
Review Date:
by

Luke Preston

Category:
Hardcore | Amateur
Trial Price:
$1.00 - 2 Days
Monthly Price:

$29.95

our exclusive price: $19.95 - 30 Days
3 Month Price:
$69.95 - 3 Months
Yearly Price:
$99.95 - Yearly
Cross Sales:
1
Billing Type:
Credit Card
Pictures:
58 Picture Sets w/ 50 Pictures Per Set
Hi-Res Pictures Zip Files
Movies:
58 Movies At Around 25 Minutes Each
Movie Downloads:
Full Movie
Formats:
MP4 (Mpeg Video 1920 x 1080 12000 Kbps)
MP4 (Mpeg Video 1280 x 720 7000 Kbps)
MP4 (Mpeg Video 720 x 480 2500 Kbps)
MP4 (Mpeg Video 320 x 240 800 Kbps)

Delivery:
Streaming Downloadable
Bonus Sites:
41 Sites Multi Access Network
Full Review
I've seen plenty of casting videos before, and many of them take a standard format: girl arrives, director chats, she's persuaded that the job is hers if she can prove herself, and she masturbates, blows the director maybe gets fucked and receives a facial. Yeah, okay, very nice but after a while, they can start to feel the same. Over at Casting Alla Italiana, we have something slightly different. We have Italian models filmed in the country or certainly in Europe, and we have the interviews carried out in Italian too. That makes for excellent authenticity, but there are no subtitles.

Mind you, you know what's going on, and the guys who do the examinations (including in-depth delving into pussy with fingers and dicks) know what they are up to. The girls do well too and aren't usually nervous. In fact, after a while, you feel like you're watching a duo or trio of experts, and you wonder how authentic the 'first time' part of the setup is. You've got DP session, threesomes, couples in hardcore and plenty of the standard porn elements we want to see, with the added frisson of new and exciting Italian babes as the amateur stars.

There were 58 moves at the site, and most of them are marked as exclusive, but not all. They are up to 1,920 x 1,080 HD in resolutions, with three other options for downloading including mobile versions, and the files are Mp4. There are also two streams with HD and SD on offer, and scenes last for around 25 + minutes. They are well filmed and edited, look good, and the quality is not an issue. There are also short writeups, and galleries.

Each gallery holds around 50 + pics at 720 x 1,080 px or larger, and these can be taken one at a time. There are also resizing and slideshow options, zip files for full sets and easy online browsing in a filmstrip viewer. Again, the quality is excellent, and there are no worries there.

The only worry with the content is that there has been nothing new added for some time, not since 2017, and there is no news as to when or if something new might be added. Meanwhile, however, the network is updating, and you have loads of extras.

You may find some of these hot babes in other Porndoe movies, suggesting that they have got the part and won the contract, and there is a model index with 1,130 girls to check out. Models are linked to videos, and so it's easy to locate one you find hot and then see her details and find her videos/pics. Actually, navigating the site is simple enough, and I had no issues there. I did, once or twice, lose myself as I clicked the Videos drop-down from the menu to find content in various orders and then realised that was the content from the whole network, not just Casting Alla Italiana, but there is the Network page which lists all 42 sites you can start again.

Porndoe offers us mainly European models, and it also gives us a lot of variety. With sites like The White Boxxx offering some steamy fetish and femdom, La Cochonne giving us some very sexy French babes and Chicas Locas offering Latinas, you find yourself travelling across Europe in a frenzy of porn. The network holds 2,520 + videos, mostly with collectable galleries, updates are regular (though not every site updates), and the quality levels remain high. With the price currently down to $19.95 for the month (that's a $10.00 discount), you can't afford to miss this access to 42 award-winning sites in one place, with casting Alla Italiana being their top newbie casting site.
Quality
Movies are in HD at 1080p, for both streams and downloads, and the filming style and quality is spot on. No worries there. The images are large and clear, the girls are beautiful and ready for anything and do well in their first-time casting. The site is interactive with rates and comments, and it's all well looked after and has no quality issues.
Content
Casting Alla Italiana has only 58 movies, mainly exclusive, but there's no news on when more will be added. Updates have not happened for a long time. These videos run for 25 + minutes, have four downloads and two or more stream options, galleries with 50 + pics each and are all about amateur, first-time Italian porn babes.
Pros
Your membership comes with access to the Porndoe network of 42 sites, and the price is currently reduced. Even at these low prices, you have network access. There's loads of variety, and the network is about European porn, so it's a great change from the usual USA porn we see. There is excellent variety in the bonus sites, and everything is good quality.
Cons
The lack of updates is a worry, and the site is not that huge. It would be good to have a way to filter the entire network by site without having to use the Network page. (there is a category page.) These Italian movies don't have subtitles, and there's a cross sale on the join page to be aware of.
Pricing & Bonus
With the monthly price down from $29.95 to $19.95 at the moment, now is the best time to sign-up. However, even at the usual price, it's a bargain thanks to the 42 sites, the 2,520 + videos, the galleries and over 1,629 models (that's the girls, there are also guys and shemales from the other sites). Beware a cross sale but otherwise, dive in; it's amazing.
Conclusion
Casting Alla Italiana is a casting site with a difference. That difference is that they are all Italian newbies and guys and although there are no subtitles, they give us wild and inventive casting videos, unlike so many other similar sites. With network access, a reduced price membership and all these sizzling Italian girls, you'd be mad to miss it.