N/A
Monthly: $29.90 - 30 Days
Trial: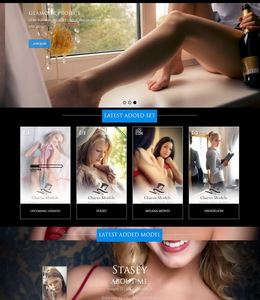 When you want a break from hardcore and fancy some gorgeous, glamorous girls in high-class erotic photography, then Charm Models will charm the pants off you. This is a small, slowly growing site that's all about erotic images and softcore poses, girls in lingerie occasionally showing a boob. It's high-quality work and comes with some short videos, but it's about mainly images that are highly collectable.
Ratings
| | | | |
| --- | --- | --- | --- |
| Exclusivity | | Quantity | |
| Updates | | Features | |
| Quality | | Navigation | |
| Downloadable | | Design | |
| Speed | | Price | |
Details
Review Date:
by

Luke Preston

Category:
Softcore | Photographic
Trial Price:
N/A
Monthly Price:
$29.90 - 30 Days
3 Month Price:
$62.70 - 3 Months
Yearly Price:
$99.95 - Yearly
Cross Sales:
1
Billing Type:
Credit Card,Pay-Pal
Pictures:
100 Picture Sets w/ 50 Pictures Per Set
Hi-Res Pictures
Movies:
21 Movies At Around 8 Minutes Each
Movie Downloads:
Movie Clips
Formats:
FLV (Flash Video 640 x 360 1000 Kbps)

Delivery:
Streaming
Full Review
The Charm Models are gorgeous models from the Baltic States, I am told. They are youthful, in their 20s, slim and sexy, with perfect bodies, and they know how to pose in lingerie to get your imagination going. They appear in exclusive image sets and videos in a very basic members' area, and the content is of the highest quality.

This is a simple site. It's erotic art photography, and there are many images where the girls are dressed, or in lingerie and stripping down. Every now and then they are naked or showing more flesh, a boob here, a sensitively posed nude there, so there is some variety. There's also variety in the girls with black-haired beauties, blondes, redheads and brunettes, but all have a special quality which sets them apart from other erotica models. It's definitely a site for collectors of erotic art and top-notch glamour photos.

There are 121 pieces of content now, with videos and galleries mixed in together. You can see what's a movie and what's a gallery from the icons on the sample shots on each of the index pages, but there's no way to separate them out. The movies are short, eight minutes or so and run in a Flash player, with just the one choice of resolution. We're told they are HD, but the player is small; they do, however, look fine and play with subtle background music.

The galleries hold around 50 pics each, and these come down at various sizes depending on age. Some were at 2,000 x 3,000 px, others at 600 x 900, and they are shown with large thumbnails. Sometimes these opened to a viewer where I wasn't able to download individual pics, but at other times, they opened in a new tab and at full size, and I could save them. I did have to do a fair amount of back buttoning or tab closing and then opening another image, and there were no zip files. The viewer galleries do have a slideshow function.

I have a few other queries about the site. The sign-up page says there are three sites included, but I didn't find them. There are links to where the girls might have appeared on a couple of other sites, and I thought that might be the way to the promised extras, but I still had to sign-up to see inside those sites. There's no way to filter anything and no linked tag words, or category lists, and hardly any info about even the models. You get some stats in the model index where there are 79 pretty babes to choose from, but that's it.
Quality
There's no argument here with the quality of the photos, videos and girls. These guys know what they are doing and who they are shooting. The girls are stunning, and so is the photography. The site could do with being more interactive and offering members something on top of the high-class images though, but technically it all works.
Content
There are 121 pieces of content, videos and galleries combined, but no way to filter them out. I'd say there were around 21 videos included, but it's hard to tell. The vids are short Flash streams of around eight minutes with one choice of speed. Galleries hold approximately 50 large images each, most of which can be downloaded.
Pros
You'll have to search hard to find erotic photos that match Charm Models for quality and professionalism, and there are plenty of new girls here you'll want to meet and follow. The site is easy to use. The sign-up deals offer discounts that are worth checking out.
Cons
There are no interactive functions, no filters or search tools, and no information apart from a few stats about the girls. Updates are not recorded (the site has grown from 16 to 121 over the last five years). Three sites are promised, but I didn't find any bonuses. Not all images can be saved, and videos are streaming only.
Pricing & Bonus
If you take the recurring monthly offer, the price reduces after your first two months. You can also find reductions by signing up for three or 12 months at a time (both recurring), but there's no update news to tell you what you'll get over that time period. Bonus sites are mentioned, but I was unable to locate them; they may be there.
Conclusion
Charm Models shines because of its quality and its girls, but where it falls down are on the other important things a site should have. Search and sort options, interactive functions, details, update news, model bios, bonuses and it is still a pretty small site. All that said, it's still got some of the hottest glam-erotica images we've seen in a long time.