N/A
Monthly:

$29.87

$14.87 - 30 Days
Trial: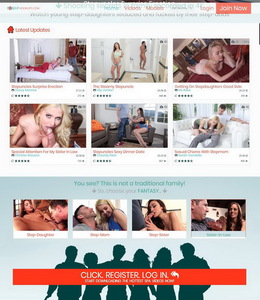 They are keeping it in the family at Family Hookups, a new and exclusive site where the models play step-relations and have naughty relations with each other left, right and centre. The site is a standalone and offers no extras, as yet, but it is giving us weekly updates, promises 4K HD videos, definitely has 1080p HD, and a cast of horny models who range from teen babes to older dads.
Ratings
| | | | |
| --- | --- | --- | --- |
| Exclusivity | | Quantity | |
| Updates | | Features | |
| Quality | | Navigation | |
| Downloadable | | Design | |
| Speed | | Price | |
Details
Review Date:
by

Luke Preston

Category:
Hardcore | Reality
Trial Price:
N/A
Monthly Price:

$29.87

our exclusive price: $14.87 - 30 Days
3 Month Price:
$49.87 - 3 Months
Yearly Price:
$95.76 - Yearly
Cross Sales:
1, prechecked
Billing Type:
Credit Card
Pictures:
10 Picture Sets w/ 150 Pictures Per Set
Hi-Res Pictures
Movies:
10 Movies At Around 20 Minutes Each
Movie Downloads:
Full Movie
Formats:
MP4 (Mpeg Video 1920 x 1080 10000 Kbps)
MP4 (Mpeg Video 1280 x 720 8000 Kbps)
MP4 (Mpeg Video 950 x 540 5000 Kbps)
MP4 (Mpeg Video 480 x 360 1500 Kbps)

Delivery:
Streaming Downloadable
Full Review
The stepfamily, taboo niche is one that's becoming very crowded with new sites these days and to survive and do well, a site has to offer us something different. Family Hookups looks like it's going to do that, but at the moment it is just starting out and is new and small. We have to bear that in mind as we look around inside and see what we have, and the first thing I noticed was that it is updating each week. So, won't be long now before the family grows and, apart from that, we have a good intro-price for you if you're going to sign-up, so it's not expensive either.

It is, though, all about step-sibling sex and step-family sex. The movies take all kinds of reality/fantasy scenarios: dad seducing step-daughter, stepbrother and sisters together, and even step-uncles, which is a twist we don't often see in the other taboo family sites. The movies so far take place in middle-class households in the USA, and they are all looking good; the videos I mean, the houses do look good too, but we're not here for the scenery. We're here for the models and the sex. There are ten models in the index right now if you want to start there, and they come with a link to their vids and a place where you can rate and comment.

Once you get to the videos though, you will find hot chicks opening up for their older stepdads, and hung step-bros going down on their nearly-related sisters in hardcore movies that include all the usual elements. Sucking, pussy diving, hardcore, banging and cum shots; so, no complaints there. In fact, my only complaint (and it wasn't really a moan, just a confusion) was with the 4K HD. This is advertised, and it shows up in the sample shots per video, but I only found 1080p HD and lower res files to take. Perhaps I missed something, perhaps the site has added those versions now, I'm not sure. As I say, we have to give it a bit of time to bed in.

Meanwhile… There are 10 all exclusive and hardcore horny movies here, and a new one is being added to the site each week. They run for good lengths of time, giving us enough of a story and background to make the scenes reality and believable, and then they give us a good length of well-made hardcore. You can stream them in the same formats and sizes as you can download them; 1080p, 720, a couple of midrange ones and one suitable for mobiles at 360p. They are all Mp4 files so should do for most devices. The quality is superb, and the acting is very natural, all adding to the real-feel of the scenes.

There are also galleries with them where you can browse online. I wasn't able to download solo pcs, but I could enlarge them to some huge sizes, and there were no zip files, that I found. I was able to leave comments though and rate the pics (and vids and models), and the quality here was also good.

There are no extras yet - perhaps there will be some in time? So, the site is small, but exclusive, and an HD one that lives up to the tour promises in everything apart from size and, unless I did miss it, the 4K. Having said that, the 1080p HD was good enough to satisfy and gave me no worries. I was able to see everything and find all the content really easily, and it was well worth finding.
Quality
I was able to stream and download at 1080p HD here, and the quality of the filming and performance were fine, better than. The sound is good, the images are clear, and the site is simple to use and gives you no hassles; just what I like to see.
Content
There are only 10 videos as I write because the site only started a few weeks back with a set of hot videos in one go. Since then they have been adding one per week. Full length 1080p HD, Mp4 files, mobile-matey and looking good, the 20 + minute movies also come with galleries of around 150 pics at big, clear sizes. Content is exclusive.
Pros
You are in at the start of something new if you join now and thus you will get a good discount on the usual price, but it won't be around forever. The movies are exclusive and well made, HD and there are some totally cute and hot models to get off with. There are no navigation or technical issues, and updates have been as promised since the site started.
Cons
Obviously the site is small, with only 10 vids and galleries. I wasn't able to find the 4K files, only 1080p, and there were no zip file downloads for pics or solo saving of images. Very unusual. More info about the models would be good to see as would some extras.
Pricing & Bonus
We have a deal for you where you can currently access Family Hookups for only $14.87 per month instead of the usual $29.87 so you might want to grab a pass before that offer expires. Otherwise, the annual one is a good deal or will be when the site grows and if it added some bonuses; there's nothing extra here just yet. Beware the cross sale on sign-up.
Conclusion
Family Hookups looks like it's going to go far, and we do need to give it time to grow, but also, it doesn't come with any extras. There's a link to a cam site, and that's it. Perhaps we were in too early to find all the goodies. It got me wanting to come back and look again in a few weeks as I was impressed with the quality of the filming and presentation.