N/A
Monthly: $19.95 - 30 Days
Trial: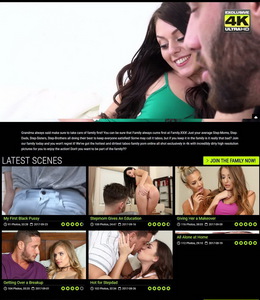 The trend for taboo step-sex reality movies continues with a new offering from Family XXX. Family XXX brings you hot porn babes, star names, newbies, hung guys and dads, with some Milfs, in a new site that's high quality, 4K HD and growing. Your membership includes downloads, streams, galleries and five bonus sites on various themes.
Ratings
| | | | |
| --- | --- | --- | --- |
| Exclusivity | | Quantity | |
| Updates | | Features | |
| Quality | | Navigation | |
| Downloadable | | Design | |
| Speed | | Price | |
Details
Review Date:
by

Luke Preston

Category:
PornStars | Reality | High Definition
Trial Price:
N/A
Monthly Price:
$19.95 - 30 Days
3 Month Price:
$39.95 - 3 Months
Yearly Price:
$89.95 - Yearly
Cross Sales:
1, prechecked
Billing Type:
Credit Card
Pictures:
14 Picture Sets w/ 100 Pictures Per Set
Hi-Res Pictures Screen Captures Zip Files
Movies:
14 Movies At Around 30 Minutes Each
Movie Downloads:
Full Movie
Formats:
MP4 (Mpeg Video 3840 x 2160 12000 Kbps)
MP4 (Mpeg Video 1920 x 1080 10000 Kbps)
MP4 (Mpeg Video 1280 x 720 6000 Kbps)
MP4 (Mpeg Video 640 x 480 2000 Kbps)

Delivery:
Streaming Downloadable
Full Review
It must be very hard for a guy to come home and find his new stepmom has arrived with a new stepsister. The sis is hot and a great looking chick, and he's never met her before. If the step-bro fancies youthful and sexy younger girls, then it's going to be hard for him to keep his hard-on in his pants. If he fancies older cougar ladies and his stepmom is a hottie, then it's going to be hard on his hard-on as well. So, what's a guy to do? Well, over at the new site Family XXX, it's a case of letting it all hang out as step Milfs seduce younger guys, and stepdads seduce younger babes, step bros get it on with their newly related stepsisters andů Well, lets just say it's a game that the whole family can enjoy.

These are reality scenes, in as far as step-sex is a reality (and I am sure that in some parts of the world it is). It certainly is in these middle-class families where there's some interracial cross-fertilisation as well as some cross-gender action. The movies here are set-up with good acting and scenarios that are believable, giving a strange reality-fetish slant to the videos. Descriptions of scenes help with this fantasy setting, and the action is well played out, leading pretty quickly to the horny hardcore we love to see.

Getting to the movies is easy as there's currently only one page of them; the site being so new. I found a small number of scenes on offer, but updates look like they are going to settle in to be regular. Each one comes with a trailer, streams, downloads, galleries, screencaps and some nice interactive options.

You can stream in up to seven different speeds, from a top 1,920 x 1,080 @ 20 Mbps down to a low 144p for mobiles. There are then nine download options in Mp4. These start off with an amazing 4K HD version (huge file, mind you) and go down through a choice of three 1080p options, to 720p, 480p, 360p and a mobile-matey 144p. No-one should find any hassles with that, there's going to be something to suit you unless you only ever use WMV. Movies run for around 30 + minutes each, they are great quality, well shot and well played out, and you can go full screen.

Beneath the streaming screen, you find the links to the screencaps. These give some slightly different angles than the digital sets, which are also found there, and which have around 100 pics per set. The images open to a decent screen size, with a timeline of images to scroll through, and you can enlarge them, run slideshows and also take zip files. Here, Family XXX gives you a choice of three sizes, plus complete screencap files. So, you do well for images.

This site is stand alone. That means that you don't get any bonus sites or content when you join. This is a bit of a let down, and it would be nice to have some bonus vids to look at between updates. Having said that they have priced membership on the low side which sort of offsets the lack of bonus content.
Quality
Starting off at 4K HD and working down through a long list of options, you have nine choices for video downloading. But the overall quality is superb, with great HD filming, good looking models of both genders, and good sound and lighting. The images are large and clear, even the screen caps are fine, and there are no quality concerns.
Content
Family XXX is small, and so there were only a small number of scenes when I was there, but updates look to be coming along regularly. Each scene is around 30 minutes in length, each gallery has around 100 pics, and there are many screen caps. All content is exclusive and HD.
Pros
Access to the site comes with access to Pimp XXX and its network of six sites, and they all open in the same window and work in the same way. This offers neat variety and a good cast of porn stars. The quality is high, there are multiple viewing options, hot images and interactive options for members, such as comments.
Cons
Obviously, this is a new site, and so it's not very big as yet, but the price reflects that. The 4K HD files are large, so you need storage space. There's no advanced search option, and you need to watch out for a cross-sale on the join page or you may inadvertently join an extra site when you sign up.
Pricing & Bonus
$19.95 per month is your starting offer, and that's a decent rate for all exclusive ultra HD content. Watch out for that cross sale on the join page when you sign up or you may be signed up to an extra site when you join.
Conclusion
Family XXX plays on the taboo reality theme of step-family sex, and it plays on it well. HD movies, hot porn names, cute babes, gorgeous Milfs and studly guys all get mixed up in some step-family hardcore that's well filmed and high quality. It's new and small, but the sites are updating. Step in and step up to the step-sex.