$1.00
- 2 Days
Monthly:
$29.95
$19.95
- 30 Days
Trial: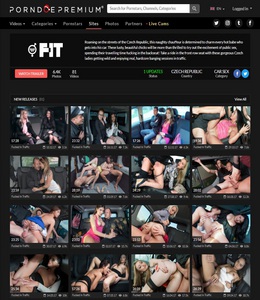 Watch over 80 exclusive Czech-based porn flicks from Porndoe today on their car-based sex site 'Fucked In Traffic'. Focused on European ladies that want to be banged in the back of a vehicle, this site provides 1080p HD downloads and bonus access to over 42 other websites. Sign up today and be sure to take full advantage of our discount deal - this is an offer not to be missed.
Ratings
| | | | |
| --- | --- | --- | --- |
| Exclusivity | | Quantity | |
| Updates | | Features | |
| Quality | | Navigation | |
| Downloadable | | Design | |
| Speed | | Price | |
Details
Review Date:
by

Hardwood

Category:
Hardcore | Outdoor Sex | High Definition
Trial Price:
$1.00 - 2 Days, Limited access trial
Monthly Price:

$29.95

our exclusive price: $19.95 - 30 Days
3 Month Price:
$69.95 - 3 Months
Yearly Price:
$99.95 - Yearly
Cross Sales:
1, prechecked
Billing Type:
Credit Card,Pay-Pal
Pictures:
82 Picture Sets w/ 125 Pictures Per Set
Screen Captures Zip Files
Movies:
82 Movies At Around 20 Minutes Each
Movie Downloads:
Full Movie & Movie Clips
Formats:
MP4 (Mpeg Video 1920 x 1080 6000 Kbps)
MP4 (Mpeg Video 1280 x 720 4500 Kbps)
MP4 (Mpeg Video 640 x 480 1500 Kbps)

Delivery:
Streaming Downloadable
Bonus Sites:
42 Sites Multi Access Network
Latest Review Update
May 16, 2018
Fucked In Traffic still has 81 exclusive hot videos. It has recently been reviewed, but since then, your membership will now give you the added bonus of 42 sites from the Porndoe network as it has added a couple of more sites. Plus, they are now offering you a discount on your monthly billing. It was $24.95 a month, but now it is only $19.95.
Full Review
When you land on the tour of Fucked In Traffic, you're presented with a barrage of preview images from a number of scenes that the studio has produced. As the name might suggest, all of the material here is about sex in vehicles: it's a simple concept and from the looks of things, it's been done to perfection. Today, I'm set to head on into Fucked In Traffic for a better look at what's made available to members. If you're keen to learn more about the site and what you're going to find inside, keep reading for a thorough, honest review of Fucked In Traffic.

After logging in, you'll be taken to a list of the latest scenes added to the archive of Fucked In Traffic. Like a number of websites out there, these guys elect to list the latest scenes as soon as you're inside. As things currently stand, Fucked In Traffic has a new scene released about twice a month. I should also mention the fact that your membership here comes with bonus access to 42 other destinations, including great places such as Chicas Loca, Her Limit, Bitches Abroad and Kinky Inlaws. Two new updates are added to the archive of Porndoe on a daily basis.

There are 82 scenes in the archive of Fucked In Traffic, all of which are offered in the exact same content packages. The videos for each upload last about 20 minutes in length, can be streamed in 240p, 360p, 720p or 1080p and have great bitrates attached for top quality viewing. Porndoe also allows you to download the scenes via an MP4 file offered in the same formats that you can stream them in. Scene uploads do have a 'photos' page, but from what I can tell, most of these are screencaps.

Fucked In Traffic has car sex porn that mainly features Czech babes, although digging around the archive, I also found Indonesian cuties, British slags and horny Dutch girls. Most of the clips here are hardcore one on one, but I did see a threesome or two when looking through the library. Model quality is fantastic, as is the general development and lead-up to the sex. Note that the scenes don't always feature English-speaking models, so be prepared for subtitled erotic delights of public car banging!
Quality
I sampled around 82 scenes in total and only 2 of them had actual pictures taken with a camera, but I think that's pretty acceptable given the niche they're going for. As for the video content, 1080p is the industry standard and the bitrate on the clips I watched was stellar.
Content
You're promised European girls taking cock in the back of a vehicle and that's exactly what you get! This place has a similar vibe to Fake Taxi and has featured some amazing sex with ladies like Therese Bizzare, Kattie Hill, Killa Raketa and Victoria Daniels. The public aspect of the sex is real fun.
Pros
The fact you're getting 1080p HD scenes here is a massive selling point, as is the availability of 80+ exclusive uploads on a large network. With specific regard to the bonus stuff, I can't fault 2 daily updates on the network across 42 different sites. When you sign up here, you've got enough porn to last you a lifetime.
Cons
A lot of the photographs are actually screencaps, but as mentioned previously, that's understandable. Other than that, I can only comment on the videos being a little shorter than one might expect and no 4K quality downloads are currently provided. All in all, Fucked In Traffic did a good job.
Pricing & Bonus
You get access to 42 bonus sites when you join up - Porndoe is a fantastic network with lots of content spanning a bunch of niches. As for the price, our deal currently gets you $10 off a month with the biggest savings being made available via the 12-month signup option that gives you access for under half the price you'd normally pay.
Conclusion
Fucked In Traffic has a great site concept, plus all of the content is available to be watched in 1080p HD content formats. You're going to love the bonus material spread across a huge array of sites, as well as the 80+ unique scenes that showcase hot Czech girls taking dick in the back of cars. Great concept and well executed - check it out today.