N/A
Monthly: $19.95 - 30 Days
Trial: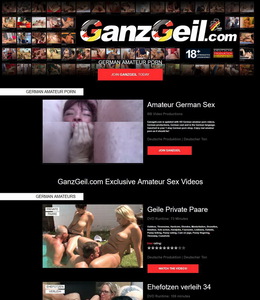 Very Cool. That's what Ganz Geil translates into from the German, and this site is very cool. Except that it's also pretty hot, in porn terms. German amateur guys, Milfs, younger ladies and older men get together for genuine amateur sex parties, and their HD cameras roll while everything happens. With some movies at 90 minutes or more, you get a lot of viewing in the 322 exclusive, stream only videos.
Ratings
| | | | |
| --- | --- | --- | --- |
| Exclusivity | | Quantity | |
| Updates | | Features | |
| Quality | | Navigation | |
| Downloadable | | Design | |
| Speed | | Price | |
Details
Review Date:
by

Luke Preston

Category:
Amateur | Reality
Trial Price:
N/A
Monthly Price:
$19.95 - 30 Days
3 Month Price:
$89.70 - 3 Months
Yearly Price:
$119.40 - Yearly
Cross Sales:
1, prechecked
Billing Type:
Credit Card,Pay-Pal
Movies:
322 Movies At Around 60 Minutes Each
Movie Downloads:
Full Movie
Formats:
MP4 (Mpeg Video 1920 x 1080 12000 Kbps)

Delivery:
Streaming
Full Review
There are good points about Ganz Geil and some not so good points. Lets get the negatives out of the way first. These movies are stream only, though they are HD for most of the time. There are no galleries, extras or a model index, no info and a lot of adverts.

On the other hand, you do get what is promised on the tour, and that is: A heap of horny Herrs and their Fraus in hand-held, but decent quality, amateur movies. These are the kinds of things you might find on tube sites where people send in their own homemade content, except they are infinitely better quality. They are natural and thus reality style, the sound is sometimes a bit rough, with room echoes and the like, but the visuals are natural, and the camera work is decent enough. The action is also pretty varied.

You might find a long intro to a scene where a couple arrive for a private sex session and then find other friends turn up to join in. You find German Milfs showing off their hairy bushes while guys jerk off their flaccid dicks, getting them hard so the Milfs can take a suck on them. Then you find another party with more going on, a group of uninhibited guys and ladies get together for a swinger party and all sex breaks lose. The German porn market is awash with this kind of thing as the Germans don't hold back and are not shy. Check out any of the 322 movies, and you will find out what I am talking about. The 'cast' is also varied, which makes each new scene something of an adventure and, if you're into real amateurs doing what comes naturally, then this site should be right up there at the top of your list of sites to join.

Okay, so you can only stream the movies, and the site is not without its faults. You sign-up and log in and away you go. You may have to log in twice. I signed in and was sent back to the tour home page; I simply hit 'login' again and was then straight into the members' area. This looks like a tube site with a heap of adverts for a cam site. Try and ignore those adverts as they do get in the way. Mind you, if you do head to the cam site they are advertising, you get some free credits to get you going, but from then on you will have to pay to join.

Videos run for good lengths of time, at least most of them do. I found movies at 90 minutes or more, though not all of that time is spent filming sex; a lot of it is, though. Updates tend to come in around twice per month, but that's not such a bad thing thanks to the length of the scenes. Movies are simply presented too with the stream screen offering HD and SD versions to run. You can add scenes to a favourites area and use linked tag words and images to find more of the same kind of stuff, but that's it. There are no interactive options and no details other than a title in German and the upload date

Simple, to the point, a large site with streaming only and yet, as the title says, very cool.
Quality
You have two choices for streaming quality: HD at 1080p and SD. The filming is amateur but fine to view and very natural. The site design is a bit cluttered with adverts, and there are few interactive functions. The overall quality is decent enough for an amateur site.
Content
The content here is exclusive to the site, and it's all about amateur swingers who do a professional job of letting go their inhibitions. From Milfs down to younger babes, from chubby men to some good lookers, it's a right old mix. The 322 movies can last for up to one hour and fifty minutes, and new ones come in twice per month. There are no images.
Pros
The biggest, some might say only, draw of Ganz Geil is the collection of homemade amateur porn movies. These feature genuine amateurs and so there is nothing made-up about the content. Movies are a good length and are easy to find and stream.
Cons
There is no downloading from the site, and there are no galleries, model index or other extras, no bonuses either. The site holds lots of adverts tempting you towards a cam site, and the pages hold more adverts than they do things for members. There is a cross sale on the join page.
Pricing & Bonus
My prices showed in Euros so there may be some regional variation in price, but they were decent enough. If you go for the 12-month option, you can save a lot and only pay €9.95 per month (in one instalment). There are no extras or bonuses at the site.
Conclusion
Ganz Geil is a good site for amateur swingers and homemade sex tapes that are better quality than those you find on self-submit tube sites. It's easy to use but does suffer from advertising. There are no downloads or galleries and no bonuses, but the exclusive movies run for a good length of time, and they really are cool; the real deal for amateur hardcore.