$1.00
- 2 Days
Monthly:
$29.99
$14.99
- 30 Days
Trial: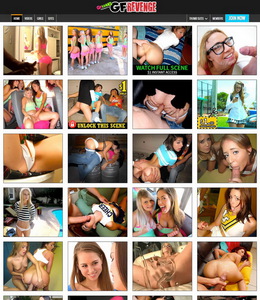 The idea at GF Revenge is, girls have taken their revenge on their BFs by cheating on them, or, after the split, filming themselves with other guys and girls. They then post those videos to shame the ex-BFs, and we get to see them here. The thing is, these videos look too good to be genuine, amateur, home-shot tapes, but the atmosphere and style is all there. The girls are all amateurs and first-timers, so the theme works.
Ratings
| | | | |
| --- | --- | --- | --- |
| Exclusivity | | Quantity | |
| Updates | | Features | |
| Quality | | Navigation | |
| Downloadable | | Design | |
| Speed | | Price | |
Details
Review Date:
by

Luke Preston

Category:
Young Adults | Amateur
Trial Price:
$1.00 - 2 Days, Recurs at $39.99 per month
Monthly Price:

$29.99

our exclusive price: $14.99 - 30 Days
3 Month Price:
$59.95 - 3 Months
Yearly Price:
$119.99 - Yearly
Cross Sales:
1
Billing Type:
Credit Card
Pictures:
451 Picture Sets w/ 150 Pictures Per Set
Hi-Res Pictures Zip Files
Movies:
486 Movies At Around 15 Minutes Each
Movie Downloads:
Full Movie
Formats:
MP4 (Mpeg Video 1920 x 1080 10000 Kbps)
MP4 (Mpeg Video 1280 x 720 7000 Kbps)
MP4 (Mpeg Video 176 x 144 200 Kbps)

Delivery:
Streaming Downloadable
Bonus Sites:
5 Sites Multi Access Network
Full Review
I'm just trying to think if I've ever taken revenge on someone by posting a video of me fucking some other cute chick, rather than the one I knew was cheating on me. I don't think I have, but if I'd made such a video, it wouldn't have been as good quality as the ones you see here. In fact, I am sure it would not be. I get the impression that these are studio-made movies, using professional porn guys, or very talented amateurs (talented with cameras as well as cocks, as many of the vids are male POV), but which also use cute amateur babes. The effect is a kind of set-up reality, and it works well.

The girls are a nicely varied collection of horny hotties. There are some videos where you get the impression they are naughty coeds, cheating on their college guys, and others where they are like squeaky 18 + teens playing with each other and experimenting because they've not had enough shaft from their man. They come across in the right tone as real amateur homemade movies, and they give us excellent variety: solos, lesbian, hardcore and some group scenes. All well and good.

The good news continues when we get to the video viewing. Here I found 486 movies and, in recent scenes at least, seven options for downloading each one. The top resolution was at 1080p, with 1,280 x 720 also available. There were then several midrange options, 450p and 480p, for example, and smaller ones for mobiles, in 3GP. So, you should not have any problems with downloads. There are also four streaming options, with 240p up to 1080p, and again, there should be something for you there. The movie quality was good, scenes were around 20 + minutes each, and a new one was being added each week.

Checking the Pictures area (under the Explore drop-down in the menu) I found 486 image sets. These relate to the videos, in the main, and give you varying numbers of images per set. Some had 60 while others had over 200. I took an average at 150, which is fine for a photo set. There are some set-up shots as the girls prepare for their revenge, and then many of the action. A lot of his is male POV, so you feel like you're the guys doing the cheating, or being used as the lucky man who gets to help the girls cheat, and that works fine too. The quality is good and browsing is easy. There are zip files to take for full sets, plus slideshows to run.

The GF Revenge content works because, although it may be professionally shot (or very high-end amateur) it has the right look and feel of genuine, homemade video, except better quality. The quality continues in the other GF sites that you can access. Membership comes with your way into the whole GF Leaks network of six sites and the main hub. There you find 1,503 models, 1,073 videos and 744 galleries, plus anything that has been added since I was at the site. You can view it in one batch, or take each site one at a time; they all open in the same window and work in the same way. Add it all together, and you've got amazing value and a nice set of 'amateur' videos and galleries, and definitely amateur girls you won't have got off with before.
Quality
Movies are shot in HD, though older ones may not be, and you have a good choice of resolutions with your streams and downloads. The girls are amateurs, but mighty fine looking ones, and I get the impression the guys filming are professionals. The site is slick and works well, its interactive and well looked after.
Content
I counted 486 videos here with runtimes of around 10 minutes or more. They are, as far as I know, exclusive and are all filmed in a home-shot style. The 451 galleries held between 60 and 200 + images each and came with slides and zip files. New content was being added weekly.
Pros
Membership includes access to the main GF Leaks hub and all its six sites, and at no extra charge. The quality is good for amateur style movies and pics, and the girls they choose are hot and varied, so, there's something for everyone. There are interactive options (rates, comments etc.) and the site works well and is hassle free.
Cons
high price compared to the monthly one. The tour suggests this might be real home-shot content, but I don't think it is. There was no advanced search option, which could be handy for network trawling.
Pricing & Bonus
Beware the cross sale and the recurring trial cost. Otherwise, the price looks right for six sites and a network that updates just about each day. It already has over 1,000 videos and 744 + galleries and offers you over 1,500 babes. So, good prices, with the longer-term ones bringing the cost down.
Conclusion
GF Revenge isn't exactly genuine homemade videos (or if it is, I apologise and wonder how come these girls and guys are so expert) but it works just fine. It is believable, and it looks good, quality is high, and the site is looked after. Access to all six network sites is there, plus updates, HD movies, and downloads.