$4.95 - 1 Days
Monthly: $24.95 - 30 Days
Trial: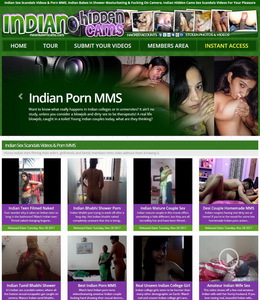 What goes on behind closed doors when Indian babes get to let their hair down? Well, you can find out at Indian Hidden Cams. Kind of. It's not all hidden cam content, in fact, it's more like self-submit, phone-cam and home video content, but it's as good as. It's also packed with clips and comes with some extras, and mainly stays on the Indian theme. Members can download videos now and stream them, and updates are coming in every day.
Ratings
| | | | |
| --- | --- | --- | --- |
| Exclusivity | | Quantity | |
| Updates | | Features | |
| Quality | | Navigation | |
| Downloadable | | Design | |
| Speed | | Price | |
Details
Review Date:
by

Luke Preston

Category:
Indian | Amateur
Trial Price:
$4.95 - 1 Days, Recurs at $24.95 per month
Monthly Price:
$24.95 - 30 Days
3 Month Price:
$49.95 - 3 Months
Yearly Price:
$99.95 - Yearly
Cross Sales:
1, prechecked
Billing Type:
Credit Card
Movies:
9652 Movies At Around 5 Minutes Each
Movie Downloads:
Movie Clips
Formats:
AVI ( 176 x 144 1600 Kbps)
FLV (Flash Video 272 x 360 7000 Kbps)
MP4 (Mpeg Video 272 x 360 929 Kbps)
MP4 (Mpeg Video 1280 x 720 2674 Kbps)

Delivery:
Streaming Downloadable
Full Review
Okay, so the title, Indian Hidden Cams, suggests that you're looking at hidden camera footage when in fact you're not; at least, not all the time. There is a mix of content at this site, but it all stays in the amateur, India and home-cam style. Some are movies where young couples have filmed themselves outdoors, he films her giving him head and more. Others are where the cams are inside, set up on a tripod while a couple fucks on a bed. Some take place in bathrooms, some are solo girls masturbating, others are couples, and you can't really see what's going on. It's varied, to say the least, and yet it all has that home, amateur feel that we're looking for in voyeur movies.

I say movies, they are clips really. The average runtime here is between one and five minutes, though there may be some that are longer in runtime. The site also puts up two or three, or more, new clips each day, and the updates look very impressive, in terms of regularity. You land on the home page showing the latest movies, so it's easy to check what's new, but then there's the actual Movies collection, and there are over 300 pages of these. The total of videos when I was there stood at 9,652 clips, with 317 bonuses that are not necessarily Indian themed.

The content dates back to 2002 when you have only small AVI files to download and a stream in a Flash player (which very often was not working; it was more reliable with the newer movies). The quality overall is pretty average, to say the least, and the videos tend to be small. I found some these days at 1,280 x 720 HD, but mainly I was looking at 360p or perhaps 480p. Newer files are Mp4 so phones should be fine, and streams were in a small Flash player.

Having said that, and it may not sound impressive, there are some great points about Indian Hidden Cams. They give you neat descriptions of scenes to set things up, plus linked tag word and other ideas for a movie of the same ilk, so finding your next jerk-off clip is easy. The tour does describe some of these tapes as 'Scandals', and that's just jargon. Lots of home video sites now use the word to draw you in. There was no-one famous that I saw and no real scandal apart from, occasionally, the poor quality of the clips. But I did like the way that you are looking at home footage just as you might find on a tube site. The difference being that here you know you're going to see what you signed up for and don't get misled. None of that having to register (once signed up) or having to click off adverts and no pop-ups, like you find on free tube sites.

The tour also suggested images, but I didn't find any. They may well be attached to videos I didn't see, as there are so many to view, so you might hit lucky there. I also noticed that the content is not exclusive. It's been taken from all over the place, some videos had watermarks from other sites, others looked like they had been nicked from tube or social sharing sites. Not to worry, I doubt you would have seen this 9K collection before.

Your bonuses are made up of similar content, but not all of it is on the Indian babe theme.
Quality
The quality is varied, to say the least. Older content is down at 176 x 144 in resolution, newer is at 1,280 x 720, and there are some high-class streams that will go full screen and others that don't survive well at that size. Some are dark and grainy, other videos are fine. The girls and guys are varied amateurs, and there's nothing 'porn star' about it.
Content
I counted 9,652 videos which ran for one minute up to five, and there were a few that were around 10. Again, it's varied. The content is non-exclusive, home cam footage with mainly Indian couples, though there is some interracial. Updates are every day, and movies are now in Mp4 or Flash, with some older ones in Avi.
Pros
You get what you pay for, and there are no extra sign-ups or 'pay more to see this video…' None of that tube stuff, although the site works like a tube site. You get quick downloads as the files are small, and there's good variety. For us home collectors of home porn, there's a lot of Indian amateur sex to collect.
Cons
I didn't find any images though they were promised and it's not all hidden cam footage. There are limited downloads and stream options, some low-quality movies, and not a lot of anything else. The tour, again, states high-quality movies, but… Well, you'll see; they are fine but not dazzling quality.
Pricing & Bonus
There's a trial offer to run if you want, or you can dive straight into the $24.95 per month option, which is a reasonable price for what you have. Stay for longer, and you get a year for $99.95 which is the same as if you were paying $7.99 per month. Your bonuses consist of 317 extra clips that are not always on the Indian babes theme.
Conclusion
In liked Indian Hidden Cams but then I like to perv at real amateur couples and girls getting off together. The fact that these are Indian amateurs makes it even more fun and unusual, and the way you browse, save and view is so simple even I managed it. updates are good, quality is mixed, but that's fine for sites like this and the price isn't bad either.