N/A
Monthly: $29.85 - 30 Days
Trial: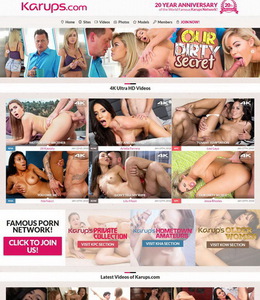 There's a three-in-one offer for you at Karups. This site brings together three of this company's best sites and puts them under one membership, and the site is vast. There are over 16,000 videos, twice as many galleries, and updates come in just about every day. The price is low by comparison. Milfs, amateur girls, lesbians, threesomes, solos, masturbation, softcore, you get a bit of everything including excellent value for money.
Ratings
| | | | |
| --- | --- | --- | --- |
| Exclusivity | | Quantity | |
| Updates | | Features | |
| Quality | | Navigation | |
| Downloadable | | Design | |
| Speed | | Price | |
Details
Review Date:
by

Luke Preston

Category:
MILF | Amateur
Trial Price:
N/A
Monthly Price:
$29.85 - 30 Days
3 Month Price:
$68.55 - 3 Months
6 Month Price:
$97.50 - 3 Months
Yearly Price:
$159.00 - Yearly
Cross Sales:
No Cross Sales
Billing Type:
Credit Card
Pictures:
33292 Picture Sets w/ 150 Pictures Per Set
Hi-Res Pictures Zip Files
Movies:
16053 Movies At Around 25 Minutes Each
Movie Downloads:
Full Movie
Formats:
MP4 (Mpeg Video 3840 x 2160 20000 Kbps)
MP4 (Mpeg Video 1920 x 1080 1000 Kbps)
MP4 (Mpeg Video 1280 x 720 4000 Kbps)
MP4 (Mpeg Video 640 x 360 1500 Kbps)
WMV (Windows Media 720 x 408 2000 Kbps)

Delivery:
Streaming Downloadable
Bonus Sites:
3 Sites Multi Access Network
Full Review
Karups is a well-established site and company, and they put out all kinds of hot porn. The earliest piece of content here dates from 1997 in the galleries and 2001 in the videos. The most recent piece was added on the day of my visit, and the site shows no signs of slowing down. I should say three sites as your membership includes Karups Private Collection, Karups Hometown Amateurs and Karups Older Women.

So, a quick look at the most recent videos shows me hardcore step-sibling sex by the pool, solo girls masturbating, older women with younger guys, threesomes, two girls together in lesbian scenes, hunks and babes in hardcore, amateur girls first time on camera, scenario scenes, straight-to-the-sex scenes, good-looking guys, some very meaty, well-hung guys and petite babes and loads more variety too. There are 48 videos shown per page, and hundreds of pages adding up to 16,053 videos as of today's count.

The thing is, some of these videos are old and come with only one WMV download. Newer ones have four or five downloads including a mobile format, and some are at 4K HD. In between, you find Mp4 videos at various sizes, more WMVs, and more or fewer choices, depending on the age. But they are all shown in the same way, with your download options clearly marked, and they come with one stream. This plays well and can go full screen, and you can jump through if you want to. There's no info with videos, no descriptions, but members can rate them and add the ones you like to a favourites area. The viewing pages are pretty simple.

The 33,292 photo galleries hold various numbers of images each and can be reached by their own menu listing. These date right back and so older images are going to be smaller and not as high quality as the recent ones, but these days, you get two choices of zip file downloads for videos, a high resolution one and a standard one, and images are up around the 3,000 x 2,000 px quality mark. They show solo girls, erotic softcore and shots from the hardcore movies, though the ones I saw didn't look like screen caps. Photos are shown as thumbnails on index pages which then click up to larger sizes with simple through navigation icons to take you through the set. You can run slideshows too.

The things that struck me as missing from the site were search and sort options. You have to click through ten index pages at a time, and this can mean a lot of clicking to see everything. But there were no search boxes and no advanced search page. You can tell what site a scene is from, and you can opt to browse site by site if you want, but I wasn't able to use keywords or linked tag words to find exactly the kind of thing I like. It's a bit pot luck in that respect. However, there are some nice extras.

You have a model index with 5,782 amateur girls and Milfs, and some porn babes to check out, and they link to their videos and pics. There are four feed sites to play with for more porn, and you have 120 free credits at KarupsLive.com if you want to test drive the live show feature before you buy more credits. There are also 16 behind the scenes videos, and you will find interviews with the girls as well. There's a lot here, so make sure you go for a longer-term membership to give yourself time to see it all.
Quality
Some of this content dates back to 1997, and the quality then is lower than it is now. By the same token, some of the new videos are 4K HD, and many are 1080p HD, and so the content is the best quality is can be at the time it was made. Overall, the videoing and photography are good quality. The site is simply designed and not very interactive.
Content
Numbers are impressive, among the best we've seen. 16,053 videos of around 25 minutes each, 33,292 galleries with an average 150 pics each, 5,782 models with links to content, four feed sites and 16 BTS videos - plus daily updates, so those numbers will have changed by now. It's exclusive content, and varied in niche.
Pros
You have three sites for the standard price of one at Karups, so you have excellent value for money. You have a massive archive and literally thousands of videos and pics to view, plus daily updates. It's an easy site to navigate, and both streams and downloads are available. Some modern videos are in 4K HD, and the content is varied.
Cons
I would have liked more search and sort options, more videos and model information and some other interactive options, such as comments. It feels like they've put three sites together in the simplest way possible. Older content is understandably lower quality.
Pricing & Bonus
There are good membership deals on offer, with longer-term payments bringing you cheaper access. The monthly deal is fine for this amount of content and three sites in one, and there are bonus feeds as part of your memberships. Sign-up is simple, and there are no cross sales or hidden charges.
Conclusion
Older women, amateurs, hardcore, solos… You find it all at world-renown Karups where three sites are gathered together to bring you a massive mega-site with over 16,000 original videos; plus all the images and extras. Good variety, now in HD, with plenty to see, you only have to pay a reasonable price for access. A great site for all hardcore lovers.