N/A
Monthly:

$49.99

$29.99 - 30 Days
Trial: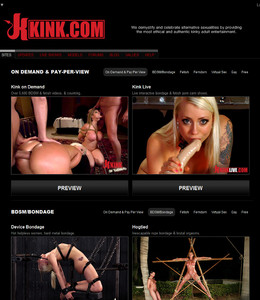 Lovers of hardcore BDSM and fetish are going to think they died and went to heaven when they become a member of Kink. Why you ask? The answer is simple, these guys produce the best product covering all the hardcore BDSM niches you are going to find anywhere on the internet. Water bondage, bound gangbangs and electro sluts are just a few of the sites on offer inside. Take their tour and see for yourself.
Ratings
| | | | |
| --- | --- | --- | --- |
| Exclusivity | | Quantity | |
| Updates | | Features | |
| Quality | | Navigation | |
| Downloadable | | Design | |
| Speed | | Price | |
Details
Review Date:
by

Wesley Sinn

Category:
Fetish | DP | BDSM | Fisting | Video | All Access | Anal | Gangbang | Squirting | Mobile
Trial Price:
N/A
Monthly Price:

$49.99

our exclusive price: $29.99 - 30 Days
3 Month Price:
$99.99 - 3 Months
6 Month Price:
$169.99 - 3 Months
Yearly Price:
$319.99 - Yearly
Cross Sales:
No Cross Sales
Billing Type:
Credit Card,Online Check
Pictures:
10000 Picture Sets w/ 100 Pictures Per Set
Hi-Res Pictures Zip Files
Movies:
10000 Movies At Around 40 Minutes Each
Movie Downloads:
Full Movie & Movie Clips
Formats:
MP4 (Mpeg Video 480x360 825 Kbps)
MP4 (Mpeg Video 1280x720 5005 Kbps)
WMV (Windows Media 1280x720 1600 Kbps)

Delivery:
Streaming Downloadable
Latest Review Update
August 31, 2016
Kink has always been the go to site for those looking for high quality kink and extreme porn. I did not think the site could get any better but they have. Now when you join you will get access to the whole network of 24 Kink sites with one membership. That means multiple daily updates, a huge variety of exclusive kinky content and an archive of over 12000 shoot. If you fancy a walk on the wild side get on over and check out Kink. But I have to warn you that this site is not for the faint hearted.
Show more previous updates
Full Review
Some women and men just love to be tied and used for the pleasure of others. Being treated like a piece of meat makes them wet or hard like nothing else can. Submission is their aphrodisiac and pain is their pleasure. Whether its harcore BDSM, Fetish, Femdom or Gay bondage you will find it all on offer inside Kink.com. These sites are not for the faint hearted, step inside if you dare.


The sites on offer as a member of Kink.com cover a wide variety of hardcore Bondage and Fetish niches and with the new network access you get all the hot content in one place at a more than reasonable price. Lets take a look at just a few sites on offer.

Device Bondage: This site offers members beautiful women bound and gagged in both metal and rope devices. Here you will find both pornstars and first timers submitted to the most extreme humiliation and hardcore bondage sex possible. This site is updated 3 times a week and currently has 330+ movies and 37,600 quality pictures.


Public Disgrace: The girls here are bound and gagged before being gangbanged and humiliated in public for all to see. These girls suck cock and get fucked in the ass in public for all to see. The action is hardcore and you won't believe some of the public places used to produce these super hardcore scenes. There are currently 85+ movies averaging over an hour each, plus 20,700 pictures on this site.

Water Bondage: This is the ultimate in power play fetish erotica. The girls are not only bound dominated and punished. They are also dunked and sprayed with water, having to hold their breath while being pleasured to extreme mind blowing orgasms.

Wired Pussy: This femdom lesbian site features both pornstars and amateurs restrained and dominated, taking part in hardcore lesbian BDSM and bondage with electrosex implements. These girls are shocked and humiliated until they cum in wet ecstasy.

Pissing: This site is for lovers of pee. The girls cant get enough of golden showers, sucking piss from cocks. The site features first timers and dirty well known piss lovers taking part in hardcore piss facials, cum facials and lesbian pissing scenes. They get drenched and drink pee from both pussies and cocks.

If you don't want to pay a monthly membership you can buy Kink tokens. With these you can purchase pay per minute streaming hardcore kinky videos, or purchase them to keep forever. The streaming pay per minute is a great option if your not sure if a certain site caters to your fetish. You can check it out by purchasing tokens and buying just one scene.

There are loads more sites for you to check out including some gay, transexual and animated sites. If your into kink this is a must have site. Join for free and check it all out for yourself. There is even a forum to interact with other kink members, and many of the sites on offer give members regular live webcam shows as part of the membership.

Memberships is on the higher side, but when you consider your getting full access to all 30 Kink sites it is very reasonable for this kind of high qualiity. fetish and BDSM content. With so much to see here longer memberships are really the way to go with this network, and will save you loads of money in the long run.
Quality
The quality on offer at all of their sites is amazing. These guys produce all of their own exclusive content and it shows across their whole network of sites. Crisp clear HD videos and pictures are the norm and not the exception from this award winning company. There is no doubt you will be over the moon with the quality of the product offered here.
Content
There are a load of fetish and BDSM niches covered in the various sites on offer, and whatever your kink these guys have something for you. The performances are fabulous, pushing the limits, and some may say going beyond. Updates are very regular and the content is hardcore and red hot!
Pros
Membership includes access to all the Kink sites. That's 30 exclusive hardcore fetish sites all under one roof. Kink is known as the leader in the fetish niche, and for good reason. Regular updates and a huge archive mean you will always have something new and exciting to check out. This is the best BDSM and Fetish content available anywhere.
Cons
I honestly can't fault the sites on offer at Kink.com. Maybe the fact that not all the memberships are the same price. But that is to be expected, as the amounts of content varies. Its free to join so check it out for yourself and see if you can find anything.
Pricing & Bonus
As a member you will get access to all 30 Kink Sites. Membership pricing through us is discounted and not outrageous when you consider the variety, quality and sheer number of exclusive scenes and picture sets included when you join. Longer term sign ups bring the price down and with so much naughty fetish content on offer it's definitely the way to go.
Conclusion
When it comes to kinky BDSM and fetish the folks at Kink.com have got you covered. This is definitely the best network of sites in these niches, and is a one stop shop for all your fetish and BDSM needs. Jump over and take the tour and see for yourself.
More Review Updates
July 12, 2016
July 12, 2016
January 28, 2015
I have done a lot of Fetish Porn Reviews in my time. You could say that I am an expert in the field of fetish. Fetish porn covers a wide variety of sub niches, but if your looking for a site that covers a wide variety of kinky subjects Kink.com is the site for you. Here you will find subjects covered that are bordering on extreme, and whatever fetish fantasy you have I am sure you will find it covered here.
October 7, 2014
Kink, or as this site is now known Kink on Demand, is still the best when it comes to BDSM and Bondage content. These guys have been around for years and are specialists that bring lovers of the darker side of hardcore exactly what they want. With loads of specialist sites containing thousands of exclusive scenes Kink have every naughty niche covered.