$1.95 - 1 Days
Monthly: $29.95 - 30 Days
Trial: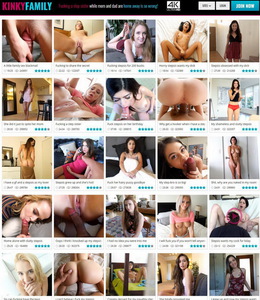 The family that plays together stays together. At Kinky Family it's a case of the family that balls together lays together as step-sis, and step-bro get so into each other the only thing to do is fuck while the parents are out. This is a relatively new site from Dirty Flix, and it comes with HD movies, hardcore step-sex videos, images, a model index and access to 13 other sites in the network. You have excellent value here.
Ratings
| | | | |
| --- | --- | --- | --- |
| Exclusivity | | Quantity | |
| Updates | | Features | |
| Quality | | Navigation | |
| Downloadable | | Design | |
| Speed | | Price | |
Details
Review Date:
by

Luke Preston

Category:
Young Adults | Reality
Trial Price:
$1.95 - 1 Days
Monthly Price:
$29.95 - 30 Days
3 Month Price:
$49.95 - 3 Months
Yearly Price:
$119.95 - Yearly
Cross Sales:
1, prechecked
Billing Type:
Credit Card
Pictures:
28 Picture Sets w/ 50 Pictures Per Set
Hi-Res Pictures Zip Files
Movies:
28 Movies At Around 25 Minutes Each
Movie Downloads:
Full Movie
Formats:
MP4 (Mpeg Video 3840 x 2160 13000 Kbps)
MP4 (Mpeg Video 1920 x 1080 7000 Kbps)
WMV (Windows Media 1920 x 1080 7000 Kbps)

Delivery:
Streaming Downloadable
Bonus Sites:
13 Sites Multi Access Network
Full Review
The scenarios here play out just fine. They have different story lines but contain the same theme: there's a family with a new step-sister or brother and these are usually the main characters. There's a lot of chatting up and sibling rivalry that turns to sex, there are some interracial scenes, and usually, the step-bro has an impressive dick, and the step-sis is new to sex. It's a nice mix, and the scenes are well shot. They give you descriptions to set the scene as well, and some of the filming is from your point of view, putting you right there in the action.

You have 28 of these scenes so far, and a new one is added each week. That means the site is growing and you've got more cute babes dealing with dick as the weeks go by. You find the movies by filtering by site as you land on the main network home page when you arrive. From there you can go and view all 14 sites, and they together contain 842 + movies and 820 + image sets. Each site works in the same way with sample shots for videos leading to excellent viewing pages with loads of info and background.

The Kinky Family videos are shown in streams at a high resolution (4K is in use on the site, but there are other options), and they come with Mp4 files and also WMV. The top resolution is at 3,840 x 2,160 which might produce a very large file, so slower connections will have a long wait. But the lower ones include another HD at 1080p and usually three more versions down to one suitable for mobiles. You can take files for Android or iPad and iPhone and also PSP. The quality is great, both in terms of filming and visuals, with good sound and some decent acting from the models to make these (hopefully) non-real reality scenes all the more real, if you get what I mean.

Beneath the videos, I found links to galleries, and these held around 50 pics each at good sizes. They may be screencaps but coming from the HD camera, it doesn't really show. You get them in a frame where you can click through thumbnails and change the pics, but there are also slideshow options, and you can go full screen. Zip files of sets are also available for you to take.

So, you've got the gist of Kinky Family, what else is there to see? Well, your other 13 sites include the famous Tricky Agent where girls audition for porn with an agent who is not really an agent. There's also Fucking Glasses which is the ultimate in POV movies as the glasses referred to are what the guy wears. Massage X and Brutal X are also available to you as are Young Courtesans for more youthful sex and Trick Your GF. It's a neat mix, always hardcore and all exclusive. The total of videos, currently 842, means that your sign-up price is a bit of a steal and the network updates just about every day. Another excellent thing about Dirty Flix is their site design. It's fully interactive with comments and rates, the model index acts as a browse tool and contains both men and women, and there are news items and update info galore.
Quality
The top resolution here is at 4K, which means large files but excellent quality visuals. You've also got 1080p HD and other sizes, and the quality of filming, sound, images and models is outstanding. This company knows what it is going and not only in the filming department. They also know how to present a high-quality site that's interactive.
Content
Kinky Family is not yet an extended family with only 28 movies when I saw it, but updates were coming in each week, the movies are 20 + minutes in length, they are high quality and stay on theme. You can stream and download, take the images and also access the rest of the network very easily. All content is exclusive to the network.
Pros
You have 14 sites in total with this one sign-up, and as it's all exclusive, the sign-up price is very good value. The site is very user-friendly with plenty of interactive elements, and you should find no technical issues to worry you. If your membership expires, you can still get limited access to the members' area.
Cons
There's a cross sale on the join page to watch out for and some adverts in the members' area, though they are not too intrusive. The images are video caps, and the updates have not always been regular. The site is still very small.
Pricing & Bonus
You can take a trial offer, though it may limit what you can see. The other sign-ups are good prices as you have 14 sites, 842 movies, 820 galleries and 470 models appearing, with network updates. The longer you sign for, the lower the cost in the long run.
Conclusion
Kinky Family still needs time to grow but what's here is well worth seeing. They play out that taboo sex theme well, with cute younger girls and some very studly step-brothers, the site is very easy to use, the quality is high, and you have bonus site access. With over 14 hot sites and all this step-sex coming your way, you're in for a high-value time.