$1.00
- 2 Days
Monthly:
$29.95
$19.95
- 30 Days
Trial: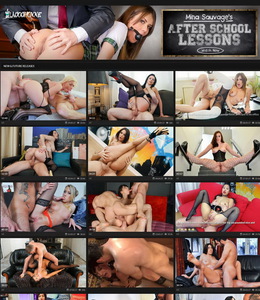 If you're on the lookout for some sexually-desperate French babes and you like your hardcore a bit rough at times, then the girls at La Cochonne are going to suit you down to the ground. This site comes from Porndoe, the European home of hot hardcore, and your access includes all 42 sites in the network. Here we have beautiful French ladies in wild and sometimes rough sex with hard and hung guys.
Ratings
| | | | |
| --- | --- | --- | --- |
| Exclusivity | | Quantity | |
| Updates | | Features | |
| Quality | | Navigation | |
| Downloadable | | Design | |
| Speed | | Price | |
Details
Review Date:
by

Luke Preston

Category:
Fetish | Hardcore
Trial Price:
$1.00 - 2 Days, Limited access trial
Monthly Price:

$29.95

our exclusive price: $19.95 - 30 Days
3 Month Price:
$69.95 - 3 Months
Yearly Price:
$99.95 - Yearly
Cross Sales:
1
Billing Type:
Credit Card,Pay-Pal
Pictures:
66 Picture Sets w/ 150 Pictures Per Set
Hi-Res Pictures Zip Files
Movies:
66 Movies At Around 35 Minutes Each
Movie Downloads:
Full Movie
Formats:
MP4 (Mpeg Video 1920 x 1080 12000 Kbps)
MP4 (Mpeg Video 1280 x 720 7000 Kbps)
MP4 (Mpeg Video 720 x 480 1500 Kbps)
MP4 (Mpeg Video 320 x 240 800 Kbps)

Delivery:
Streaming Downloadable
Bonus Sites:
41 Sites Multi Access Network
Full Review
I've heard it said that 'Cochonne' means something rather degrading in French, it's the feminine word for pig, but in this case, the girls are the female equivalent of a male sex pig. The word also, more politely, translates as 'one who likes sex' and we'll go with that. Mind you, the girls at La Cochonne not only like sex, they like it rough. That's why we get a fair few MMF threesomes here, and one foursome at least, where the main girl screams her way through a heavy fucking while blowing a guy and tasting some DP. There are mildly fetish movies, for example where a big busty babe plays with a massive dildo before bouncing up and down on a butt plug and then being double-shafted in an interracial threesome.

It's heavy stuff at times, but beautifully filmed and well put together with high production values. The girls are aged roughly 20s to 30s, and the guys are always solid as rocks and deliver great cum dumps at the end of each 35-minute movie. The content is also exclusive and shot in HD, so there are no quality worries.

There were 66 movies when I called in and, unlike some of the Porndoe sites, this one was updating each week, in recent months at least. You find the latest offering right there as soon as you enter, and you can also filter the whole network by site either through the Videos drop-down in the menu or from the Network page. Each movie is shown with a large sample shot and a long title, plus some other info and the viewing pages make it easy to get your paws on the porn.

Downloads are in HD at 1,920 x 1,080 but also come with 1,280 x 720, 480p and a small one for mobiles at 240p. These are Mp4 files so should work on most devices. You can also stream in HD, and a standard rate and I found streams ran smoothly without buffering. Lighting and sound are good, there is plenty of gasping and screaming, but there are no subtitles for the dialogue.

Movies come with galleries, so there are currently 66 of those, and they hold around 150 + pics each at sizes such as 720 x 1,080 which are good quality and easy to view. You can save them one at a time, take zip files and also run online slideshows. Movies also come with comments boxes, you can add them to a favourites collection and click over to linked tag words, or the models' entry in the 1,629 + model index. There, you're able to filter girls and boys and have a good rummage to see who you want to get off with. It doesn't matter if the girl of your dreams is from La Cochonne or not, the model index is, like everything else, networked-linked and you get access to it all.

This actually means you're not restricted to the French 'cochonnes' (if that's the plural). The girls at Porndoe come from Lithuania, Romanian, Russia, the UK, Spain, Italy and many other European countries. The sites you're offered cover mainly hardcore, but also amateurs and lesbians, swingers and a variety of other niches, but each of the 2,520 + movies is exclusive and HD. They also have their own galleries, and each one is downloadable in the same way. With sites like Santa Latina, The White Boxxx and Kinky Inlaws on offer, you've got a huge amount of porn available, and it's currently available for a reduced-price membership.
Quality
There are no quality worries, with excellent filming, good sound and a well-produced members' area that's also interactive. The girls are, I suspect, a mix of professional models and newbies, but they all do well. Movies are in HD up to 1080p, and even the lower-res versions are clear and fine to view.
Content
La Cochonne holds 66 exclusive HD movies so far, and updates have been coming in. They run for around 35 minutes each, have four Mp4 downloads and two stream options, come with galleries with approximately 150 pics each and zip files. The hardcore is sometimes pretty hard with DP, grabbed hair fucking, rough sex and some kink.
Pros
Your access to 41 bonus sites is, well, a bonus! You get the entire Porndoe network here even when you take the special discount sign up offer, or one of the lower-cost longer-term memberships. The quality is good, it's exclusive, and the site is well maintained. The hardcore is pretty rough and hard at times, and you get what's promised on the tour.
Cons
I would have liked subtitles on the movies, especially when the girls are talking to you one to one in pre-porn chats. Updates have been coming in but are not always regular, and some networked sites don't update. There's a cross sale on the sign-up page to watch out for.
Pricing & Bonus
With $10.00 off the monthly price, now's a good time to get access to La Cochonne. Even with that discount, you get access to 42 sites with over 2,520 exclusive videos and updates. There are longer-term deals to consider which also reduce your price and yet still come with all the bonuses. It's a high-value site/network.
Conclusion
There are lots of good points about La Cochonne: exclusive, hard and rough sex, French ladies, network access, HD, And about the only downer is lack of subtitles. Mind you, screams of painful pleasure as a girl is being DP-ed are the same in any language. It's a great site for European porn and comes with an amazing value network access.