$9.95 - 0 Days
Monthly: $24.95 - 30 Days
Trial: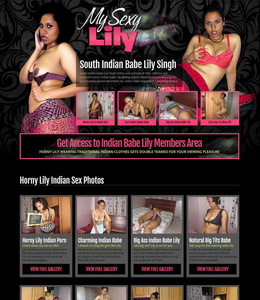 Here's a horny and cute Indian babe from Canada who has her own site staring herself and her main man, and a few other sexy Indian babes. My Sexy Lily features Lily Singh and her dark skin, her dark pussy and her lust for showing off. She shows us not only herself dressed and stripping, but naked, shaving her pubes, sucking cock and posing. It's a decent enough amateur site that's updating with exclusive and non-exclusive content.
Ratings
| | | | |
| --- | --- | --- | --- |
| Exclusivity | | Quantity | |
| Updates | | Features | |
| Quality | | Navigation | |
| Downloadable | | Design | |
| Speed | | Price | |
Details
Review Date:
by

Luke Preston

Category:
Indian
Trial Price:
$9.95 - 0 Days
Monthly Price:
$24.95 - 30 Days
3 Month Price:
$49.95 - 3 Months
Yearly Price:
$99.95 - Yearly
Cross Sales:
1, prechecked
Billing Type:
Credit Card
Pictures:
72 Picture Sets w/ 35 Pictures Per Set
Hi-Res Pictures Screen Captures
Movies:
281 Movies At Around 10 Minutes Each
Movie Downloads:
Movie Clips
Formats:
FLV (Flash Video 930 x 500 800 Kbps)
MP4 (Mpeg Video 1280 x 720 3692 Kbps)

Delivery:
Streaming Downloadable
Full Review
I went dipping. I mean, I went to various pages in the list of videos at My Sexy Lily and found Indian girls in each video. Mainly Lily, but other girls too and doing all kinds of things. There are solo girls playing with their pussies and masturbating, there are girls sucking white guys' dicks and having the men cum on their tits, and there are some hardcore movies as well. Not all of the movie descriptions are accurate. I found one where a BJ was promised but what I got was an interracial doggy-position fuck movie with the guy shooting on her ass. I didn't complain, I was happy with that.

But it did make me realise that the site is on the amateur side. It's fine for quality if you don't mind home-shot style movies, and they are a bit amateur in terms of lighting and sound, but they are also very natural. The layout and design of the site is also a bit rough around the edges, but after a while, you realise that that's fine; we like natural, and that's what we have here. Lily having fun with her man, and maybe some other girls doing the same with other guys, and it works.

The videos are there to stream in Flash with only one option for speed, and you can also download them in Mp4, again with only one option. Although the files for download are at 1,280 x 720 HD, the files weren't too big as the scenes tend to be more like clips, at eight or ten minutes; some are slightly longer. Dipping into older scenes, I found the same viewing options but lots more variety of 'action.' Lily in her sari, Lily sucking a dildo while she masturbates, Lily's man and her together watching a screen (my screen actually, so it was like they were watching me) and while doing so, she's playing with his flaccid dick Not sure what was going on there, but it was interesting. Nothing happened. Then Lily in the shower soaping up and playing with her boobs… It goes on, and there are 281 videos to view right now.

Updates were happening with a couple of new clips each week, but the galleries had not updated for a while. There were 72 image sets (videos come with screen caps as well), and they held 20 to 35 + images each. These came down at 912 x 684 in size, and the quality was acceptable. Again, nothing dazzling as this is a pure amateur site.

At least it is until you come to the Karma Sutra and Tantra Massage Videos. These are included in your main content count, but separate menu items let you find them on their own. They are not Lily, they are other hot models, including a sexy guy for the ladies, and they give you voiceovers that describe the action. This is so that you can follow the instructions and improve your own sex life. This is the non-exclusive part of the sites though I also found some video with watermarks for Horny Lily XXX, so this content may also be out there somewhere else.

There are no extras at My Sexy Lily and not a lot of info, no model index and no blog or news items., Members can rate scenes and leave comments, and the sign-up prices are reasonable for a site of this size.
Quality
This is reasonable amateur quality content with home-shot style videos that can be a bit fuzzy on sound, some where it's a bit dark in the room and others that are live webcam shows; maybe they were. They are fine though, and you don't miss anything. Movies are shown in a midrange Flash player size and come down at 1,280 x 720 HD. Images are also reasonable
Content
There were 281 videos when I was at the site, and these ran for eight to 10 + minutes each. Updates were every few days. There were also 72 image galleries with around 20 to 35 + pics each to save one at a time (no zip files). Some of the content is non-exclusive and comes from a site about the Karma Sutra, which gives some variety.
Pros
You are looking at a horny Indian babe, and you get what's promised on the tour. The movies are HD, and some are exclusive.
Cons
The quality is not that wonderful, but it's passable. The site is short on photo updates, and there's not a lot of info about the models. There are no extras or bonuses to speak of.
Pricing & Bonus
There is a one-day trial that recurs at the standard rate, but it's an expensive trial so go straight for the full month. Or, there are recurring and non-recurring three-monthly options and an annual one that works out at a reasonable price. There are no cross sales to worry about but there again, there are no bonuses either.
Conclusion
My Sexy Lily gives you some exclusive movies with Lily Singh, a Canadian/Indian babe who has a white BF and gives us interracial movies. It's fine - nothing amazing, but it is about Indian babes and hardcore, so that's a plus. It's small but updating, viewing options are limited but the quality is okay, and you can download the videos and images.