$1.00
- 1 Days
Monthly:
$29.95
$17.95
- 30 Days
Trial: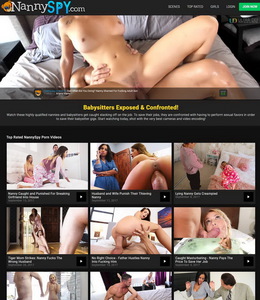 Don't think 'nanny' as in 'granny', think 'nanny' as in gorgeous, young, sweet and up for it hottie. Nanny Spy is a mix of reality scenarios, brilliantly played out, and voyeur cam sex in 4K HD. It's a new, very small site, with excellent quality videos butupdating new content is inconsistent, It also comes with pics, screencaps, downloads, streams and mobile files and hot hardcore.
Ratings
| | | | |
| --- | --- | --- | --- |
| Exclusivity | | Quantity | |
| Updates | | Features | |
| Quality | | Navigation | |
| Downloadable | | Design | |
| Speed | | Price | |
Details
Review Date:
by

Luke Preston

Category:
Voyeur | Reality
Trial Price:
$1.00 - 1 Days, Recurs at $39.95 per month
Monthly Price:

$29.95

our exclusive price: $17.95 - 30 Days
3 Month Price:
$59.95 - 3 Months
Yearly Price:
$119.40 - Yearly
Cross Sales:
1, prechecked
Billing Type:
Credit Card
Pictures:
29 Picture Sets w/ 250 Pictures Per Set
Hi-Res Pictures Screen Captures Zip Files
Movies:
29 Movies At Around 35 Minutes Each
Movie Downloads:
Full Movie
Formats:
MP4 (Mpeg Video 3840 x 2160 15000 Kbps)
MP4 (Mpeg Video 1920 x 1080 10000 Kbps)
MP4 (Mpeg Video 1280 x 720 6000 Kbps)
MP4 (Mpeg Video 852 x 480 1560 Kbps)

Delivery:
Streaming Downloadable
Latest Review Update
July 6, 2018
Nanny Spy films are in 4K HD cam, and they have added 13 exclusive movies and high-resolution picture sets since we last went there. They were adding new content on a regular basis, and. Although it is still growing, the updates are a bit inconsistent. There are no bonuses here, but if you upgrade to a Platinum membership for a bit extra, you can get full access to the 18 sites within the PornPros network.
Show more previous updates
Full Review
When I was young and had a nanny, she was an ancient broad who used to stick nappy pins in me, or so I was told. The nannies at this site, however, couldn't be further from that particular nightmare. They are young and cute hotties such as Bella Rose, who looks barely old enough appear in hardcore porn, fully nude, legs spread and all her assets on show. There are other sweet babes playing the parts too, Charity Crawford doesn't exactly give it away for charity, but she does an excellent job, and so does Sydney Cole, and the others.

The nanny is one thing, the voyeur action and storylines are another, well, another two. Nanny Spy has this reality theme where the couple interview a girl to be the help, the au pair, and to help around the house. These come across as real enough. Then they start to film the voyeur style scenes from 4K HD cams, so the quality looks amazing, and the scenes are very real. The acting is good, and the girls get into all kinds of trouble. One is caught seducing the eldest son, and so dad gives her a lesson in how to do it properly; while the son looks on. Others are kind of wanted rough sex and full-on hardcore, and that usually happens about 10 minutes after the start of the scene; that's in scenes that run for around 40 minutes, so there is still plenty of time left for the hardcore, which is thumping and hot.

There were only twenty nine of these scenes however because the site is very new. Mind you, they are all good ones and come with excellent viewing options. You have 4K HD at the top of your list for downloads, the 1080p, 720p and a mid-range version, plus one at 480p which should do fine for your phone. There's one WMV at 720p HD as well, plus streams in four resolutions. Movies are easy to find, and a new one is added each week.

They also come with screencaps if you want to browse through and see what's going to happen. Plus, you have digital galleries with pics at 1,500 x 1,125 px when downloaded individually, and zip files for the full set. The images take you through the action and are also high resolution and great quality.

So, I had no issues with the content, apart from the lack of it, which is understandable in a new site - and those updates do look to be regular and so far so good. I didn't find any extras or bonuses though, but there are other sites you can unlock with further sign-ups. There' also a Platinum membership on offer where you can, I assume, gain access to these other sites. You pay a one-off fee of $69.95 for this, and then away you go. In theory; when I tried to do it, I was told there was an error, and I wasn't able to. A quick message to help and support should sort that out for you.

I was able to rate content though and add my comments, put things on a 'watch later' list and also add scenes to a favourites area. There are good search options and some filters to help you sort out what you want to see, and these will come into their own when Nanny Spy has grown some more.
Quality
With movies filmed in a voyeur style you expect low-quality image; these are filmed in that style but on 4K HD cameras, and quality is stunning. There are other choices for viewing quality, but the acting and humping quality is great. You get reality scenes that actually do feel real, great looking models and high-quality images.
Content
The site is new or was when I saw it, so I only got twenty nine videos and their galleries, updates were weekly but are now inconsistent. The content is all exclusive and looks great, stays on theme and it is well played out. Movies can be streamed in four speeds and downloaded in Mp4 and WMV (one file). Galleries hold around 250 pics each,
Pros
The best thing about Nanny Spy is the style of filming; a mix of voyeur (HD, standard and POV, you really feel like you're there and in the action. The clarity of images is tops, the site is easy to navigate and has interactive options, and updates are a bit inconsistent.
Cons
The site is small and growing slowly. Here are no bonuses to help boost the price, and there's a cross sale on the join page. The trial offer is a limited one and comes back at a high price. The additional sign-up to Platinum access wasn't working when I tried it.
Pricing & Bonus
At the moment the monthly price is down to $17.95, so you might want to grab that before it goes up. Sign for longer, and you can get things down to $9.95 per month (on the 12-month deal, paid in one installment). Beware a cross sale and the limited tour which recurs at a high price. There are no bonuses.
Conclusion
Nanny Spy pulls off the voyeur angle brilliantly while keeping it in 4K HD, it also gives you POV moments and great hardcore. The stories work well, and the girls are cute and steamy. The hardcore is fine, we just wish there was more of it, and the quality levels are high. So, give it a while and check back and you'll get even better value when it's bigger.
More Review Updates
November 26, 2017
Nanny Spy only started up in September 2017, and they already have 29 hot reality scenes that have been filmed in 4K Ultra HD. They seem to have slowed down the updating, and it is slightly inconsistent, but still growing.