N/A
Monthly:

$24.95

$19.94 - 30 Days
Trial: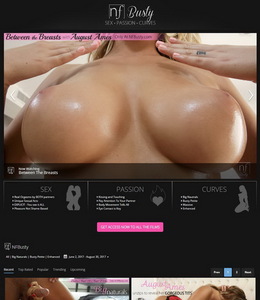 Nubile Films brings you a brand-new site, NF Busty and it's all about hot porn babes with big boobs. Simple? Well, yes, simple and to the point, and not a complicated site to access or use. But it's also chic and good-looking, and the girls are curvy up top and hot down below, the guys are studly and hard, and the movies are a great blend of sensual and erotic, with hardcore and pumping. It's all exclusive, and the intro prices are low.
Ratings
| | | | |
| --- | --- | --- | --- |
| Exclusivity | | Quantity | |
| Updates | | Features | |
| Quality | | Navigation | |
| Downloadable | | Design | |
| Speed | | Price | |
Details
Review Date:
by

Luke Preston

Category:
Big Tits | PornStars
Trial Price:
N/A
Monthly Price:

$24.95

our exclusive price: $19.94 - 30 Days
3 Month Price:
$59.94 - 3 Months
Yearly Price:
$109.94 - Yearly
Cross Sales:
1
Billing Type:
Credit Card,Pay-Pal
Pictures:
25 Picture Sets w/ 150 Pictures Per Set
Hi-Res Pictures Screen Captures Zip Files
Movies:
25 Movies At Around 17 Minutes Each
Movie Downloads:
Full Movie
Formats:
MP4 (Mpeg Video 1920 x 1080 10000 Kbps)
MP4 (Mpeg Video 1280 x 720 7500 Kbps)
MP4 (Mpeg Video 960 x 540 5000 Kbps)
MP4 (Mpeg Video 640 x 360 2000 Kbps)
MP4 (Mpeg Video 480 x 270 1000 Kbps)

Delivery:
Streaming Downloadable
Latest Review Update
November 8, 2017
Full Review
What impressed me about NF Busty was the way they filmed their scenes. These are not gratuitous 'You like that big dick' kind of movies. They are erotic and sensually slow to start, with the cute models feeling up their boobs in exquisite lingerie before teasing the guys' hard-ons with their tits and them mouths. He repays the pleasure, and there are excellent close ups of all of the models' most intimate parts, caught in soft lighting and great focus. Later, the boobs come into play a bit more with some tit-wanks and nipple play, and then the couples (or threesomes) get down to the more regular pussy licking, fingering, masturbation, sucking and fucking. They work brilliantly.

NF Busty is new, however, and that means it's not quite as big as some of the pairs of boobs that you the to see. With 100 movies so far though, and with a weekly update schedule, it's set to grow at a healthy rate. The videos are all exclusive, from Nubile Films, and they come with excellent viewing choices and high-quality filming techniques. The split screen moments are particularly good as you get three great angles on the same babe at the same time but they don't hold up the action.

Each of the scenes runs for 17 to 20 + minutes, and they can all be streamed in a choice of speeds and resolutions. These are also available to download, and you can take the lot in a choice of five resolutions. The HD cameras capture the scenes at 1,920 x 1,080, with 720p also available, plus two mid-range rates and then mobiles ones at 640 x 360 and 480 x 270. They are all Mp4 files and so should do well for your portable devices as well as desktops, where streaming goes full screen with no lack of quality. You can jump through the scenes if you want to and also click over to see screen caps (at 1,920 x 1,080) to check out what's going to happen before you start a large file download.

There are then digital galleries. As with all good porn sites these contain posed model shots as well as hardcore ones, so there are plenty to collect. Images can be taken one at a time at 1,333 x 2,000 px in size, or you can grab whole sets in three choices of size, in zip files. The top size here is 5,760 x 3,840 where, even at that size, the images are sharp and focused. All you need per scene is on the viewing page, but a photo area can also be found on the main menu. There are around 150 images per set and 15 galleries.

There are no navigation issues here. The top menu is straightforward and takes you to the vids and pics and a model index. There were 23 models when I was there, both guys and girls and they came with a few basic stats. The girls are shown with their measurements, as that's what it's all about after all, and you can link straight to their videos. Members also get the use of a profile page where you can add your own bio, and there are places to rate content and leave your comments. Sign-up prices are being kept low at the moment (watch out for a cross sale on the join page) and you're going to want to take advantage of these prices before they go up to the more usual amount for all-exclusive and brilliantly made hardcore.
Quality
The quality here is pretty outstanding. Not only do NF use high-quality cams, and sound recording, but they also use high-quality models, with all-natural boobs. The site is also well designed and looks good, with very few adverts. You have interactive options too. The images are also big and clear and excellent quality.
Content
NF Busty is new, so it only had 25 movies when I was on the site, but they are adding a new, exclusive scene every week, along with its gallery. The movies run for 17 to 20 + minutes, and all can be streamed on downloaded in HD, along with various other options to suit all connections. The 15 galleries hold an average 150 pics with zip files.
Pros
This is very high-class filming with guys who know what they are doing behind the cameras, and with models who know what we like to see in front of them. The site is easy to use and looks good, it stays on-theme, and there are only 100% naturally big girls here including some porn star names you'll know; Dillon Harper for example.
Cons
The site is small and has a low content count, at the moment. There's a cross sale on the join page and, as yet, no advanced search engine. Some of the models didn't have stats and details - mainly the guys.
Pricing & Bonus
$19.94 per month is a good price for a site that's all exclusive content, and that has videos and pics at this level of quality. The longer you sign for, the cheaper it gets, and there are options for recurring and non-recurring payments. The annual one works out at under $10.00 per month, paid in advance, but watch out for a cross sale on sign-up.
Conclusion
I was knocked over by the outstanding quality of NF Busty, the girls and their movies/pics. It's high-class, top-drawer filming with star names and girls you'll want to see again. From tit-wanks to cum-on-tits cum shots, and a lot of sensual hardcore in between, you've got a special, new and growing site here, and one to add to your big-tit site collection.
More Review Updates
November 8, 2017
NF Busty only started up in June 2017. Theres not a lot written about this site, but let me tell you, all their movies are exclusive content, and they are in full HD. Although they have only 25 scenes at the moment, they are updating weekly, and just about every scene comes along with a hot photo set. NF Busty is an easy site to use, and they have plenty of good looking models with amazing curves, hot holes and, obviously, big juicy jugs that will keep you hard all day long. This site doesnt have any bonuses, but you can follow them on Twitter, and sign up for a newsletter.