$1.00
- 0 Days
Monthly:
$24.87
$14.87
- 30 Days
Trial: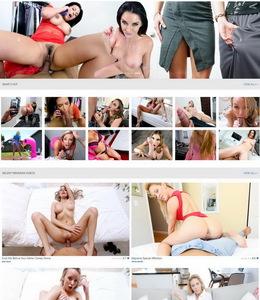 Sometimes it's hard to connect with a reality site because you're always watching from the outside. Well, there's a new site out there now called Perv Mom, and it is one that you can really connect to. That's because the filming is from your point of view. You are the lucky stepson in each of the videos, and your stepmom is a cougar after a bit of youthful dick to satisfy her cravings. It's HD, exclusive, new and growing.
Ratings
| | | | |
| --- | --- | --- | --- |
| Exclusivity | | Quantity | |
| Updates | | Features | |
| Quality | | Navigation | |
| Downloadable | | Design | |
| Speed | | Price | |
Details
Review Date:
by

Luke Preston

Category:
MILF | POV | Reality | High Definition
Trial Price:
$1.00 - 0 Days
Monthly Price:

$24.87

our exclusive price: $14.87 - 30 Days
3 Month Price:
$49.87 - 3 Months
Yearly Price:
$95.75 - Yearly
Cross Sales:
1, prechecked
Billing Type:
Credit Card
Pictures:
19 Picture Sets w/ 80 Pictures Per Set
Hi-Res Pictures Screen Captures Zip Files
Movies:
19 Movies At Around 10 Minutes Each
Movie Downloads:
Full Movie
Formats:
MP4 (Mpeg Video 1920 x 1080 6000 Kbps)
MP4 (Mpeg Video 960 x 540 2867 Kbps)
MP4 (Mpeg Video 640 x 360 980 Kbps)

Delivery:
Streaming Downloadable
Full Review
The pervy moms at Perv Mom are hot cougars, they are pussycats on the prowl for some younger dick, and while dad's away, the stepmoms will play. The neat thing about this new and exclusive POV and step-sex site is that it is all filmed from your point of view. This really puts you in the action and makes the reality even more real. Each of the videos gives you the driving seat though it's really the stepmoms who are in charge. She'll find you with some morning wood and take care of it for you, or she'll seduce you while dad's outside, or not far away, adding an extra thrill. The Milfs are hot, and the dicks are big and ready to pump.

The next thing to note about Perv Mom is that it is a new site. On the one hand, this means fresh and never-before-seen videos, but on the other, it means it is still rather small. The sign-up pages suggest daily updates, but they weren't as frequent as that. The site had only been up for a few weeks when I saw it, so it's a bit early to tell, but updates had been happening, and there were now 19 movies to check out, each one with a trailer, a gallery of digital shots and a gallery of screenshots.

Movies run for around 10 minutes, some are longer, and that's because some are simply BJ scenes. They have a build-up and a storyline, of sorts, that eases you into the reality action, and they all look fine. It's HD filming, and you have a choice of viewing options, but only one streaming version. This ran smoothly and well and gave me no buffer frustrations. I was impressed with the quality if filming, the sharpness of the image and sound, and also I was impressed with the natural acting of the cast. Again, this makes the whole thing all the more realistic.

Movies are at 1,920 x 1,080 HD when downloaded in Mp4, but there are also 960 x 540 and 640 x 380 versions, the smaller one being suitable for most mobiles. Files came down nice and fast, and so did the zip files for the digital galleries. You can also view the videos online and open them one at a time, saving what you want. They download at 900 x 506 px and look good. There are several posed shots from the Milf models, and then some action ones and members are also provided with a full set of screencaps if you want to check the action before you download.

Perv Mom is a standalone site, and so there were no extras. There are several adverts however and these, although sometimes making the pages a bit cluttered, do offer you discounts to other sign-ups if you're interested. There's also an upgrade membership offer which I didn't quite get as it wouldn't let me, but for an annual addition, you can upgrade to… Well, check it out and see how you get on.

The members' area is easy to navigate and offers you some nice interactivity. You can comment on the scenes you see and also rate them. Members can add scenes to a favourites area and build up their own stock too. I didn't find a model index, and although there are descriptions of scenes, there wasn't very much info about the models. Sign-up is simple and secure though do watch out for a cross sale on the join page. All memberships are recurring until cancelled.
Quality
The quality is fine here. You have HD viewing from a POV cam which is nice and sharp, and you also have other resolutions for downloading which come out just fine. The acting is also good quality, and this makes the reality scenes more believable. Images are large and sharp, and the galleries are easy to handle. The site is easy to navigate.
Content
This is a new site so not very big yet. There were 19 movies of around 10 minutes each with one stream and three Mp4 downloads, up to 1080p HD. The models are slinky and sexy and very naughty stepmoms, and the POV filming puts you right in the scene. There are also 19 image sets and 19 screencaps sets.
Pros
The things that really appealed to me about Perv Mom were the quality of filming and the quality of acting. You can really get into the scenes, thanks to the POV and the naturalness of the models. So, if you want to, you can imagine this is all happening to you. It's also easy to use and carries some interactive options for members.
Cons
The site is still small, and although it advertises daily updates, it doesn't update every day. The videos are usually around d 10 minutes each, and there's only one stream option and one download file type. I'd have liked a model index and more info about the Moms and also some extras, as there are no bonuses.
Pricing & Bonus
The sign-up deals are down at the moment to reflect the newness of the site, so grab a discount before the prices go back up. Watch out for a cross sale on the join page. There are no extras or bonuses here and to find more content, you will have to take one of the upgrades or one of the discounted membership to other sites that are offered.
Conclusion
Perv Mom works because of the natural acting of the super-hot Milf models and the POV camera on the guy who becomes you in each scene. It's still small but is updating, though it's too early to say how regularly. It's high quality, HD and exclusive and puts the POV into reality set-sex and the Milf genre very nicely with a twist of perv.