N/A
Monthly: $19.99 - 30 Days
Trial: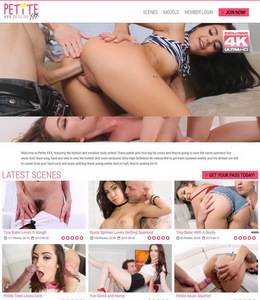 The best things come in little packages, they say, and over at Petite XXX, they certainly prove that rule. The site comes with exclusive videos, 4K HD viewing and hot little chicks that your going to fall in love with. You're looking at petite hardcore served up in a slick and functional site. The site, like the girls, may be small, but regular updates look to be happening and pricing is set at a competitive rate.
Ratings
| | | | |
| --- | --- | --- | --- |
| Exclusivity | | Quantity | |
| Updates | | Features | |
| Quality | | Navigation | |
| Downloadable | | Design | |
| Speed | | Price | |
Details
Review Date:
by

Luke Preston

Category:
Babes | PornStars
Trial Price:
N/A
Monthly Price:
$19.99 - 30 Days
3 Month Price:
$39.99 - 3 Months
Yearly Price:
$99.95 - Yearly
Cross Sales:
1, prechecked
Billing Type:
Credit Card
Pictures:
14 Picture Sets w/ 100 Pictures Per Set
Hi-Res Pictures Screen Captures Zip Files
Movies:
14 Movies At Around 25 Minutes Each
Movie Downloads:
Full Movie
Formats:
MP4 (Mpeg Video 3840 x 2160 25000 Kbps)
MP4 (Mpeg Video 1920 x 1080 20000 Kbps)
MP4 (Mpeg Video 1920 x 1080 10000 Kbps)
MP4 (Mpeg Video 1280 x 720 7000 Kbps)
MP4 (Mpeg Video 256 x 144 231 Kbps)

Delivery:
Streaming Downloadable
Full Review
The tour at Petite XXX sets you up well and shows you what you are going to find inside the members' area. A set of horny hardcore videos starring some of the tiniest girls in porn-land today. These girls are cute, dinky and a nice mix of Latina, Asian and white, but they all have one thing in common: they crave a bit of big dick. The guys supply it, and we get a neat set of hot videos where size small matters.

Checking out a couple of the videos I found that they came with a chatty intro. This was neat because it gives us a chance to hear about the girls, and to check out their stats. Cloe Vixen, for example, is only five feet tall and weighs 100 Lbs, the other girls are similar, and a model index shows you not only all nine on the site so far, but it also tells you their stats. These really are small babes. But that doesn't stop them chowing down on big fat dicks and then opening up their tiny pussies to get them tightly fucked by hung guys. The hardcore is banging, and it all works perfectly.

The site is new, so don't expect much content from Petite XXX as yet, but do expect updates at roughly two per month. The 14 videos here so far run for around 25 minutes each, including the five-minute chats, and they can be streamed or downloaded. The movies are excellent quality coming in at 4K HD (3,840 x 2,160) at the top of the range, and then coming with 1080p, 720p and midrange size down to a mobile-friendly 256 x 144 @ 231 kbps. You get more or less the same options for streaming as you do for downloading, but watch out for the Ultra HD files, they are a few gigs each and will take up your storage space.

Movies also come with screen caps that you can browse through and save if you want, and there are also digital galleries. These hold around 100 pics each and give you a mix of models posing and models in action. The quality is, again, excellent and images appear on the screen at 400 x 400 px for easy browsing. You can go full screen, run slideshows and also take zip files in a choice of three sizes. Your photo needs are well taken care of.

Also, around the viewing pages, you find some nice interactive options. There are rates to give, comments to leave and you can add things to a favourites area. Linked tag words help you find your next scene, and navigation generally is easy. A top menu will take you to the vids and pics, some up-sell deals, and a model index. There is a lot of detail here, which is good to see.

There are no extras included with your membership at this time, which is a bit disappointing considering the site is still small.
Quality
The 4K filming is excellent and gives you sharp images and good sound. You also have 1080p HD and other resolutions for movies, and the overall filming and production quality is grand. There's nothing small and petite about the quality standards here. Hot chicks, good looking site, large clear images and a smooth ride all the way.
Content
Petite XXX was new when I saw it, but should have grown by now. It held 11 exclusive videos with some very petite models, each scene being around 25 minutes in length and having six or seven stream/download options. 11 galleries held approx. 100 pics each, there are screen caps and nine models in the index. Updates are about twice per month.
Pros
Quality standards are high, the girls are short, the boys are big, the cute babes and tiny, just what we want from a petite site.
Cons
Watch out for a cross sale on the join page. The site is still small because it is new, and updates are not weekly - but they do come in. It would be good to see bonus sites on offer for members to offset the size of the site.
Pricing & Bonus
Thirty days for only $19.99 for exclusive ultra high quality content seems fair. Sign-up for longer and you can get that down to $7.50 per month, paid in one annual instalment. I wouldn't recommend the yearly deal at this time though, because of the size of the site. Beware a cross sale on the sign-up page, but that's your only worry.
Conclusion
Petite XXX did the trick for me! Hot and tiny babes doing hardcore sex with massive cocks and getting their tight pussies spread wide and drilled? What more could you ask from a petite site? It would be nice if the site were bigger, or they offered some bonus sites, but with a lower sign up fee, regular updates and 4K content, it is worth considering.