N/A
Monthly: $19.95 - 30 Days
Trial: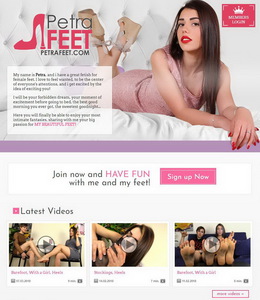 There's content on this site that's so crystal clear and natural you can almost smell the feet and shoes, the stockings and, sometimes, the other slinky costumes that Petra wears in her exclusive videos. Petra Feet is all about… feet! Hers and those of her friends who are also gorgeous, Italian teen and 20s babes. It's a softcore, foot fetish site where the emphasis is on the feet and what she wears on them. It comes with many extras.
Ratings
| | | | |
| --- | --- | --- | --- |
| Exclusivity | | Quantity | |
| Updates | | Features | |
| Quality | | Navigation | |
| Downloadable | | Design | |
| Speed | | Price | |
Details
Review Date:
by

Luke Preston

Category:
Foot Fetish | Softcore
Trial Price:
N/A
Monthly Price:
$19.95 - 30 Days
Cross Sales:
No Cross Sales
Billing Type:
Credit Card
Pictures:
266 Picture Sets w/ 70 Pictures Per Set
Hi-Res Pictures Zip Files
Movies:
123 Movies At Around 5 Minutes Each
Movie Downloads:
Movie Clips
Formats:
MP4 (Mpeg Video 1920 x 1080 8000 Kbps)
WMV (Windows Media 1920 x 1080 6500 Kbps)

Delivery:
Streaming Downloadable
Full Review
Walk this way to find Petra Feet, and you're taking a step in the right direction towards a top foot fetish site. Now then, we're not talking sleazy foot fetish with foot wanks and cum on feet, toe sucking and girls masturbating with their feet. We are talking dressed, costumed, classy, shoe-wearing Italian babes who film themselves showing off their feet and their shoes. So, if you're looking for porn, then this ain't the site for you. If, however, you are looking for top class foot videos, then it is.

Petra is a teen Italian babe, and she appears in just about all of her 123 videos. Sometimes she has guests appearing and she either poses with them, or they pose on their own, but they all do the same thing: show off their feet close up and clothed. These videos are exclusive and also high quality, in fact, everything about the site is high quality. The movies are short, around five minutes each, and Petra sometimes talks to you. There are subtitles but her Italian voice and language… well, it's the language of love, and you'll love listening to her.

The videos are there to be streamed or downloaded, but you don't have a choice of resolutions. The ones I took and played were HD at 1,920 x 1,080, and some came down as Mp4 while others were WMV, so be prepared for both formats. They come with functions where you can comment and rate what you see.

Photos are shown in their own area, and there were 266 image sets this morning, with between 50 and 80 each, at good, high resolutions sizes. I found pics at 2,000 x 3,000 px for example. These open on the page and you can browse through, or you can use the zip file and take the full set. What's also good about the content here at Petra Feet is that it is constantly being updated. She adds a new video/gallery around twice per week, and there's even a page to show you what's new and what coming soon. Upload dates are shown, making this a very honest site.

But where things really kick in are with the extras - not that the main content isn't a draw enough, it is. Petra also runs a blog, and anyone can see this (it opens in a new tab from your members' area), but the thing is, members, get to see private posts by opening them with your log in details. There's also a page that's listed as a Fan Zone. Here I found one interview and a set of images you can use to make up a calendar, but it was from 2016, so needs updating. You also have top lists and a contact page, you can spoil Petra with a gift and visit the shop. There are other bits and pieces in your main menu which make it a fun place to look around and which also brings you closer to our main babe.

The last thing to note is that Petra does live shows, and she lets her members know when she's going to be appearing. You can log into these with your usual membership details and get a free ride, with the chance to be interactive. The comments and contacts, rates and general friendly nature of the site also make you feel part of something very special.
Quality
All your movies are at 1080p HD here, and they are well filmed in a hand-held, roving and up-close kind of way. Images are large and clear and well taken. The site had a very sleek design now and is easy to use and very interactive. Our main star is also very high quality and high class, giving you a good quality experience.
Content
You now have at least 123 movies of around five to seven minutes in length each, and they come with one stream and a download in HD. There are 266 galleries with around 80 pics each at 2,000 x 3,000 pox quality and zip files. All content is exclusive, and updates are usually twice per week.
Pros
Your membership comes with loads of added goodies like the live cam access and the blog, and it's a really intimate site to join. You get to know Petra, and shell even make you a custom video (for a price), so you feel like you're part of something special. That makes a big change from the usual porn sites we see.
Cons
A couple more additions would be good to see: a search engine or page, and an add to favourites function would be nice. More download options too, as you only have the HD and the format that's given to you, though the movies are not long, so the files aren't huge. Sign-up options are only for one or two months, though they do recur.
Pricing & Bonus
You have a one-off, the 35-day option here at $26.99 (there may be regional price variations in currency), or you can take the recurring monthly deal at $4.99 per week - paid monthly or the two-month option at $3.99 per week, paid in one go. Sign-up is with CCBill and secure, but there are no bonus sites, only neat extras to do with Petra.
Conclusion
It's good to see a foot fetish site that doesn't give in to the demands of porn addicts who only view foot fetish if there's a pussy or dick involved. Petra Feet is above that and is pure foot worship, shoes, stockings and cosplay, with a good, European classy edge to it. Short videos maybe, but HD and with loads of extras and pics, you soon become a fan.