N/A
Monthly:

$29.32

$14.98 - 30 Days
Trial: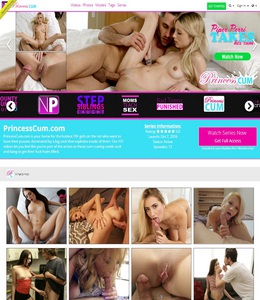 Sweet teen pussy is given a chance to receive hot, sticky loads on Princess Cum. This fresh site hasn't managed to populate itself with too many scenes just yet, but the content that is here takes the exploration of young babes and their sexuality to a whole new level. 1080p content, 11 bonus sites and a discount deal: what's not to love?
Ratings
| | | | |
| --- | --- | --- | --- |
| Exclusivity | | Quantity | |
| Updates | | Features | |
| Quality | | Navigation | |
| Downloadable | | Design | |
| Speed | | Price | |
Details
Review Date:
by

Hardwood

Category:
Young Adults | Hardcore | High Definition
Trial Price:
N/A
Monthly Price:

$29.32

our exclusive price: $14.98 - 30 Days
3 Month Price:
$39.95 - 3 Months
Yearly Price:
$99.95 - Yearly
Cross Sales:
1, prechecked
Billing Type:
Credit Card,Pay-Pal
Pictures:
12 Picture Sets w/ 125 Pictures Per Set
Hi-Res Pictures Screen Captures Zip Files
Movies:
12 Movies At Around 25 Minutes Each
Movie Downloads:
Full Movie
Formats:
MP4 (Mpeg Video 1920 x 1080 15000 Kbps)
MP4 (Mpeg Video 1280 x 720 8000 Kbps)
WMV (Windows Media 1280 x 720 7000 Kbps)

Delivery:
Streaming Downloadable
Bonus Sites:
11 Sites Multi Access Network
Latest Review Update
November 9, 2017
Princess Cum is a fresh new site that has only been going for a year. It may only have 13 hot episodes to watch, but they are updating approximately once a month. The movies are exclusive to this site, and they are in HD and can be streamed. As a member of this site, you will also get full access to the Nubiles porn network which has 11 amazing titles, such as Moms Teach Sex, Bad Teens Punished and bounty Hunter Porn.
Full Review
From the looks of the tour, Princess Cum doesn't seem to have any specific niche that it covers, other than that of great hardcore sex between hung studs and teens that are gagging for a slice of sausage. You're promised HD clips, world-class pornstars and some great original content that'll make you nut in a matter of minutes. It sounds fantastic, but what does Princess Cum actually have to offer? To find out, we'll need to head on inside to the member's area to write a full review. Keep reading if you'd like more details on the Princess Cum subscriber experience!

Nubiles Porn is the network behind Princess Cum: this means that your account actually entitles you to 12 sites' worth of content for the price of one. Other destinations on the network include Petite HD Porn, Step Siblings Caught and Moms Teach Sex: take a look at our full review of the Nubiles network if you'd like to know more about what's on offer! As for Princess Cum itself: it has been online since October of 2016 and updates twice a month (or thereabouts) with new scenes. The navigation, design and layout of the member's area is pretty decent and gives you everything you could ever want at the touch of a button. So far, so good!

Twelve scenes currently populate the member's area of Princess Cum: not the greatest number, but we'll forgive them given that it's a fairly new destination for badass teens to take dick. Like all of the sites on the Nubiles Porn network, you'll be able to download the Princess Cum scenes directly to your computer using the MP4s in 360p, 540p, 720p and 1080p formats. The bitrates for these clips is pretty damn insane, as are the photos that weigh in at a whopping 5760 x 3840 pixels at their largest size. Oh, and yes: zipped photo sets, as well as direct streaming, are both offered.

Subjectively, I can safely say that the porn on Princess Cum is in the top 10% of what I've seen over the last 6 months. Not only do they get in top names in, such as Piper Perri, Riley Reid and Lily Jordan, but they have a great knack for showcasing the best assets of each model as they get nailed hard in every hole. Most of the clips are one on one, though the latest upload was a threesome. No condoms are used and the chicks spend quite a long time sucking dick. I don't think many people are going to complain much about that.
Quality
The images coming in at 5760 x 3840 pixels is impressive, but it sets the tone for Princess Cum's commitment to quality. While they don't offer 4K content just yet, you'll find that the archived HD downloads offer a superior bitrate when compared to most other sites. If it's quality you're after, Princess Cum won't disappoint.
Content
Some real hot dolls here: many of whom are in the top lists of the most popular pornstars around in the modern era. The sex is fantastic and the scene length of 20 to 30 minutes is bang on. While there's no central theme for the sex, that doesn't mean Princess Cum falls short of giving you great teen porn entertainment.
Pros
Let's see: fantastic average bitrates, full HD downloads, 11 bonus sites, fast servers and zipped photo sets with some of the highest resolution snaps I've ever seen. Given the porn itself is next-level, this makes for a great user experience.
Cons
Princess Cum's biggest issues stem from the relative freshness of the content: just 12 scenes populate the member's area at the time of writing this review. I'd love to see a consistent update schedule with new teen scenes every week, but I'm not holding my breath.
Pricing & Bonus
As a little bonus for reading our review and signing up through Reviewed Porn, we'll lower the standard price of $29.32 for access to Princess Cum down to just $14.98. If you'd like, you can also utilize the 12-month exclusive discount that we can offer. With loads of bonus sites and all exclusive content it's the way to go.
Conclusion
Think of a membership here as being more of a network deal instead of access only to the content that Princess Cum has to offer. I've reviewed a few of the other sites operated by Nubiles Porn and they're all fantastic, which makes signing up to a site with a dozen or so scenes a pretty damn good deal. Teen heaven is just a few clicks away!