$1.00 - 2 Days
Monthly: $29.95 - 30 Days
Trial: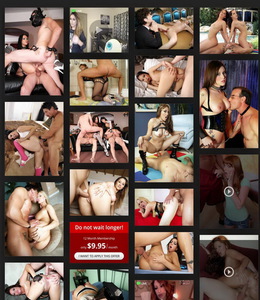 What you are offered here is a large collection of pure hardcore. Raw XXX Movies has one theme: hardcore, and it's well played out in a large collection of exclusive and non-exclusive scenes in a site that is part of the All Porn Sites Pass of over 100 sites. They are all included with your membership, giving you a heap of horny hardcore and some of the sites are updating. There are decent viewing options, hot chicks and hard action.
Ratings
| | | | |
| --- | --- | --- | --- |
| Exclusivity | | Quantity | |
| Updates | | Features | |
| Quality | | Navigation | |
| Downloadable | | Design | |
| Speed | | Price | |
Details
Review Date:
by

Luke Preston

Category:
Hardcore | Video
Trial Price:
$1.00 - 2 Days, Recurs at $39.95 per month
Monthly Price:
$29.95 - 30 Days
3 Month Price:
$59.95 - 3 Months
Yearly Price:
$119.40 - Yearly
Cross Sales:
2, prechecked
Billing Type:
Credit Card,Online Check
Pictures:
1080 Picture Sets w/ 100 Pictures Per Set
Hi-Res Pictures Zip Files
Movies:
1200 Movies At Around 20 Minutes Each
Movie Downloads:
Full Movie & Movie Clips
Formats:
MP4 (Mpeg Video 640 x 480 1500 Kbps)
WMV (Windows Media 1280 x 720 2100 Kbps)

Delivery:
Streaming Downloadable
Bonus Sites:
103 Sites Multi Access Network
Full Review
I always ask myself, 'What theme is this site?' so that I can give you a bit of guidance as to what to expect. In this case, at Raw XXX Movies, it's pure hardcore. Think of a depraved and gorgeous act of sexual sin and you will find some lush babe aged 18 to over 30 doing it with some hung porn guy or amateur looking model. It's as simple as that really. I am not sure how many of the scenes are especially made for the site but I do know that some of them appear on other sites in your network. That's no great issue in this case as the whole set of sites contain over 12,000 movies, so there is plenty to see.

Think generic porn and you'll be fine. There are no detailed search options but there is a search box so you will probably find exactly what you like by using that. Otherwise, simply scroll through the many index pages and select a sample shot that looks like the kind of thing or girl you want to see. Navigation is easy enough and you can reorganise the content by date and popularity and so on. I simply used the sample shots until I found something I wanted to see and I wanted to see all of it!

The tiles don't really help you much but the sample shots do and, once in a view page you have good viewing options. There are streams to run and WMV downloads in 720p resolution, on the more recent movies, and there are also mobile versions for Mp4. There are clips too, which I always like to see, so you can grab just the cum shots or the pussy pounding, the cock sucking or even the strips and teases that some of the girls perform. It's a nice and simple collection of ways to view or take the scenes and I had no hassles here. There are brief descriptions with movies and links to the models so you can see if your top babe appears in anything else, and there are also some galleries with videos.

However, there are more galleries when you use the sub menu item on the viewing page and find 'Hardcore Pictures.' Here you have over 1,080 image sets to browse or save in zip files. You can run slideshows and save solo pcs, there are easy through-navigation tools and lots of variety in the galleries with posed model shots and action ones. The quality was fine too.

On the downside, I didn't find any recent updates and some of the content is a couple of years old. Other sites in the network do update and so that's where you find your new content. You also have to be aware that some of the sites share content and you might find a scene you've seen before, arranged on one of the 100+ bonus sites. There's a lot of extra content with this pass, as you are in the All Porn Sites Pass network and updates are coming in well. Members also have a few interactive options to play with like rates and favourites, and there's decent navigation, so you end up with a good solid, site with lots of content, over 12,000 videos in total.

Your bonuses also include some tranny and gay sites, but a wealth of straight ones with Amateur Bangers, Bad Black Babes, Hardcore Fatties, Lesbians Ultra and Milfs Bang. Loads of good variety and it all works in the same way in the same window making it easy to browse.
Quality
The quality is fine here; it's kind of reasonable standard studio porn with a mix of pro babes and some amateurs, amateur guys and filming up to 720p HD. There are other resolution choices for you as well and the images are also a good size and clear. No issues with content quality though I did find the design a bit run-of-the-mill; though everything worked.
Content
This one site held over 1,200 movies (some from other sites and not all exclusive) and over 1,000 galleries. Movies are around 20 minutes and are pure hardcore, as advertised, galleries hold around 100 good pics. Updates had not been happening at this site (but in the bonuses they had) and the content is easy to find and view.
Pros
Your membership, even on the lower-cost longer-term options, give you access to over 100 straight sites and a load more gay ones. You get good value and there's plenty to see with a huge amount of videos. There are good viewing options including clips and full scenes, easy access to galleries and a model index, some info and some interactivity.
Cons
The content is not all exclusive and some of it is shared around on other sites in your network. There's not a lot of info, we could always do with more for interest's sake and the site does run on a template design that robs it of individuality. Watch out for a cross sale already checked on the sign-up page.
Pricing & Bonus
There are over 100 bonus sites with over 12,000 movies plus all the galleries and some sites update; so you have amazing value for money even on the monthly price. Watch out for the cross sale and the trial which recurs at a higher rate than the monthly one, go for savings via the longer-term memberships.
Conclusion
Raw XXX Movies is fine; it's not the most glamorous looking site we've seen, but it's up there with the biggest of them. Masses of videos and galleries, masses of bonuses, a huge amount of pro and amateur girls in full on hardcore videos, all as the tour pages promise you, so no complaints there. You get good value here with a lot of hardcore.