N/A
Monthly: $19.95 - 30 Days
Trial: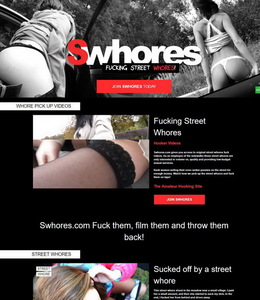 When you think of streetwalkers and working girls, you don't usually think of outdoor sex and country lanes. Well, that's the neat twist at Swhores, a site from Europe with horny escorts working in the countryside. It's a site of exclusive HD movies, filmed outside, and it comes with a lot of bonus videos, but not a lot of its actual content and no update news.
Ratings
| | | | |
| --- | --- | --- | --- |
| Exclusivity | | Quantity | |
| Updates | | Features | |
| Quality | | Navigation | |
| Downloadable | | Design | |
| Speed | | Price | |
Details
Review Date:
by

Luke Preston

Category:
Outdoor Sex | Reality
Trial Price:
N/A
Monthly Price:
$19.95 - 30 Days
3 Month Price:
$44.85 - 3 Months
Yearly Price:
$119.40 - Yearly
Cross Sales:
1, prechecked
Billing Type:
Credit Card
Pictures:
144 Picture Sets w/ 50 Pictures Per Set
Hi-Res Pictures Zip Files
Movies:
14 Movies At Around 20 Minutes Each
Movie Downloads:
Full Movie
Formats:
MP4 (Mpeg Video 1920 x 1080 10000 Kbps)
MP4 (Mpeg Video 960 x 540 3000 Kbps)

Delivery:
Streaming Downloadable
Full Review
It's all good and bad at Swhores (that's Street Whores contracted). The good news is that this is an exclusive content site and the girls you find here are horny and good to see. There's more good news with the resolution and quality of the reality/outdoors videos, and the photos, and also with the bonuses. But the bad news is that the site has only 14 videos, and nothing new has been added for at least four months. Still read on though, and I will tell you exactly what's going on.

The girls at Swhores are working girls (in the movies, I don't know about real life) and they hail from some central European country; I think it's the Czech Republic. They are working out in the leafy lanes of the rather nice countryside, hoping for a pickup. Not your standard place to make a buck, but it works. A guy comes along and offers her cash for sex, as long as it's bareback sex, which it is. We then get 20 minutes or so per movie of hardcore, outdoor boy/girl fucking which is filmed in a neat way. Some of it is POV, and so you're right there, and other parts are distant or wider shots, so you see everything that's going on. It comes across as handheld and also static, and the combination works well. The sound is fine, the visuals are good, you have all the standard close-ups on the right moments; cum shots etc. Overall, the filming is a good standard.

The 14 movies come with three streams and three downloads. The top res is at 1,920 x 1,080 HD, and there's a 720p one and one at 540p too. There are none that are that small so your mobiles might not take the file weight, but they are Mp4 so you can at least try. I guess it will depend on your storage. The quality is fine and the soundtracks are in English with some heavy accents from the models.

Movies also come with photos, and there are around 50 per set at large sizes. I downloaded a few solo ones at 3,696 x 2,448 px, and they were sharp and clear, with mainly action images to look at. You can also view them online or take zip files of the full sets; all very easy to do. As the images are on the same viewing pages as the videos, they are easy to find.

These viewing pages let you rate scenes and add them to a favourites area which you then find in your top menu. Standard stuff. But what they also have is a Clips feature. Here you can select the section of a movie and save it as a clip, adding it to your own collection of clips which you also find in the top menu. I liked that.

Swhores comes with bonuses which make up for the lack of its main content. These movies, which are streaming only, come from 20 other sites that the company owns. There is a sites list, but you can't actually access the whole sites. Instead you have streaming movies from each one. They are varied to say the last. They have hardcore, Milfs, teens, anal, BJs, mature, reality and POV movies in here, all straight, with a few gay sites if you're curious. The video count for your bonuses adds up to 10,500 + scenes, which ain't bad at all if you ask me.
Quality
The quality is fine, by which I mean it's 1080p HD, and filmed in a reasonable way using amateur models as the cast. You sure get the reality feel, and you definitely get the outdoor sex feel. The sound is fine, images are large and clear, the girls are sexy, and the guys bang well. What more could you need?
Content
The downer here is the content count, the videos and pics themselves are fine, but, with only 14 videos and no updates for four months (since, I think, the site started) we don't know what's going on. Movies are exclusive though, and HD, and come with three stream/download options, plus 50 or so pics each and they all stay on-niche.
Pros
On the upside, you have over 10,500 bonus videos to play with while you hang around waiting for your next Swhores whore to come along. The site is easy to access, and it's not expensive for exclusive content and all those bonuses, and it's also good quality and easy to use with only a few adverts.
Cons
On the downside, the site is small, and we have no idea what is happening with updates if anything. There's a cross sale on the join page and the bonus videos, though many, are streaming only. There were no low-res files for mobiles, the lowest is 540p.
Pricing & Bonus
I didn't mind the prices at all. $19.95 per month is fine for a couple of months and, if by then, there are no extras, you can leave. But the longer-term ones will do you better for discounts, and you will still have the 10k + bonus movies to stream in the bonus area. This will take you several months, so it's worth thinking about.
Conclusion
I reckon that Swhores has a good theme, hot babes and good hardcore bareback outdoor sex, but it needs time to grow. Someone needs to get on with some updates if it's going to keep its membership. The bonuses are good but only go so far. We want more of this horny outdoor sex action, and there's nothing to tell us if/when we will get it.