N/A
Monthly: $29.95 - 30 Days
Trial: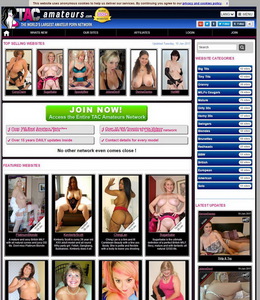 There's no need to spend hours searching amateur porn tube sites any more, not now you have found TAC Amateurs. This is a mega-site holding 116 amateur sites under its umbrella and access to one leads to access to all. Sign-up to any one of their sites and find thousands of home clips and movies, galleries, various sites with some amateurs turned porn stars, a set of bonus sites and very frequent updates. This is a huge collection.
Ratings
| | | | |
| --- | --- | --- | --- |
| Exclusivity | | Quantity | |
| Updates | | Features | |
| Quality | | Navigation | |
| Downloadable | | Design | |
| Speed | | Price | |
Details
Review Date:
by

Luke Preston

Category:
All Access | Amateur
Trial Price:
N/A
Monthly Price:
$29.95 - 30 Days
3 Month Price:
$69.95 - 3 Months
6 Month Price:
$135.95 - 3 Months
Cross Sales:
No Cross Sales
Billing Type:
Credit Card
Pictures:
11640 Picture Sets w/ 50 Pictures Per Set
Hi-Res Pictures Screen Captures Zip Files
Movies:
9780 Movies At Around 15 Minutes Each
Movie Downloads:
Full Movie
Formats:
MP4 (Mpeg Video 1280 x 720 3000 Kbps)
MP4 (Mpeg Video 730 x 426 1000 Kbps)
WMV (Windows Media 1280 x 720 2000 Kbps)

Delivery:
Streaming Downloadable
Bonus Sites:
116 Sites Multi Access Network
Full Review
TAC Amateurs is a very large collection of sites, galleries, videos and girls, women, couples and even comes with some other sites to access with your membership that are not part of the gang. Basically: you have a mass of content here and it's all about ladies who have made their own clips and videos, their own photo sets, and had them posted on sites from TAC, that are then available to all members. You've got a lot to get through here and the site is easy enough to use, and it updates more or less every day.

When I say a lot, I mean over 9,780 videos and over 11,640 galleries; now that's a lot of content. The models you find here are amateurs of the home-video variety: plump Milfs, some younger, couples, white and black girls, frustrated housewives, ordinary couples who like a bit of exhibitionism and even some grannies. It's true amateur content and not the kind where porn models pretend, though some of the models are listed as 'porn star', they are not your usual studio variety and if you are really looking for home grown videos and pics, then this is definitely the place to come.

You sign up for any one of the 116 sites shown on the join pages. Some have themes, such as POV Station or Couples Exposed, some are more professional looking, like Harry's Foot Maidens and others are more like personal profiles from an amateur content sharing sites such as Viki Vagina and Fran 4 Fun. There are so many I can't list them all, but they all have a certain style in common and also the fact that they are genuine amateurs like you and me who love to see and share their own homemade content. Sign in and you find a home page showing the most popular or the latest additions and then you find a simple top menu to take you to all the episodes.

There were over 21,000 entries here and you're able to filter then between videos and galleries. The index pages, although they look quite old fashioned in their design, tell you what's a videos, what's HD and what's a gallery (unless you have filtered) and there are sample shots to show you who is in each movie. There is also a category list which really helps your searching and things like Group Sex then have sub menus with more specific headings. I found, for example, Foursomes, Threesomes, Gangbangs and Orgies under Group Sex.

Head to a video and you have streams and downloads with recent content being up to 1,280 x 720 in resolution and coming with both WMV and Mp4 downloads. Older content is smaller in resolution and some very old content may be very small, but standards are fine and just what you would expect from a truly amateur produced content site. Streams open in a new tab and downloads are done with a right click and 'save as…'. Galleries work in the same way and come with zip files and online browsing with one pic at a time that you can save.

As for extras, you can make comments and save items to a favourites area and there are handy linked tag words to help your searching. There are also the bonus sites which you can only access from within the members' area and they include Chick Pass Amateurs, T&A Brunettes and Nymphos Network for loads more hot amateur action, all included in your sign-up.
Quality
Quality varies with age and it depends on who made the vids and pics. Some is better than others with 720p HD on offer along with some much smaller versions of scenes. Images tend to be large and digital and fine, and the models vary from frumpy older Milfs to some cute and sexy 18+ teens, but all have enthusiasm and it's all hardcore.
Content
There were over 20,000 pieces of content here and updates are more or less daily. These were arranged at 11,640 image sets with around 50 pics per set with zip files and online viewing and 9,780 videos that ran for five to 20 minutes and came with two streams/downloads in WMV and Mp4 (sometimes three). All content is amateur, much is exclusive to the site.
Pros
You get a mass of content with this sign up and, as it's all on theme, it's an excellent value sign-up to take for all amateur content, from solos to group sex. The site is easy enough to use and there were no technical issues. Extra bonus site access is also included.
Cons
Older videos may be low quality. The design of some of the included sites is a bit on the old-fashioned side. There's not a lot of info about the women and guys appearing in the videos and it's not a site where you can share your own content easily.
Pricing & Bonus
You must join one of the network sites to get network access to all, and there are three options with the annual one bringing you the best deal - extra bonus sites (21) are also included though you are accessing 116 already so you get excellent value. There are no hidden charges on the join page.
Conclusion
TAC Amateurs must be the largest collection of all amateur sites on the net and when you join one in their list you join them all, for over 20,000 pieces of content, some HD, many exclusive and there are even more bonus sites included. If you want true amateur hardcore and solo fun with loads of variety, then this is the site you need to join.