N/A
Monthly: $24.95 - 30 Days
Trial: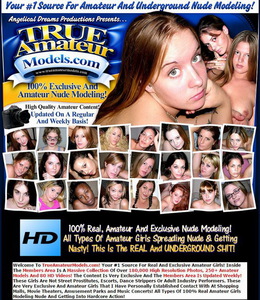 Amateurs from the USA are the stars of True Amateur Models where the site gives you exactly what the title suggests. An amateur porn maker gets a succession of willing amateur babes to come along and pose for his camera or make out in his videos that he and a few other ordinary chaps star in, and he posts the results up on his site when something new has happened. It's easy, simple, small, basic but it does the trick.
Ratings
| | | | |
| --- | --- | --- | --- |
| Exclusivity | | Quantity | |
| Updates | | Features | |
| Quality | | Navigation | |
| Downloadable | | Design | |
| Speed | | Price | |
Details
Review Date:
by

Luke Preston

Category:
Hardcore | Amateur
Trial Price:
N/A
Monthly Price:
$24.95 - 30 Days
3 Month Price:
$59.95 - 3 Months
Cross Sales:
No Cross Sales
Billing Type:
Credit Card
Pictures:
1041 Picture Sets w/ 200 Pictures Per Set
Hi-Res Pictures
Movies:
78 Movies At Around 10 Minutes Each
Movie Downloads:
Movie Clips
Formats:
FLV (Flash Video 960 x 540 1000 Kbps)
MP4 (Mpeg Video 640 x 480 3000 Kbps)
MP4 (Mpeg Video 1920 x 1080 5000 Kbps)
MP4 (Mpeg Video 720 x 480 500 Kbps)
WMV (Windows Media 1280 x 720 5000 Kbps)

Delivery:
Streaming Downloadable
Full Review
There are amateur sites, and there are pretend amateur sites. Those pretend ones are the ones where some big porn company takes girls and pays them under a contract to make their first porn. That's still amateur, but they get the benefit for being shown what to do by professional porn makers, so they often feel false. At True Amateur Models, however, you find genuine first timers (and some who come back for more) who are tempted into posing nude for the camera, or into having sex with the guys(s) who run the site. This makes for a voyeur style of filming where we are also in the room with ordinary folk who just like getting off together on cam.

They pose for the camera in strip sessions and also get down and dirty with our main man, or men as there are a couple of guys appearing here; the same few in each scene and they are not porn star males, but ordinary chaps like you and me. (Unless you are a porn star, in which case, I apologise.) They stroke dicks and suck cocks, the girls I mean, and they chat to the camera and to the guys, and so you get a really natural feel and video; perfect amateur viewing.

The tour for the site looks simple, and that's fine as that's what the site is. It uses a template design with Photos, Videos, a Model index and a couple of other features that make it easy to use and navigate. Don't be put off by the tour and its amateur look, we are, after all, here to find exactly that: Amateur girls in an amateur site, and you have to take your hats off to them for taking their clothes off for us. The site has been around a while, and it has grown over the years, albeit a bit slowly at times. The quality of the movies and pics has also improved over the years, and the movies are now shown with 1080p HD Mp4 downloads.

There were 78 videos at the site when I called in, and the update calendar is available to show you what's coming next. There wasn't a lot showing for the month I was there, but previous months showed around four or five new galleries per month, with the occasional video upload. It's fair to say that the site is hotter on pics than it is on vids. There were 1,041 galleries, and that's the main thrust of the site.

Videos used to be in WMV and Flash only, and there are still Flash streams to run. But now you have more choices with up for versions of each video, from 1080p down to a 360p Mp4 that will do for mobiles. You may find some have WMV and others are Mp4, there's a bit of a mix and no set pattern, but either way, you should be able to stream in Flash and download in something. The quality is pure amateur but not as bad as you find on Tube sites and self-submit sites. The movies run for around 10 minutes and are decent enough to watch, though not a studio or DVD quality of course.

Image galleries hold over 200 pics each, usually, and there are up to good sizes, such as 1,600 x 1,200 and they look fine. There are some that could be HD screencaps and others that look more like digital stills. They show the girls in all kinds of poses, as well as caught in more hardcore moments. There were no zip files, but there were three options of image size to browse online.

With a site called True Amateur Models you'd hope for a model index, and you get one! There are 268 models here, and they come with large sample shots and rates (members can rate content) and also with a nice long writeup and links to their videos or galleries. This is a site that stays true to its theme, amateur ladies from early 20s babes to older Milfs, it's simple, and it all works just fine.
Quality
Older movies are lower resolutions as we must expect and newer ones are at 1,920 x 1,080 HD, with other quality viewing options. The girls and ladies are all true amateurs, and so are the guys behind the site. This makes for genuine amateur viewing so expect some drops in quality from time to time, but generally, it's more than acceptable.
Content
There were 78 videos of around 10 minutes with various downloads and stream options, dating back a long while. Updates are not that regular, but more regular with the galleries. There were 1,041 of these with, usually, over 200 pics each at good sizes and with three sizes to view in. There are 268 amateur ladies in the model index.
Pros
As long as you accept that this is a purely amateur venture and don't expect studio porn quality, then you're fine. The site design is a template one that works well and lets you search and navigate easily. The site sticks to its promised theme and feel.
Cons
Updates are a bit hit and miss, especially with the video uploads, as it's more of a gallery site than a video-led one. Older movies are lower quality, and some are a bit rough around the edges. There are no bonuses or extras, but there is a blog.
Pricing & Bonus
You have three sign-up options with the monthly one coming in at $24.95, which seems reasonable for exclusive content. There are no cross sales or tricks with the sign-up, great news, and there are savings to be had with the two months ($39.95) and three months ($59.95) options. There are no bonuses, but there is a blog for news.
Conclusion
True Amateur Models is a true amateur site both in design and models, so that's all well and good. It's grown over the years, but updates are a bit slow. The content is mainly about photos of genuine housewives and other ordinary ladies, and that's fine too. You do have some videos, and you get a great sense of this being a hobby site, also fine by me.