Monthly:
$29.95
$14.95
- 30 Days
Trial: - 0 Days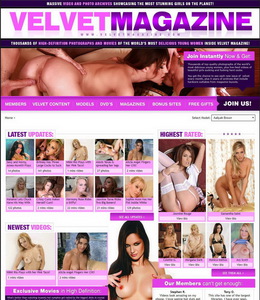 Something for everyone and a lot of what you were looking for: that's Velvet Mag. This online magazine contains everything you'd expect in a print porno mag, but more, with videos and DVDs included. There are 19 bonus sites, masses of 480p videos, thousands of galleries of hot pornstars and sexy newbies, and hundreds of magazines to browse online. It's a mix of mag and hardcore site and works well.
Ratings
| | | | |
| --- | --- | --- | --- |
| Exclusivity | | Quantity | |
| Updates | | Features | |
| Quality | | Navigation | |
| Downloadable | | Design | |
| Speed | | Price | |
Details
Review Date:
by

Luke Preston

Category:
Babes | Hardcore
Trial Price:
- 0 Days
Monthly Price:

$29.95

our exclusive price: $14.95 - 30 Days
Cross Sales:
1, prechecked
Billing Type:
Credit Card
Pictures:
1280 Picture Sets w/ 30 Pictures Per Set
Hi-Res Pictures Screen Captures Zip Files
Movies:
544 Movies At Around 20 Minutes Each
Movie Downloads:
Full Movie & Movie Clips
Formats:
MP4 (Mpeg Video 720 x 480 2000 Kbps)
WMV (Windows Media 720 x 480 5630 Kbps)

Delivery:
Streaming Downloadable
Bonus Sites:
19 Sites Multi Access Network
Full Review
There was very little to disappoint me at Velvet Mag, but two things need to be gotten out of the way first. The tour, to my mind, looks much better than the members' area design which runs on a template we've seen in loads of sites; it's not very original, but it's functional and works. And the videos were at 480p at the highest res, there was no HD here. But that's it. Those things done with, here's the good news.

The site is stacked with content and bonuses, and the numbers are very impressive. So are the girls. There are porn names in videos here and in galleries and DVDs, and there are many girls you may not have met before but who you will want to meet again. They get up to all kinds of hot stuff in the 544 videos: masturbation in short clips (some are only one minute in length), threesomes in others (that are over 20 minutes in length), duo scenes, lesbian scenes, toy-play and gangbangs downloads. There is a lot of variety, and a long category list will help you find what you want.

The videos are there to be streamed and can be downloaded in WMV or Mp4. The quality is… Well, it's okay, we've seen better, we've seen worse. It works, it's just that it's not wonderful. The real quality lies in the Photos and the models, and there are plenty of both. There were 1,280 image sets with around 30 pics each at good sizes, with good browse tools and zip files downloads. And there were 752 models in the index to check out and follow around. It's easy to find them, and your content, and with updates coming in each week, you've got a lot to look forward to.

And that's just in Velvet Mag. Your membership lets you into 19 other sites under the Swank Pass network, and it's easy to get from one site to the other. Or, if you choose the main Swank area, you will find a full collection of… wait for it… over 5,623 videos, 5,721 models, 12,700 photo galleries and 345 DVDs. You can play those DVDs online or take their scenes, and you can also access hundreds of real online magazines, including old copies of Velvet, from the Magazines link.

Honesty, there is so much on this site that you wonder how they do it for only $29.95 per month. On which note, watch out for the limited trial offer, and be aware that you also get free DVDs if you take a longer-term sign-up. You can also access more feed sites (yes, they are there as well as everything else) if you stay as a member for a decent length of time. Your bonus sites include Cheri Magazine, Club Magazine, Gent, Girl Next Door and High Society among many others, and you're never going to run out of porn to look at or keep.
Quality
The quality of videos was a bit of a let down for me, but then this is a magazine site and mags aren't usually putting out videos. The photos were fine, big and clear and easy to access and the DVD s were, well, DVD quality which was also fine. The template design makes the site a bit characterless but very interactive and easy to use.
Content
There's a mass of content here and weekly updates. 544 videos between one and 20 + minutes, 1,280 galleries with 30 + pics each, 20 sites in total, 50 Velvet magazines and many others, 752 models in the index and 60 + full DVDs on this one site alone. You have content coming out of your ears.
Pros
You get huge value from this membership with 20 sites and masses, and I mean masses, of porn. It's also nicely varied from amateurs to porn pros, and it updates each week. It's very interactive and holds loads of extras and bonuses, and it's all very easy to use.
Cons
The video quality is a bit low (480p) though other sites on your list may do better. There may be some content being rotated, and some of it looked old. There may also be some content shared across the sites in your network. Beware a cross sale on the sign-up page, and the free trial is limited access.
Pricing & Bonus
There are no trial offers, but we do have a discounted offer for montly access. At $29.95 per month you have a reasonable price to pay, but with our deal you get in for $14.95 a month, which is half price. You have 20 sites, 5,600 + videos and over 12700 galleries plus loads of bonus features.
Conclusion
Velvet Mag does have online copies of its magazine in its members' area, but it also has a whole lot more: videos, galleries, models, DVDs, 19 bonus sites, articles, news, interactive options and regular updates. It's a huge swirling mass of horny babes and hardcore, solos and lesbian fun and an excellent bargain for porn, let alone for magazine content.