$1.00 - 1 Days
Monthly: $24.95 - 30 Days
Trial: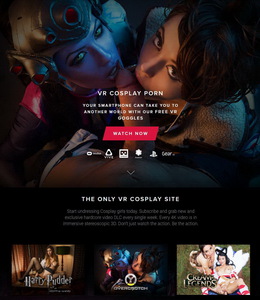 There is no doubt that Virtual Reality (VR) is fast becoming the next big thing in porn. When you mix it with the Cosplay fetish, you end up with fantastic sites (and sights) like VR Cosplay X. With great costumes, hot chicks, hung guys and loads of imagination, they've turned this site into a place all cosplay fans have got to see. VR instructions and goggles are supplied, the content is original and HD, and it's going to thrill you.
Ratings
| | | | |
| --- | --- | --- | --- |
| Exclusivity | | Quantity | |
| Updates | | Features | |
| Quality | | Navigation | |
| Downloadable | | Design | |
| Speed | | Price | |
Details
Review Date:
by

Luke Preston

Category:
Fetish | Virtual Reality
Trial Price:
$1.00 - 1 Days
Monthly Price:
$24.95 - 30 Days
Yearly Price:
$71.40 - Yearly
Cross Sales:
No Cross Sales
Billing Type:
Credit Card
Movies:
25 Movies At Around 20 Minutes Each
Movie Downloads:
Full Movie
Formats:
MP4 (Mpeg Video 3840 x 1922 23000 Kbps)
MP4 (Mpeg Video 2880 x 1442 16000 Kbps)
MP4 (Mpeg Video 1920 x 960 11000 Kbps)
MP4 (Mpeg Video 1920 x 960 10000 Kbps)
MP4 (Mpeg Video 1920 x 960 6000 Kbps)

Delivery:
Downloadable
Full Review
VR Cosplay X is not yet a large site. Its first content is dated December 2016, and now, five months later, it has 25 videos. However, these are speciality videos, and this is not just any old porn. You can see from the tour and as soon as you are inside, that they are going for quality here. And by that I mean, the quality of the girls and the costumes, the filming, the sex, lighting and everything else. They are also pretty good at parodies with take-offs, so far, of The Witcher, X-Men, Catwoman, Kill Bill (Fuck Bill), Supergirl and many more. Each videos title, or sample shot, is an excellent pastiche of the real thing and there has been no expense spared on the costumes.

I checked out the X-Men parody first as the star, Jasmine Webb, looked so much like Storm. This movie, just like the others, has its own viewing page with all your VR files, and there are six to choose from. These are mobile and larger, and the file sizes are big; the smallest was 2Gb for the mobile, lower quality versions, the highest was 5.6Gb for the Vive/Oculus high quality one, and in between, you have Gear VR, PlayStation VR and Daydream VR. You only need the appropriate goggles or application to run them on and a bit of a waiting time for the downloads, depending on your connection. I was not able to run streams online and see the 2D version, but I was able to see five screen shots per scene to give me an idea of what was to take place.

And that is, hardcore sex with gorgeous girls in costumes, of course. There are some great hardcore moments in the videos, and the scenes are well played out, well directed and very high quality. They have Binaural sound and 180 degrees turn-around, and as they are also POV movies, you are right there, fucking your favourite comic book heroine for the full 20 minutes. Of all the VR sites I've seen, this one is probably the most classy and realistic.

The site had been updating every week as well, and there's even a feature so you can see whats coming next. It should, therefore be growing over time and now is a good time to get in on it.

Checking around for other features and things, I found the model index with 29 girls featured and they have a good write-up as an introduction, great images to go with them, although there are no actual galleries as such, stats and links to their videos. You will have no trouble browsing from here, or any of the other pages as VR Cosplay X has an excellent and simple navigation style. There's the top menu, which also includes a Help and Feedback area, and the videos and index pages are clearly marked and set out. In fact, for a site that has so much technical expertise behind it, it was very easy to navigate and gave me no technical problems at all.

You may be wondering about the headsets, well, when you sign-up for the monthly recurring membership or the year, you get a free pair. You can also buy your own (and they might be better) but just make sure the one you get is compatible with these files.
Quality
This is very high-quality content. It's all HD, though there are lower mobile files (that are still a large size) and they are well filmed. Technically it's good too, with various VR formats in use to suit everyone. The costumes are out of this world, and the site has gone for detail and authenticity. So, amazing quality and high-quality models.
Content
This is all exclusive, VR content and there are 25 movies so far; parodies of comic book characters and stories. There are six VR downloads per scene, with some huge files. A new video is coming in each week, and upload dates are shown. These are also POV movies, and with the right goggles, you are right there in the scene with your hot cosplay babe.
Pros
Everything is new and exclusive, and high quality and the site has a very simple and neat design. There are instructions, and there is help if needed, and memberships come with free goggles - see the sign-up page for details.
Cons
There are no galleries here only a few high-quality screen caps with each movie and some model shots in the model index. I wasn't able to stream any version of the scenes, and some of the download files are over 5GB in size, so not too good for slow connections. A few bonuses, videos or sites, etc., would help the sign-ups along.
Pricing & Bonus
There is a very simple pricing structure with a trial offer, a monthly membership and an annual one; that last one works out at $5.95 per month, which is a good price and the others are fine too. This is exclusive content and well made, but there are no bonuses or extras.
Conclusion
Superhero cosplay at its finest, that's how you could describe VR Cosplay X. The costumes and girls are fantastic, the quality is HD, there are various VR options to suit all devices, and although files can be huge, you get amazing 180 degrees, VR, POV videos with some stunning girls as Catwoman, Storm, and many others. Updates are coming in weekly.