N/A
Monthly:

$29.95

$17.95 - 30 Days
Trial: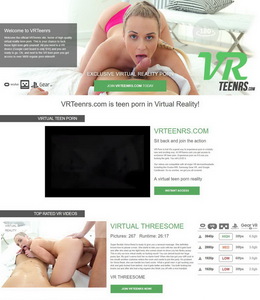 There are some larger VR sites out there now, but at VR Teens, you have a new VR site with some hot content and masses of extras, as membership includes content from 16 bonus sites. You can pick up VR goggles for as little as $10.00, and the videos here are formatted for all kinds of devices. They are high-quality, HD, come with pics and 2D streams, and the cast is made up of lush 18 to 23-year-old babes and some well-hung guys.
Ratings
| | | | |
| --- | --- | --- | --- |
| Exclusivity | | Quantity | |
| Updates | | Features | |
| Quality | | Navigation | |
| Downloadable | | Design | |
| Speed | | Price | |
Details
Review Date:
by

Luke Preston

Category:
Young Adults | Virtual Reality
Trial Price:
N/A
Monthly Price:

$29.95

our exclusive price: $17.95 - 30 Days
3 Month Price:
$59.95 - 3 Months
Yearly Price:
$119.40 - Yearly
Cross Sales:
1
Billing Type:
Credit Card,Pay-Pal
Pictures:
20 Picture Sets w/ 180 Pictures Per Set
Hi-Res Pictures Zip Files
Movies:
20 Movies At Around 25 Minutes Each
Movie Downloads:
Full Movie
Formats:
MP4 (Mpeg Video 1920 x 1080 10000 Kbps)
MP4 (Mpeg Video 3840 x 2160 12000 Kbps)
MP4 (Mpeg Video 1280 x 720 6000 Kbps)

Delivery:
Streaming Downloadable
Bonus Sites:
16 Sites Multi Access Network
Full Review
Virtual Reality (VR) is no longer a new thing. It's been around a while, and that's given people time to get used to it, iron out any issues and get the techniques just right so that when you watch a VR movie, you feel like you're the guy in the shoot. The movies here concentrate on babes aged 18 to 23 or so, and they are all cute and lithe, sexy and up for all kinds of action. The camera is where your eyes are, most of the time (there are some spy cam and longer shots in some scenes) and so you feel like you're in the action - at least, you will if you have the goggles.

The action is mainly couples, with the man as the cam, if you like, but unusually, there is already one scene where the girl is the cam so the ladies might like to see what it feels like to be a porn model and have a cute hunk going down on you. There are some threesome scenes as well, with two guys and a girl or two girls and a guy, there is even one with three girls and one lucky boy. You get plenty of cock sucking and pussy play, cum shots and all the fuck fun we like to see. The filming is also good quality and the lighting and sound add to the reality of everything.

Movies are available to stream in 2D if you don't have the goggles and they are still fine to view this way. But it's when you get the equipment that things start to heat up. You can watch the videos on your Smartphone app, Oculus, Google, Vive and Gear VR, there are instructions on the tour to tell you what you need to know. Resolutions e good as well with ultra HD at 4K, plus 1080p, 720p and one at 2,280 @ 30 fps. The frame rate is usually 30 fps but the 1920p was at 60 fps. Movies run for around 25 + minutes, so expect large files, and they come with sets of images.

These will be from the cameras, but they are still pretty high definition and look fine. There are well over 100 per set, more like 200 at times and they are found right there on the viewing page for videos, so that's easy. Click through to see how the action happens and then click a pic to get the full-sized version at 835 x 945 px. You can click through one at a time, run slideshows or take zip files of full sets.

While we're still on the video viewing page, another neat addition to the site is the 'create a clip' function where you can select the start and stop for a section of the movie and make a clip, title it and add it to a niche. It's a neat interactive touch that compliments the rates you can give and the add to favourites function.

Meanwhile, over in the bonus area… Head to Network updates, and you have your more typical hardcore movies in streams up to HD to view. There were over 10,000 of these from 16 sites in the network. You're able to filter by site or simply plough through the whole lot. The sites you're accessing here include Club Sweet Hearts, Jim Slip, Teens From Tokyo, Young Busty and Vintage Classic Porn. That means a lot of variety and a load of extra streaming (no downloading); there's even one gay collection included if you are in any way curious.
Quality
These main movies are fine for quality right up to Ultra HD at 4K. The filming is good, and technically everything works fine. You've got smaller res files for the main VR movies, plus SD and HD for the many bonus movies. The site design is simple and effective, images are a good quality, and there are no hassles.
Content
Although VR Teens is not very large at the moment, with only 20 exclusive videos, they are adding two new VR movies per month, plus lots more standard porn in your bonus sites. Movies are 25 minutes in length and come set up for all kinds of VR gear. There are galleries with 200 pics each, and then masses of bonus vids.
Pros
The girls are hot and spicy here, and the filming is good, so everything is very realistic. The quality is high, and there are various files for various types of headgear for watching in VR, with instructions. There are some nice interactive options as well, and lots of extras.
Cons
The site is small but growing, and it's not been around a long time as yet. There is a cross sale on the join page to watch out for. I didn't find anywhere I could leave comments on content.
Pricing & Bonus
You're not being asked to pay a bad price for this exclusive content though you will get better value when the site has grown some more, as there's not a lot of VR content yet. But meanwhile, you have over 10,000 bonus videos from some top sites that offer a great distraction and lots to see. Updates are fine here, so long-term sign-ups are good value.
Conclusion
VR Teens needs a little more time to grow, but they are already rivalling many of the other VR sites out there. I liked the mix of action, threesomes and girl/girl, female POV, and I liked the bonuses. It's technically sound, there should be no hassles. It's exclusive and well-made. I hope it continues to grow as it's going to be a VR site to stay with.