$4.95 - 2 Days
Monthly: $34.95 - 30 Days
Trial: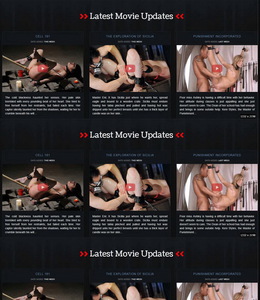 Everything for your fetish needs in one place, and in a site that's been running for years. Wasteland must be one of the largest fetish sites offering everything from male humiliation to electro sex, to VR and BDSM. There's a huge stock of content here, some non-exclusive content, HD videos, older SD ones, masses of variety and weekly updates. Members can even read stories and enter competitions.
Ratings
| | | | |
| --- | --- | --- | --- |
| Exclusivity | | Quantity | |
| Updates | | Features | |
| Quality | | Navigation | |
| Downloadable | | Design | |
| Speed | | Price | |
Details
Review Date:
by

Luke Preston

Category:
Fetish | BDSM
Trial Price:
$4.95 - 2 Days
Monthly Price:
$34.95 - 30 Days
3 Month Price:
$74.95 - 3 Months
6 Month Price:
$134.95 - 3 Months
Yearly Price:
$174.95 - Yearly
Cross Sales:
1, prechecked
Billing Type:
Credit Card
Pictures:
5000 Picture Sets w/ 40 Pictures Per Set
Hi-Res Pictures Zip Files
Movies:
2000 Movies At Around 17 Minutes Each
Movie Downloads:
Full Movie
Formats:
FLV (Flash Video 720 x 400 1000 Kbps)
MOV (Quicktime 1280 x 720 2000 Kbps)
MP4 (Mpeg Video 1280 x 720 1900 Kbps)
MP4 (Mpeg Video 1920 x 1080 5000 Kbps)
WMV (Windows Media 1280 x 720 2000 Kbps)

Delivery:
Streaming
Full Review
There is an amazing amount of content at Wasteland, and you're going to find something in here to satisfy your fetish needs. You can start off with straightforward BDSM and develop that into some dungeon and torture scenarios. You can find guys being drilled by tough girls with a strap-on, and you can find sexy women tied down and at the mercy of their masters. They don't discriminate.

The site has various sections: Movies including exclusives, virtual reality movies, Japanese bondage, streaming feature films, Japanese Shibari movies and more. There are over 2,000 videos in total and weekly updates. There are images with some originals, fetish models, fetish party pics, Asian underground images and Japanese bondage. You have fiction with erotic fetish stories, a 'podgasmic' radio play and a Slave's Journal. In the BDSM section, you find info on the art of rope bondage, plus workshops on Shibari and other interesting fetish facts and tips, so it's not just about the sex at Wasteland, it's also about informing and enlightening members who are genuinely into the fetish scene.

They go further than your usual fetish sites too with giveaways, scene profiles, info about the photographers and filmmakers and the films, there are interviews and also photo contests. I also found a list of sales sites and a dating site for small ads and other off-site places of interest. Needless to say, you will need a long time in here.

Because the site has been online since the 1990s, you might have to expect that video quality is going to vary. Only in that older scenes are not HD, or are in smaller resolutions, in Flash and so on, because that's all that was available back then. But more up to date movies were at 720p, and there are even those VR ones to view, which you can also do online. I found movies offered (in the Wasteland Original section, up to date) at 1,920 x 1,080 HD, and in mobile-friendly sizes as well. Older ones were MOV and Flash with some Mp4. Runtimes vary considerably, but I'd say average out at 15 to 20 minutes, a standard length. Filming is good quality, and these guys certainly know what they are doing.

Images also vary but generally speaking the quality is fine throughout. Older ones, again, may be smaller, but just as well taken and newer ones were good sizes, come with zip files and can easily be downloaded. I had no issues with the content or its quality, bearing in mind some of it is pretty old.

The thing I did find a bit tricky was navigation. With so much in one site, it can be hard to find what you want, and the best place to start from is the Main Menu. This is where you see all the sections of the site set out with links. A search box would be useful as would some redesign on the main menu. A top list of movies, galleries and models, plus others would make navigation a lot easier, although in your movie section you do have a keyword search box and a drop-down category list of 13 categories including 'navigation help.' There is also, further down, another menu there which helps you find content. You can comment on movies and get a bit more involved (I'd have liked a forum, but that's just me), and there is an area for updates so you can see what's new.
Quality
Quality varies as some of the content was made years ago when the site was young. Newer movies are 1080p HD and 720p, and the images are clear and decent quality. The action is top drawer though, and everything is handled expertly. The site could do with some navigational tidying up, but you get used to it after a while.
Content
You have masses of content here. Just over 2,000 movies now, many exclusive and now they are in 1080p HD and include VR movies. There are over 5,000 galleries with various numbers of pics, around 40 on average, plus a set of stories and other fetish related articles and interviews. New content is added each week.
Pros
One of the biggest pros for the site is its diversity and the way it covers all kinds of fetish, no matter how unusual or specialised. The site is a large one, and the price is justified because of that, the guys who make and take part in the content are experts, so this is no homemade 'have a go' kind of content, it's the real deal.
Cons
I found the site navigation could do with some updating, as could the design, and it took a while to get used to how it all works. Galleries were pretty basic, and there were no bonus sites. Not all of the content is exclusive.
Pricing & Bonus
The price for the monthly membership is one of the higher-priced ones, at $34.95 per month, but you can get that down to around $14.58 per month on the annual membership, and you will need that time to see everything, so it's worth considering.
Conclusion
Wasteland is anything but a wasteland of content, there is a mass of it here, and although it is richly varied, it's all on a fetish theme of one sort or another. From BDSM to strap-on, to dungeon to Japanese fetish arts, in videos and pics, much of it exclusive and some of it HD, members will find a labyrinth of a site that's an adventure to explore.