N/A
Monthly: $29.96 - 30 Days
Trial: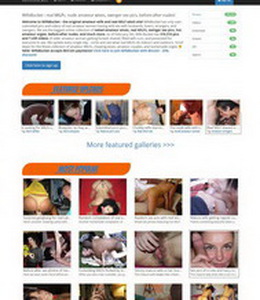 Here's one for your bucket list: Wife Bucket. This is an amateur site with hacked and borrowed content from all across the web, but it's also a place where members can submit their own home tapes, make a profile and check out other swingers and those who like to watch real amateur homemade porn. There's a range of content from teen parties to BBW swingers, with all kinds of hardcore in simple download and stream amateur porn.
Ratings
| | | | |
| --- | --- | --- | --- |
| Exclusivity | | Quantity | |
| Updates | | Features | |
| Quality | | Navigation | |
| Downloadable | | Design | |
| Speed | | Price | |
Details
Review Date:
by

Luke Preston

Category:
Amateur | Reality
Trial Price:
N/A
Monthly Price:
$29.96 - 30 Days
3 Month Price:
$74.88 - 3 Months
Cross Sales:
1, prechecked
Billing Type:
Credit Card
Pictures:
7656 Picture Sets w/ 40 Pictures Per Set
Zip Files
Movies:
7174 Movies At Around 8 Minutes Each
Movie Downloads:
Movie Clips
Formats:
MP4 (Mpeg Video 640 x 480 1000 Kbps)

Delivery:
Streaming Downloadable
Full Review
I've heard of having a bucket list, but a Wife Bucket? I wondered what that was all about until I saw the tour. These pages do a good job of telling you what you're going to get once you are inside, and I wasn't disappointed when I signed up; everything was as I expected it. Wife Bucket is a genuine, amateur, self-submit site where members can add their own content if they want to. You don't have to, and loads of others have already added their videos and galleries. Also, the site looks out other amateur home porn and shares it here.

This means you have a wide variety of content. Here is what was happening on the first of the many index pages for videos when I was just on the site. Interracial hardcore, cute teen babes and a guy, clips with titles such as 'Hot wife gets fucked', and 'Mature wife swallows.' There were other mature couples and Milfs, blowjobs and POV anal, a gangbang or two and some standard hardcore couples. You can see there's a lot of variety and with 24 videos per page, it's hard to decide where to go first.

There were 7,174 videos when I was just on the site, and they ran for various lengths of time. We're not looking at standard studio scenes here, so there aren't that many 20 + minute style of movies. They are mainly home clips and quick snatches at five to 10 minutes each, but you may find some that are longer. They are also shown with only one option to stream and one download. I found both at 360p, and the quality is not always wonderful. Sometimes it's a bit grainy and rough, but then these are home videos sometimes shot in poor lighting. You do have to expect that. On the other hand, some were fine for quality, as long as I didn't go full screen, and it all depends on how they were filmed and with what.

Over in the pictures area, there were 7,656 sets of pics with around 40 in each one. The site actually states 319,510 individual images, so I just took an average of that. Image viewing works in the same way as video viewing. You find a set you like the look of from a sample shot on the index page and click over to view it. Then you find linked tag words, maybe a brief description of the set, and numbered thumbnail pages to look through. Images open one at a time to basic sizes, such as 912 x 684, though, again, sizes may vary along with quality.

Images like videos have a few extra functions attached. You can add comments and rate things, you can add them to a favourites area and build your own best-of collection, and there are links to related content. There are also some great lists on the left of your pages, suggesting what you might like to see, giving you top videos and most liked etc. And there is a general search box. Head over to the account and other areas if you want to boost your profile, add your own avatar and upload your own content.
Quality
Quality varies at Wife Bucket because it's a place where anyone can contribute, and many of the videos and pics are from home cams and not always in good lighting. That's what we expect from these kinds of amateur sites, so you can't complain. Mainly, you're looking at 360p movies and images around 900 x 680 in size. The site is well designed.
Content
Your content comes from all over the place, and you can even send in your own. 7,174 videos were running for an average six minutes each and came with one stream and one download option in Mp4. There were 7,656 image sets some being a mix, some being from one session, and they held an average 40 pics each. Updates were frequent, and the site is large.
Pros
You can actually get involved in this self-submit site, though you don't have to. It's also very large with lots of variety. There are some nice navigation tools and lists to check out, plus a decent way to search and find, and some neat interactive options. It's varied and vast.
Cons
Quality is the main downer here with some videos being small and dark, grainy and not very well-made. But again, that's what you have to expect from self-submit sites. A bit more of a detailed search page would be handy. None of the content is exclusive - unless you upload your own that no-one has seen before.
Pricing & Bonus
I found a 'limited trial' offer, but it didn't tell me how much until after I'd entered my card details - so I didn't opt for that. The monthly fee though, currently at €26.96, is not bad. (Your prices may show in your local currency and vary slightly). The three-month one saves you a little per month, but not a lot. There were no bonus sites or extras.
Conclusion
I liked Wife Bucket because, for a chance, members can actually upload their own content and make up a profile. Many sites say 'user-submitted' and then don't let their own users do it; they do here. Yes, quality is sometimes a bit rough, but that's because this is the areal amateur deal and there's loads of variety too. It's a horny site for us voyeurs.