N/A
Monthly: $29.95 - 30 Days
Trial: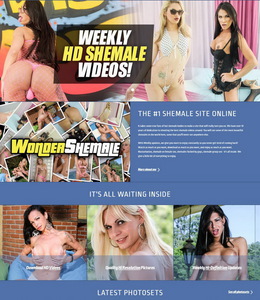 We're heading to Brazil for some wonderful head from some wonderful shemales at Wonder Shemale. These superheroes of tranny hardcore offer us all kinds of horny porn to view in 50 movies, with updates, streams, downloads, HD viewing and images. The Tgirls are well put together, hung and dark, the lads are also pretty horny, and the site mixes boy/Tgirl with Tgirl/Tgirl action, duos, solos and threesomes.
Ratings
| | | | |
| --- | --- | --- | --- |
| Exclusivity | | Quantity | |
| Updates | | Features | |
| Quality | | Navigation | |
| Downloadable | | Design | |
| Speed | | Price | |
Details
Review Date:
by

Luke Preston

Category:
Latina | Shemales
Trial Price:
N/A
Monthly Price:
$29.95 - 30 Days
3 Month Price:
$74.95 - 3 Months
Yearly Price:
$149.95 - Yearly
Cross Sales:
No Cross Sales
Billing Type:
Credit Card
Pictures:
19 Picture Sets w/ 100 Pictures Per Set
Hi-Res Pictures Zip Files
Movies:
19 Movies At Around 20 Minutes Each
Movie Downloads:
Full Movie
Formats:
MP4 (Mpeg Video 1920 x 1080 5000 Kbps)
MP4 (Mpeg Video 1280 x 720 3000 Kbps)
MP4 (Mpeg Video 640 x 480 1500 Kbps)
MP4 (Mpeg Video 426 x 240 600 Kbps)

Delivery:
Streaming Downloadable
Full Review
Wonder Shemale is a pure transsexual site meaning that there is nothing here but heady hardcore with chicks with dicks and guys with dicks, and all kinds of action going on between them. The site holds exclusive content and gives us updates, it's not huge and probably not yet 'the best shemale sites online' as the tour suggests, but then they all do that. Yet it still holds some of the sexiest Tgirl scenes we've seen in a long time and, the next best thing, it's all about Latina shemales and guys. So, expect lots of dark flesh, dark cocks, hung dicks, pert boobs, big boobs and slender shemales in and out of clothes and doing all kinds of nifty hardcore in the movies and galleries.

A quick look at the list of 50 videos so far shows me: Lighter skinned shemales jerking off solo style, two Latina T-babe together in anal scenes, a few threesomes (one of which has one of the most well hung Latino youths I've seen) and also hardcore couples, with Tgirls on top and/or the guy on top. It's a real mix of porn, and it is all good quality.

You'll find the latest scenes on the home page, and a Videos page also lets you scroll to see them and their large sample shots. These give you a good idea of what to expect. Click through to a viewing page, and you get good results. The videos are found in streams and in downloads, and you have the same resolutions for both, in Mp4. The top resolution is at 1,920 x 1,080 HD and looks fabulous, and then there are 720p, a midrange version and a smaller one at 240p for your smaller screens and mobiles. As they are Mp4, they should play fine on just about all devices.

Movies run for around 20 minutes and then come with a very basic written introduction and a few interactive buttons. You can add scenes to a favourites area and also give them a rate. There are links to support here if you have any hassles with playback (I didn't, and streaming started instantly I opened a page), and you can also tip the site if you want to.

Movies come with links to their galleries as well, and there were 50 of these. Well, 49 actually, but the next one was coming very soon. The galleries hold pics that open online at 950 x 1675, so they should fit your screen, and there are around 100 pics per set. Numbers vary and are shown, and zip files let you download the whole set in one go. Again, the quality is good, and there are some collectable images of the main shemales and their guys as well as the action ones.

I found Wonder Shemale very easy to use. There are no bonuses or extras and only a few adverts to check out, but there is a calendar area where you can see that the site is updating twice per week; a video and a gallery. So, the numbers should be growing. What's certain is that the well-made and high-quality videos will stay the same. This means you can stay for a long time and enjoy more horny Brazilian shemales and their gorgeous guys in a variety of shemale hardcore scenes.
Quality
Filmmaking quality is a good studio standard with the action starting straight away. There are HD movies to view and 1080p HD to download, plus other resolutions for smaller devices. The images are sharp and look good, the models are slinky and as advertised on the tour and the site, though simple, works well and looks good.
Content
The content here is exclusive, and it's also high quality and well made. You have four downloads per scene plus streams, and movies run for around 20 minutes. They are a mix of solo, duo and threesomes, shemales and guys, and they come with galleries with 50 to 180 pics each, plus zip files. Updates are every week.
Pros
I was bowled over by some of the models, and they were the main draw for me, and I mean the shemales as well as the he-males. They have some very high-class Brazilian porn models here, and there is also nice variety in the movies. A mix of solo to threesome hardcore means you don't get bored. Quality is good, and updates are happening.
Cons
There are no bonuses, so you are looking at a standalone site. The site is not very large at the moment though purports to be the number one shemale site on the net; we don't like this kind of over-advertising. It's a fine site though. The About page only tells you content count numbers, and there's no model index or other info.
Pricing & Bonus
You have three pricing options, and the longer you stay, the more you save. The prices are fine for exclusive shemale content, and the schedule of updates tells us there are more movies coming each week and galleries too, so longer-term could be the way to go. There are no extras or bonus sites.
Conclusion
Wonder Shemale did give me some wonderful shemales to view and in horny hardcore as well. It also gave me some hot guys, plenty of Brazilian beauties and HD movies that I'd not seen before. There are no extras, and the site is small, but it is updating and what is here is worth signing up to see. If you like Latina Tgirls and guys, you'll like this.