N/A
Monthly:

$24.95

$17.95 - 30 Days
Trial: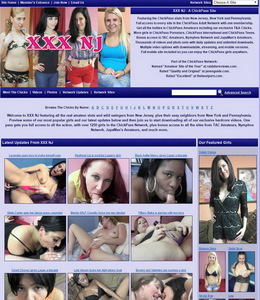 The NJ here stands for New Jersey, and the girls come from there and also New York and close by. What's more, they are all amateur porn girls appearing in their first porn shoots for the Chick Pass Network. At NJ XXX you have a selection of original and exclusive amateur movies, hardcore, solos and lesbian, and also access to 21 other sites from the network, and from T & A Amateurs.
Ratings
| | | | |
| --- | --- | --- | --- |
| Exclusivity | | Quantity | |
| Updates | | Features | |
| Quality | | Navigation | |
| Downloadable | | Design | |
| Speed | | Price | |
Details
Review Date:
by

Luke Preston

Category:
Hardcore | Amateur
Trial Price:
N/A
Monthly Price:

$24.95

our exclusive price: $17.95 - 30 Days
3 Month Price:
$39.95 - 3 Months
Yearly Price:
$69.95 - Yearly
Cross Sales:
No Cross Sales
Billing Type:
Credit Card
Pictures:
1356 Picture Sets w/ 150 Pictures Per Set
Hi-Res Pictures Zip Files
Movies:
1488 Movies At Around 20 Minutes Each
Movie Downloads:
Full Movie
Formats:
MP4 (Mpeg Video 1920 x 1080 8500 Kbps)
MP4 (Mpeg Video 854 x 480 3400 Kbps)

Delivery:
Streaming Downloadable
Bonus Sites:
21 Sites Multi Access Network
Full Review
You have a lot of variety in your movies at NJ XXX, and a lot of fresh and hot girls to check out. When I say girls, I mean that some are early 20s while others are older, some are white, some black and some Latina, just like you'd expect from that part of the world. It's a nice mix and offers you a lot of different kinds of girls and porn to see. Updates are happening pretty regularly, and the numbers are good. This is an amateur site and runs on a template design, so it's easy to find what you want to see and get straight to the content.

That content is made up of hardcore scenes with girl/boy action, some are threesomes, FFM, others are strap-on or toy play themed, some are solos, and some are lesbian scenes with two or more amateur models together. It's all pretty fresh and good looking, though there are some amateur moments with the camera moving about and camera flash capturing shadows in the images; but nothing to worry about, that's how it is with this kind of filming. There are some chats and interviews with some of the girls before the action starts, which is a good way to find out how new to this they are.

There were 1,488 videos when I was at the site, and they are easy to find from the main menu. Update dates are shown, and there was something new being added every couple of days. Click through to a viewing page, and you find a standard looking page with a streaming screen at the top, links to the images and downloads, the run times (between nine and 20 minutes) and links to interactive options. Movies come with two download choices, a 480p Mp4 and a 1080p Mp4, on the newer scenes at least. Older ones may only have the smaller version. The visual quality is good and sharp, and the sound is natural.

Movies also come with links to their photos, and there's a separate photos area with 1,356 galleries to browse. These hold various numbers of pics, there's no set number, but around 100 to 150 is a rough average. They are a decent size and quality and usually reflect they videos that they accompany, though they may also hold some extra posed shots from the girls. You're able to save images, at 1,200 x 1,600 in recent sets, and run slideshows, view them online one at a time, or take zip files of full sets. Again, it's a standard template design but it's a good one, and you get all the neat extras.

They include places to comment on content and rate the scenes, plus linked tag words and other ideas for where to go next, so navigation is not an issue. The main menu also lets you find some bonus videos (non-exclusive), a blog, an update schedule and links to all your bonus sites.

Here's where your value for money kicks in, with 21 other sites from the Chick Pass Network and others, including Fuck The Geek, T & A Amateurs, Bouncy Chicks and Chick Pass Pornstars. Together, these sites hold over 5,000 videos and their galleries and, as each one opens in the same window, it's very easy to get from one to the other. That's a great set of bonuses on top of what's a pretty nifty amateur site from New Jersey.
Quality
Older videos may not have the same HD standards as the more recent ones, but the filming is similar: amateur, but good. The girls are also amateur but do well, there's good variety, and the movies are clear enough, with natural sound. Images are large and a good standard, the site holds some nice interactive options, and it all works well.
Content
There were 1,488 movies when I was at the site, and they run for nine to 20 minutes. Each one had a 480p download, and many are now HD at 1080p. Content is exclusive but may also appear on other network sites. There were 1,356 galleries with around 150 pics each, 100 models in the index and updates were every two or three days.
Pros
Membership comes with access to a network of over 20 sites here, and most of those sites are also amateur themed; so that's a good set of bonuses. There are some nice interactive options for members, the site is technically fine and gives no hassles.
Cons
Watch out for a cross sale on the join page. Some of your content appears on other sites in the same network, and not all of it had detailed descriptions. The models don't always have a lot of info about them in the model index. Older scenes are not HD.
Pricing & Bonus
NJ XXX is offering a discount at the moment, $17.95 down from $24.95 but if you ask me, the usual price is a good one for 22 sites and over 5,000 videos; which is what you have in your bonus package. There are longer-term deals to be had to, which save you money, and with the updates being regular, I'd say they were well worth it.
Conclusion
NJ XXX holds up well as a classic amateur babe site. The difference being, these girls are from New Jersey, and nearby. Members will find access to over 1,480 videos in this one site alone and loads more in the 20 + bonus sites that are also included in this low-cost membership. Updates are good, movies are now HD, and there are loads of hot amateur chicks.